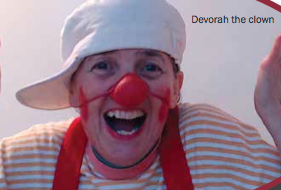 Devorah Spilman found her calling at age 18 when working in a preschool. Then and there she realized the power stories have to move people – or in the case of squirmy preschoolers, to sit still as stories transport them to new lands and deeper understanding.
For more than 30 years she has honed her craft, and now she teaches others to use the power of stories to move donors to give and to move potential customers to buy a company's products or services.
"A story sparks emotion that inspires the impulse to buy," says Spilman. "The impulse to buy comes from emotion, then people can analyze."
Before becoming a professional storyteller, she earned a bachelor's degree in community studies with an emphasis on arts in education from the University of California at Santa Cruz and completed a one-year, full-time training program at the Dell 'Arte School of Physical Theatre.
In Portland's Jewish community, she has been a visible presence since she moved to Portland in 1999, telling stories designed to provide emotional understanding of Jewish values and concepts at preschools (complete with puppets), day schools, religious schools and synagogues. Her clown persona, Dilly Zoozilly, uses children's humor to develop self-esteem. Dilly Zoozilly spent July and August 2001 bringing laughter to Israeli children traumatized by violence swirling around them during the second intifada. Having lived in Israel for nearly a decade in create deep, authentic experiences that invoke images that stay the mid-'80s to mid-'90s, she was able to entertain the children with her audience. in Hebrew.
It was her work as a storyteller at Portland Jewish Academy that provided her first entree into the arena of training others to use the power of stories. When her daughter was a student at PJA, Mara Woloshin heard Devorah telling stories.
"She was an engaged parent and she loved my storytelling," says Devorah. "She was working with United Way, and she asked me to teach them to use their stories. I'd never done that before. Mara is the one who said, 'You can do this.' So I did eight to 10 trainings for United Way (in 2004). They went from telling about United Way's stories to actually telling real stories."
With young children of her own, Devorah continued to focus on storytelling for children until 2012, when Kim Rosenberg similarly recognized the value of Devorah's skills. Kim was the Campaign Chair for the Jewish Federation of Greater Portland, and she asked Devorah to teach solicitors how to use stories as they spoke to donors.
In December 2012 Devorah unveiled her InStory technique, working with about 20 federation volunteers and staff. Devorah's InStory exercises lead a group to discover group rapport, creative insights and renewed vision by tapping into their subconscious and finding the images and stories that transmit the group's mis- sion in a memorable way.
Federation staffer Caron Rothstein says the training was very effective for both veteran and newcomer solicitors.
"It gave them a different way to frame the conversation," says Caron. "It's another tool in their toolbox of being a successful solicitor. It's very authentic. She wasn't asking anyone to be artificial. She showed us how to take our own personal experiences and incorporate them into giving. … Devorah is a very genuine, authentic person – that is really refreshing."
Devorah also describes herself as authentic. She sees the different clothing and personas she presents as the outward trappings that "meet the needs of the people who I bring it to."
To help children understand deep concepts, she uses puppets or clown attire; to teach business people to incorporate what is essentially an art form into their work, she presents a corporate image.
"The training is very useful at upping their skill level in terms of emotionally connecting with clients," says Devorah.
Kim was so pleased with the results at federation that she hired Devorah to help her find stories she could use in her work as a financial planner at Rosenbaum Financial. She says the initial InStory session and some follow-up sessions have been very useful.
"Devorah is always sitting on my shoulder when I meet with a client," says Kim. "I hear her voice saying: 'What questions can I ask to learn more about the person in front of me, and which story in my library of stories can I use to make the biggest imprint to move the client to an emotional change?' I always incorporate stories in my meetings now. I have found a significant change in the trust factor rising with my clients."
In December 2012 Devorah also launched her website, spilmanstoryselling.com, to offer corporate and nonprofit StorySelling trainings and consultations. Her website also features web sessions, audio presentations and online consulting.
When she works with corporate clients, she says she helps them think about their product or service as something that solves a problem for their customers.
She says she asks them, "What is the image or metaphor for what your product does for your client?"
One of her corporate clients told her he would go into a sales presentation with hundreds of PowerPoint slides and realize, "I have so much information, I lose them."
Devorah helped him come up with a metaphor that gave the essence of how his service helped solve problems. He told her in his next presentation, he used the image to capture the client's attention and then was able to hold their interest as he used his PowerPoint presentation to provide the specifics. He won the large contract.
In addition to InStory training, she also offers extended consulting with clients to help them learn to use the stories they find through InStory.
Though her business consulting is taking up more and more of her time, she still enjoys telling stories to children and says she will never turn down an opportunity to perform as Dilly Zoozilly. Her husband, Jacob Spilman, is a family therapist. Their daughters are 11-year-old Elianna and 15-year-old Hannah. The family belongs to Congregation Kesser Israel.
"Now I do storytelling and puppets at Kesser every Shabbat for kids," says Devorah. "Kesser is my shul, and that's how I give back."