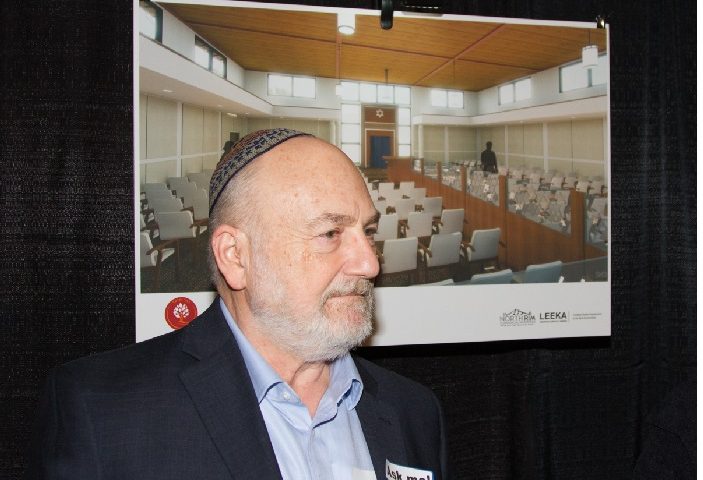 ---
KESSER KICKOFF – Above, Aki Fleshler, Kesser Israel president stands before a drawing of the new sanctuary at the kickoff event for Kesser Israel's $1.5 million capital campaign on Jan. 11. The thriving Orthodox congregation is planning a needed expansion of its current building on Southwest Capitol Highway. The congregation has raised more than $1 million in donations and pledges to the $1.5 million campaign. Photo by Jon Perrin
By Leanne Dall
The 100-year-old synagogue was in its original location in South Portland, where it had been founded by immigrants who were committed to establishing an Orthodox synagogue. In 2006 Rabbi Ken Brodkin led the community in a move to the heart of the Jewish community in Southwest Portland, making Kesser more accessible as a center of Jewish life. Initially, during its transition, Kesser held services at the Multnomah Arts Center.
Kesser purchased its current building in 2007.
Now 125 member families span all ages and demographics.
Today, Kesser's growth has brought it to another crossroads: the congregation has plans to significantly expand its building.
Kesser Israel is engaged in a capital campaign to raise a minimum of $1.5 million. The public phase of the campaign launched at a community open house Jan. 11. The event featured renderings, details of the planned renovations, an open bar and hors d'oeuvres.
The building plans include renovation of the current facility into programming space and building a new and larger onsite sanctuary. There will be classrooms, a Jewish children's library and programming space.
"Our goal is to build a synagogue for the Portland community where we will inspire Jewish lives for many generations to come," says Rabbi Brodkin.
Sharon Stern, a lead philanthropist in the campaign, says, "Our family has always supported community building in Portland. We could not think of a more fitting way to honor our father Jerry Stern's blessed memory than by participating in this project and helping expand Kesser Israel's capacity as a vital part of our Jewish community."

---
---