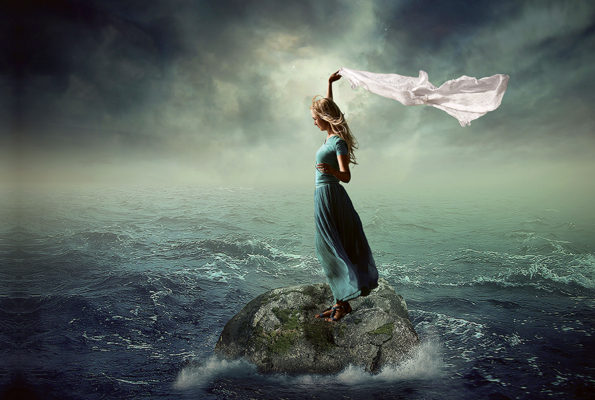 When Shakespearean scholar Daniel Pollack-Pelzner saw a new adaptation of "Pericles," the playwright's use of women's voices reminded him of the gender-neutral prayers he grew up with at Havurah Shalom.
This month Portland Shakespeare Project presents the world premiere of "Pericles Wet," a visceral reimagining of Shake­speare's "Pericles, Prince of Tyre." Commissioned by Portland Shakes (as PSP is also known), "Pericles Wet" is by Portland playwright Ellen Margolis.
Both Ellen's adaptation and Havurah's use of gender-neutral pronouns "work to make our literary tradition more inclusive," according to Daniel, PSP's scholar in residence.
"Ellen has taken a Shakespeare play that focuses on a man's journey and asked about the experiences of the female characters whom he encounters," explains Daniel. "She gives equal weight to male and female voices, taking a traditionally gendered text and expanding the range of identities that it includes. My experience at Havurah has been encountering prayers that customarily imagine the power of the universe as male, and instead translating it as gender-neutral – address­ing God as 'you' rather than 'he.' Both Ellen and Havurah are looking to the cherished texts that carry authority in our culture and asking how they can represent more of our com­munities."
Daniel attended Portland's Reconstructionist congregation until leaving for college in 1997. He became a bar mitzvah in 1993 at Havurah, when it met at the Mittleman Jewish Com­munity Center.
"Writing my drash was the beginning of my academic career: researching and analyzing a complex text and then presenting my ideas in public," says Daniel.
More recently, Daniel's articles on Shakespeare and theater have appeared in The New Yorker, Slate and The New York Times. Daniel earned his Ph.D. from Harvard, where he helped to edit the Norton edition of Shakespeare's complete works. He is now the Ronni Lacroute Chair in Shakespeare Studies at Linfield College. Daniel will present some of the pre- and postshow discussions during the new play's run in Portland.
"Pericles undergoes a long sea journey in Shakespeare's play, and Ellen's revision takes its inspiration from a beautiful rhyme of water with daughter," explains Daniel. "She lets us feel the pain of the women that Pericles leaves behind, as well as the power of daughters and wives to shape their own journeys."
Daniel has had a few journeys of his own. He headed east to earn his bachelor's degree at Yale. He then taught in Paris and California before returning to the East Coast for grad school. He and his wife (also a Portlander) returned to Portland in 2010 "so our kids could grow up near their grandparents." The family joins Daniel's parents, Debby Pollack and Barry Pelzner, for Havurah's High Holiday services every year.
He joined the Linfield faculty in 2010, teaching in the En­glish and gender studies departments. Daniel has been PSP's scholar in residence since 2013, and says he hopes never to leave.
"I grew up going to the Oregon Shakespeare Festival in Ashland, where I still take groups twice a year, and I'm so glad that there's also high-quality, adventurous, well-informed Shakespeare being created in Portland, my hometown," says Daniel.
"Under Michael Mendelson's artistic direction, Portland Shakespeare Project has established a commitment to staging Shakespeare in ways that honor the dramatic poetry and richness of his language and let that language speak to us in the present," he says." I'm delighted that PSP is invested in teaching actors how to unlock Shakespeare's power and teaching audiences how to join the 400-year-long conversa­tion about the plays' significance."
Portland Shakes presents "Pericles Wet"
Written by Ellen Margolis,
directed by Michael Mendelson
WHERE: Artists Repertory Theatre, Alder Stage, 1516 SW Alder St., Portland
WHEN: Dec. 1-17, 2017; 7:30 pm Thursdays-Saturdays; 2 pm Sundays
PRESHOW DISCUSSIONS: 6:45 pm, Dec. 7 (Ellen Margolis and Daniel Pollack-Pelzner)
and Dec. 14 (Ellen Margolis)
POSTSHOW DISCUSSIONS: Dec. 3 (Daniel Pol­lack-Pelzner and Michael Mendelson); Dec. 10 (Michael Mendelson); and Dec. 17 (Ellen Margolis, Daniel Pollack-Pelzner and Michael Mendelson)
TICKETS: $30; $20 student/groups; 503-241-1278 or portlandshakes.org