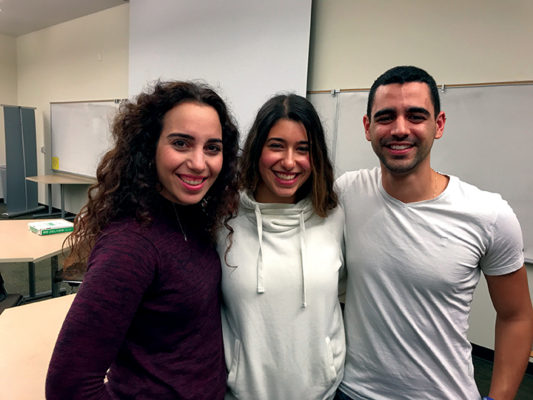 By Alex Raphael
StandWithUs, an Israel education organization, has offered students at more than 80 North American universities the op­portunity to apply for the Emerson Fellowship since 2001.
Our role as Emerson Fellows and as student leaders in pro-Israel or Jewish clubs is to bring events to campus that educate our fellow students about Israel. We can share whatever aspect we wish: the diversity of the people, innovations and the environment, history of the state or the Palestinian-Israeli conflict. We share the message of Israel and her people; despite challenges, Israel has survived and thrived to become a diverse, innovative nation.
Another goal of the SWU Emerson Fellowship is to connect with other campus clubs by supporting each other's initiatives to build coalitions and connections among student leaders.
Many Emersons are involved in student government. On some campuses, they work to combat anti-Semitism, defeat Is­rael Divestment resolutions and to pass anti-BDS resolutions in the student government. With the assistance of StandWithUs regional coordinators and research staff, fellows create cam­paigns that confront anti-Israel rhetoric and also bring educa­tional programming to campus.
SWU assists Emersons in bringing speakers to their cam­puses. One of the more moving programs is the "Between the Lines: Voices of Israel" Israeli Soldiers Tour. This campaign brings two young former Israeli soldiers to share their stories of growing up in Israel and their service. They answer questions, often tough ones. They put a human face on the IDF uniform.
Shayla Norris-York, Portland State University's co-president of CHAI (Cultural and Historical Association for Israel), and Negin Akhavan, who is a member of Ducks for Israel, Oregon Hillel and Akiva at the University of Oregon, are both Emer­son Fellows who brought the tour to their campuses.
Shir and Udi – last names are withheld for security pur­poses – are two animated Israelis with a passion to share their experiences. Both are from Israel's southern cities, which suffer from a constant barrage of Hamas missiles from Gaza. Both ex­perienced the terror of a rocket attack: Udi's house was almost destroyed, and Shir and her sister had 15 seconds to run for cover to a bomb shelter.
Military service in Israel is mandatory at age 18 – three years for men and two for women. Shir and Udi served in 2014, during Israel's "Operation Protective Edge," which destroyed Hamas' terror tunnels from Gaza to Israel.
Shir trained soldiers to use a 3-D missile system to neu­tralize targets. She explained that this missile is so accurate that if it hits this room, the one next door will not be harmed. This shows Israel is willing to invest vast amounts of money to develop weapons that will minimize casualties as much as pos­sible. In fact, more than once the soldiers diverted the missile to an open field just to save a life. After service she visited Disney­land and Washington, D.C., before starting law school at Sapir University near Sderot, a city close to the Gaza border.
We were also fortunate to hear from Udi, the StandWithUs Israel Fellow or Shaliach (educator). He travels around the Pacific Northwest sharing his story and educating people about Israel at middle schools, high schools, churches, synagogues and on college campuses.
Udi studied chemical engineering at Ben Gurion University. During college, he taught at nearby schools. After completing his degree, Udi was commissioned as an officer in the IDF serving as an engineer in the Negev Research Center in south­ern Israel. During his military service, he finished a master's degree and became involved in activism on behalf of LGBTQ rights. After his service, he was a legislative aide to a member of Israel's parliament before becoming the SWU Shaliach.
I asked the reservists why they chose to join this tour. They both had a similar answer: education. Udi emphasized that education is the road to peace, which is also the belief of Stand­WithUs. He stressed that Israelis are his people and Israel, his country. Udi and Shir hope that when people hear about Israel they think of them, real human beings who have unique stories to share and lives with families and friends in Israel.
Alex Raphael is an Emerson Fellow for SWU at Lewis & Clark College. He is a senior biology major.