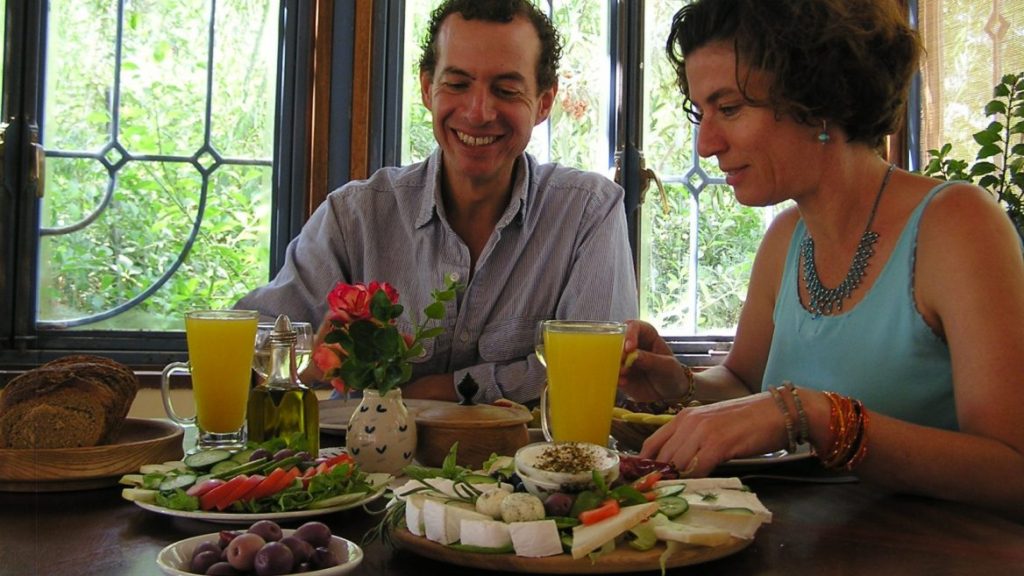 PHOTO: Desert dining at its finest, at Pundak Neot Smadar.
No, it's not a mirage: Israel's desert regions boast restaurants offering a range from made-on-premises dairy to Moroccan classics to smoked meats
By Jessica Halfin
Traveling along in the Israeli desert you might think that coming across a good restaurant could be a mirage, but then you'd be dismissing the Israeli spirit of innovation and entrepreneurship.
Actually, there are quite a few desert gems where you can get a great meal. Many even highlight local products from Israel's desert, which spans two-thirds of our small country.
Wines, sweet organic produce, fine goat cheeses and desert fruits are on the menu, but so are house-smoked meats, Moroccan delights, and the food of southern Italy.
Grab a bite at these 11 spots and you will learn the story of the Israeli desert, one of the world's most unique and unexpected dining destinations.
Yakota Moroccan Restaurant,Old City, Beersheva
Serving both traditional slow-cooked Moroccan cuisine and gourmet plated creations in an upscale, homey and authentic setting, Yakota has been serving customers in its Beersheva location since 1965.
Cooked by a chef who literally grew up in the restaurant owned by the Ben Moyal family, dishes such as Moroccan salads, couscous, lamb stew with onions and raisins, oxtail stew, chicken with olives, and other tagines are served to guests with an emphasis on hospitality and experience.
And save room for dessert, which is tea in decorative Moroccan glasses and an array of festive cookies that the culture is known for.
Hacnaanit (The Canaanite), Kfar Adumim off Highway 1, next to the Sonol gas station
A kosher gourmet chef restaurant with a meat-based menu in the Judean Desert, this is the place to stop on the road from Jerusalem to the Dead Sea for house-smoked steaks prepared in a traditional stone-tabun oven.
Combining the unique desert atmosphere with food and a fine wine bar, the restaurant offers signature dishes ranging from marinated duck breast, to homemade chorizo sausages, to lamb shoulder in an herb marinade, most of which are smoked and slow-cooked on coals.
Kornmehl Farm Restaurant, Negev Highlands, just off Route 40N 2 kilometers after the Tlalim Junction
Kornmehl Farm produces fine goat cheeses in the Negev Highlands, from locally loved labane (savory goat's milk yogurt) to French-style camembert wrapped in preserved grape leaves.
The family-pioneered farm shares a delightfully tasty experience with guests who visit their restaurant built from a humble caravan trailer with a back porch overlooking the magical desert scenery.
Open 10-6 every day but Monday, the restaurant offers simple dairy dishes such as pizza, tzatziki with garlic and Mediterranean spearmint, and phyllo-wrapped goat cheese with red pepper served in a creamy yogurt sauce.
Rosemary Restaurant, Beresheet Hotel, Mitzpeh Ramon
If you've never been to Beresheet Hotel on the edge of the Ramon Crater, you're in for a real treat. Sure, a room will cost you an arm and a leg, but you cannot beat the spectacular view of the natural crater below or the private infinity pool outside each suite above the view.
Can't afford the luxury? You can always dine at the hotel's kosher dairy restaurant instead. Named Rosemary, after the herb that grows wild all over Israel, its menu utilizes gourmet products from local farms.
Meals are served twice a day, once as an abundant breakfast buffet, and a second time for a plated dinner service from 6:30-9:30 each evening. With floor-to-ceiling windows and an unimpeded view of the crater below, it is one of the best dining experiences to be had in Israel's South.
Eretz Arava, Tzukim (at the 123rd kilometer mark of the Arava Highway), Northern Arava Valley
This gourmet restaurant is part of a desert resort containing a blossoming fruit orchard and seven desert cabins. Eretz Arava was built to model the famous Bedouin hospitality of the region, with an Israeli ease and a nod to the chef's Moroccan heritage.
The multi-course tasting meals are served at a slow pace. Diners start off with Mediterranean salads and fresh-baked bread, followed by several courses of elegantly plated Israeli-Arab inspired meat and fish dishes, followed by traditional tea and sweets.
Guests can eat by a cozy fireplace, al fresco under the stars, or enjoy an inspirational Israeli breakfast with breathtaking panoramic views of the nature reserve below and the surrounding desert mountains.
Diners must reserve about a week in advance.
Caldo Pizza Art Bar, 47 Derech Masada, Beersheva
One of the best (non-kosher) restaurants in Beersheva lies just steps from the university off the main road, and surprisingly it's a gourmet pizza place. Turning out some of the best artisan pizzas in the country, it's a great stopping point for a filling Italian lunch.
A menu of 70 kinds of pizza includes creative pies with toppings such as pickled lemon, beef prosciutto and shrimp, plus sauces that range from the traditional red to pesto-based and white.
 Pundak Neot Smadar,Kibbutz Neot Smadar, Arava Valley, Route 40 at Shizafon Junction
A café offering locally produced vegetarian meals, and a shop that carries the same organic products grown and made in the surrounding kibbutz, Pundak Neot Smadar is a model for sustainability in the hot desert.
Located in a shaded green oasis about an hour north of Eilat, this eatery's meals include the goat cheeses, milk and other products such as wine, olive oil, olives, preserves and dates of the community – all produced with care in small batches.
Menu choices include homemade cakes and pastries, goat's milk yogurt and ice cream, a cheese plate served with fresh-baked bread, sandwiches, salads, and hot fare such as lasagna and stuffed peppers.
 Knaaniya Café,Midreshet Ben-Gurion
For a great pre-hike breakfast or post-hike lunch just steps from the Ben-Gurion memorial site and overlook, head to Knaaniya deli and café.
Serving (and selling) local and international cheeses, charcuterie, produce, yeasted cakes, pastries and croissants baked on the premises, it is a popular spot to take in a light and delicious meal.
Kapruchka, 19 Achava Road, Arad
One of the few places in Israel where you can get a proper anchovy or bianca pizza, Kapruchka is a casual Russian-inspired pizza parlor turning out brick-oven pizzas as well as focaccias, calzones and an entire vegan-friendly menu.
In the desert town of Arad above the Dead Sea where the Negev Desert meets the Judean Desert, the restaurant is just around the corner from one of the most scenic places in the world to sit and enjoy your tiramisu dessert.
40 Pub, Kibbutz Tlalim
For American-style hamburgers served with onion rings or homemade hummus in a pub setting, this spot in the Negev Highlands town of Tlalim is the place to go.
A small but solid menu includes bar snacks and salads, plus beer on tap or a Campari-and-grapefruit signature drink. This is all you'll need as you watch the live musical performances on the stage and take in the rustic desert atmosphere.
Ma Prem Ursula, 93 Tzukim, Central Arava Valley
A new concept restaurant born in place of Ursula – the former German-cuisine café – Ma Prem Ursula continues the tradition of good food in the desert.
Under chef and desert entrepreneur Danny Popper, the restaurant still focuses on the German dishes it is famous for, which are plated in a more sophisticated manner and served up with distinctively Israeli touches.
Curryworst, apple strudel and spaetzle still grace the pages of the menu, supplemented with salads containing seasonal produce from Arava farms and popular Israeli dishes such as shakshuka.
This article courtesy of Israel21c.org