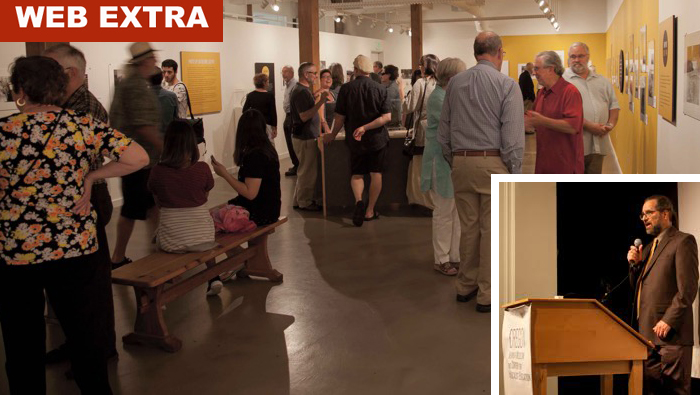 Oregon Jewish Museum and Center for Holocaust Education members packed the museum's theater for OJMCHE June 29 annual meeting. Out-going president David Newman (inset) announced that the museum was close finalizing the  purchase a permanent home for the museum, news that was confirmed on July 6 (see story).
The meeting was also the opportunity to reflect on Newman's spectacular tenure as president, during which time he spearheaded the merger between the Oregon Jewish Museum and Oregon Holocaust Resource Center in 2014 and, now, the successful purchase of a new home at 724 NW Davis St. Incoming board president Elaine Coughlin spoke eloquently of the bright future ahead.
The meeting was followed by the opening (main photo) of Every Minute Counts, Photographs by Katherine Joseph, which will be the last exhibit on Kearney Street. After that exhibit closes Sept. 25, 2016, the museum will begin its move to the new location with a grand opening in late Spring 2017.