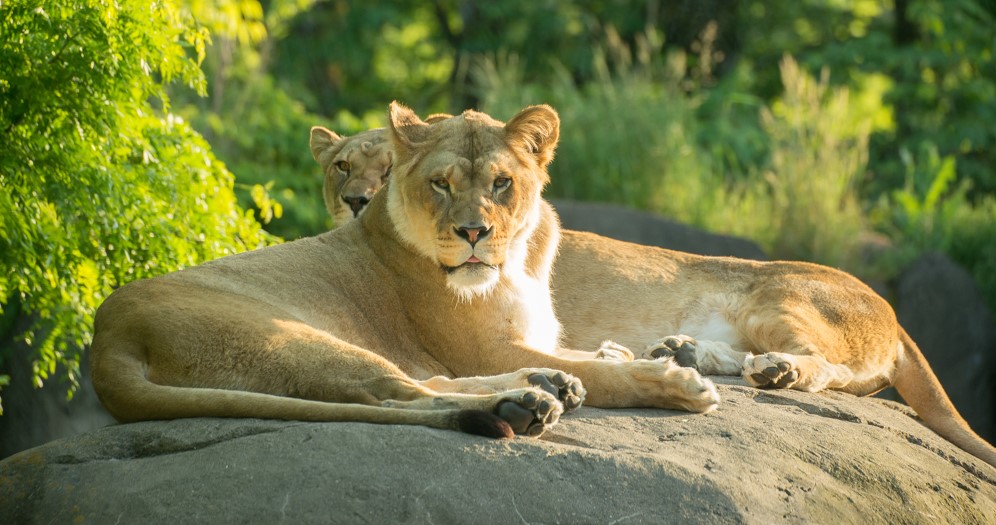 PHOTO: Two female lions relax on their rock at Predators of the Serengeti. Every day this summer, zookeepers will demonstrate how they keep the lion pride healthy. Photo by Shervin Hess/Oregon Zoo.
It feels like summer and the Oregon Zoo is ready, with longer hours and a host of seasonal special events. Through Sept. 2, zoo gates stay open until 6 pm, and guests may remain on grounds until 7. Along with more time to see the animals, zoo visitors will be treated to a summer chock full of events, shows and happenings.
Daily keeper talks take place at Banfield Pet Hospital's Big Cat Care stage. Zoo animal-care experts demonstrate how they keep the lion pride healthy and discuss ways people can provide preventive care and enrichment for their domestic cat companions at home.
The zoo's popular summer camps, also presented by Banfield, start June 17. As of this writing, spots are available for most age groups, but camps tend to fill quickly with the end of school. For more information, visit oregonzoo.org/camps.
Also beginning June 17, the zoo's popular Wildlife Live program, presented by Portland General Electric, returns with free-flight demonstrations featuring bird species from around the globe.
The zoo's summer concert series, presented by U.S. Bank, kicks off with Rain: A Tribute to the Beatles on June 14 and winds up Sept. 7 with a performance by the Oregon Symphony. Along the way, concertgoers can catch a variety of world-renowned artists. For more information and a full schedule, visit zooconcerts.com.
Twilight Tuesdays, presented by The Oregonian, take place every third Tuesday from June through August. Packed with a variety of al fresco dining opportunities, live music and activities for kids, the evenings offer a rare chance to enjoy the zoo in the beautiful twilight hours of summer.
And in July, the zoo debuts Roars & Pours, an evening series for the 21-and-over crowd, with drinks, food, games and plenty of wildlife. Events take place July 18, Aug. 21 and Sept. 11.
As part of the Metro family, the Oregon Zoo helps make greater Portland a great place to call home. Committed to conservation, the zoo is working to save endangered California condors, Oregon silverspot and Taylor's checkerspot butterflies, western pond turtles and northern leopard frogs. Other projects focused on saving animals from extinction include studies on polar bears, orangutans and cheetahs.
Support from the Oregon Zoo Foundation enhances and expands the zoo's efforts in conservation, education and animal welfare. Members, donors and corporate and foundation partners help the zoo make a difference across the region and around the world.
The zoo opens at 9:30 am daily and is located five minutes from downtown Portland, just off Highway 26. The zoo is also accessible by MAX light rail line. Visitors who travel to the zoo via MAX receive $1.50 off zoo admission. Call TriMet Customer Service, 503-238-RIDE (7433), or visit trimet.org for fare and route information.