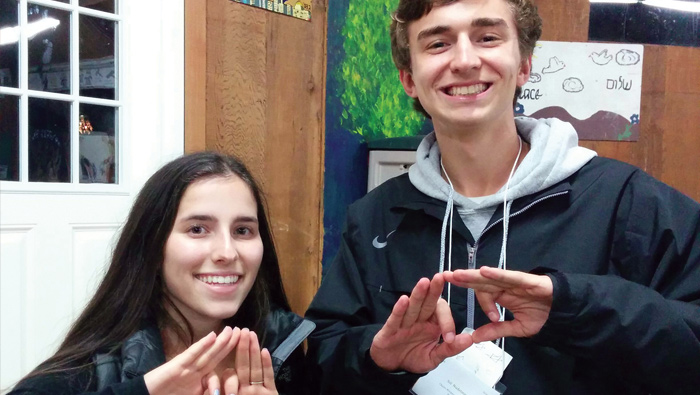 BBYO, formerly B'nai B'rith Youth Organization, has been in existence since 1925, originally as a club for teenage Jewish boys. A girls division was recognized in 1944.
BBYO has a pretty famous alumni list including Mark Cuban, Matt Groening, Adam Sandler and Sheryl Sandberg. Despite changes over the years, BBYO remains committed to Jewish life, community service, social action and being a youth leadership model for Jewish girls and boys.
BBYO Portland City Director Sam Swire told us about BBYO regional presidents in the Evergreen Region, which includes Oregon, Washington, Montana and parts of British Columbia. Ayla Bussel, Regional BBG, N'siah youth president, is a senior at Henry D. Shelton High in Eugene. Sol Nudelman, AZA, Godol president presides over the boys chapters and is a senior at Lake Oswego High.
Ayla is busy applying to colleges and hopes to study psychology, education and/or law. She loves working with people, especially youth.
She says she thought her strong involvement with Judaism would end after becoming a bat mitzvah. But when some upperclassman invited her to a BBYO meeting, she attended and was hooked after a few weeks.
Sol, a third-generation Oregonian, is also busy with college applications and wants to major in finance. His big dream would be working for a professional sports team in upper management or finance. Sol has been involved in BBYO since eighth grade. He knew he would give the organization a try – his dad, grandma, grandpa and aunt are all past members of the youth group. He has loved every single moment since his first meeting.
The following interview with the two teens has been edited for brevity and clarity.
What does being Jewish mean to you?
Ayla: It means strong values, morals and beliefs. It means getting an education and knowing what I stand for.
Sol: I belong to a very special community with people who are very compassionate, motivated and who are leaders. There is a special bond almost immediately when you meet someone and find out they are also Jewish.
Describe the most valuable skill you have gained from BBYO.
Ayla: The ability to listen and learn from others. Through numerous conference calls, programs and brainstorm sessions, I have learned to listen to and understand other people's opinions as well as how to respectfully and thoughtfully voice my own opinions.
Sol: The ability to work with others. I was shy, not an outgoing kind of kid. BBYO broke me out of my shell. My social skills improved, and I realized I had the ability to lead. I've figured out how to brainstorm, communicate and execute successful events with others.
How has being active in BBYO affected your life?
Ayla: My high school experience would not be the same without BBYO. I am forever grateful for the people I have met and the skills I have gained.
I cherish the weekends when our region gathers, and I get to spend time with these incredible and inspiring leaders. I am so lucky to be part of an amazing team of leaders who are truly changing the future of our region and leading us to higher levels of success.
Sol: BBYO has given me an opportunity to meet so many different people from so many different schools in Portland, around the state and the country. When I was around people involved in Christian religious groups, I felt pretty left out. Once in BBYO I felt such a connection with my peers and the people around me.
BBYO is an inclusive organization. How have you seen the program adapt to accommodate the special needs of lesbians, gays, bisexuals, transgender individuals and those questioning their identity?
Ayla: Sol and I were present at the North American Executives Conference this past August when the executive body voted to pass the motion to make BBYO a gender-inclusive organization.
Sol: With those identifying with LGBTQ, the entire order has become inclusive and is looking to make changes in writing to be more gender inclusive.
BBYO is gender separate by chapters. How has that impacted discussions on gender identity?
Ayla: Although we hold separate AZA and BBG meetings and events, we are constantly working to collaborate as one cohesive body. AZA and BBG chapters recently gathered in Eugene for a program on feminism to learn about the history of feminism and current issues and to share views.
Sol: We will be moving forward to bring chapters together to continue being inclusive.
How has your awareness on gender equality changed?
Ayla: As a kid, I didn't even know what the word "gay" meant. Now at 17, I am more educated regarding the LGBTQ community and the issues they face every day. The news that the Supreme Court legalized gay marriage nationwide was such a powerful moment for me, and it really shows the commitment of our society to create a world that is safe and accepting for everyone. There will always be people who are unwilling to budge on their views.
Sol: People's perspectives are very different and have changed with the times. In the Northwest, people are primarily more liberal and caring toward change.
How has the organization changed with technology?
Ayla: Our region's leaders are encouraged to use Twitter, Facebook, Instagram and other forms of social media to promote events and initiatives. This technology allows us to spread information to a large audience in a matter of seconds.
However, with all this technology comes some challenges. Misinformation and using social media in a harmful way is a risk. It is crucial to be responsible. That is something Sol and I stress in our region.
Sol: BBYO has only grown with the use of technology. It seems that every single chapter in every city has a Twitter account. I started my chapter's Twitter account years ago. It is an easy way to communicate to your entire region as well as to international members.
Where do you see yourself in 10 years?
Ayla: Working toward a Ph.D. in psychology and being happy and healthy and hopefully with a few kids. And saying "yes" to keeping Judaism in my life.
Sol: I will be working and traveling – I am really in love with the San Francisco area. I see myself starting a family. All the Jewish learning and BBYO involvement has strengthened my Jewish identity and will continue on as an adult.