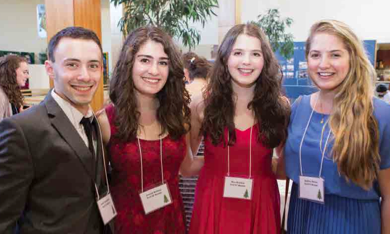 Now in its 12th season, the Oregon Jewish Community Youth Foundation, a program of the Oregon Jewish Community Foundation, continues to evolve. Currently 62 high school-aged teens from throughout the Portland metro area, including representa- tives from many high schools and synagogues, participate in the program. OJCYF teens meet monthly in three groups: first-year participants are Lomdim (apprentices), second-year participants are Bonim (builders) and third/fourth-year members are Manhigim (leaders). Each group meets separately for an hour to discuss and learn collaboratively on a given topic such as the Jewish view on philanthropy, the business of nonprofits or needs in the community through site visits and other experiences. New to the program this year, all OJCYF participants convene as a large group for an hour to hear from guest speakers.
Visiting speakers have included accomplished local leaders such as Rabbi Joshua Rose from Congregation Shaarie Torah and Rabbi Eve Posen of Congregation Neveh Shalom, who together led an interactive session on Jewish values of giving. In November Sacha Reich, founder of the Jewish Theatre Collaborative, led discussions exploring the value of the arts in society. In December Roy Abramowitz, CPA, CFP and share- holder of Perkins & Co. accounting firm, joined OJCYF mem- bers to show them how to discover important financial facts on nonprofits and evaluate their financial health. Abramowitz is OJCF's treasurer and serves on the boards of many Portland nonprofits.
Adult advisors Rachel Rothstein and Julie Diamond collabo- rate to provide the OJCYF members with hands-on experiences that are meaningful to them. "We have great participants who are big on collaboration and love to share their ideas and previ- ous knowledge with the rest of the teens. Although large, it is a nice and cohesive group," comments Rothstein.
"It's clear that part of the joy of this experience for OJCYF members is sharing it with their Jewish friends and family," adds Diamond. "OJCYF's annual benefit dinner brings together multiple generations of the participants' families and provides the opportunity for teens, parents and grandparents to all share in the delight of philanthropy together."
Manhigim member Batya Beard, a junior at St. Mary's, says, "OJCYF gives me an opportunity to be involved with not only the Jewish community, but the non-Jewish community – teaching me about different types of values."
"In particular, OJCYF has helped me identify Jewish education as integral to the longevity of our Jewish community in Portland and around the world," says Melissa Diamond, third-year OJCYF member and a senior at Sunset High School. "Ultimately, giving, or tzedakah, is central to Jewish values as a whole. Because of this, OJCYF enriched my Jewish life immensely and taught me to be more compassionate in everything I do."
OJCYF 2014 Grants
In 2014, OJCYF distributed a total of $42,046 in three grant cycles, with the majority being allocated through the year-end request for proposals occurring after the spring an- nual fundraising dinner, which was titled Imagine: Journeys of Generosity. Some of the largest grants were given to Hand in Hand to support its Project Harmony Summer Day Camp in Israel, and Jewish Family & Child Services for the Mensches in the Trenches Volunteer and Intern Program. Among secular organizations, Urban Gleaners garnered the largest grant for the Food to Schools: Warehouse Eq
Looking Ahead
The 2015-2016 academic year will mark the 13th year of OJCYF. Youth Foundation leaders will likely come up with something special to celebrate the group's b'nai mitzvah year. For teens interested in applying for next year, visit ojcf.org/ youth-foundation. The application for the 2015-2016 season will be available on the website in May. Applications, including an essay, are required for the nine-month program.
Gail Mandel is the legacy development & marketing manager for Oregon Jewish Community Foundation.uipment Project. Other recipients included B'nai B'rith Camp on the Oregon Coast, Moishe House, Tivnu: Building Justice and the Community Transitional School.
OJCYF's Annual Benefit Dinner Flying into the Future | A Teen Philanthropy Celebration
Join OJCYF's teen philanthropists, educators, community leaders and families for this exciting annual gathering to raise funds for the youth foundation's grants to community nonprofits. Teen dinner Co-Chairs Brendan Edelson and Melissa Diamond, with the rest of the Manhigim group, will plan a celebration of giving and caring and demonstrate how our young Jewish leaders truly are "flying into the future."
WHEN: 5:30pm, Thursday, April 30,2015
WHERE: Stern Family Ballroom, Mittleman Jewish Community Center, 6651 SW Capitol Hwy., Portland
MORE: Sponsorships available, contact 503-248-9328 Tickets on sale mid-March; check ojcf.org for more details closer to the date.