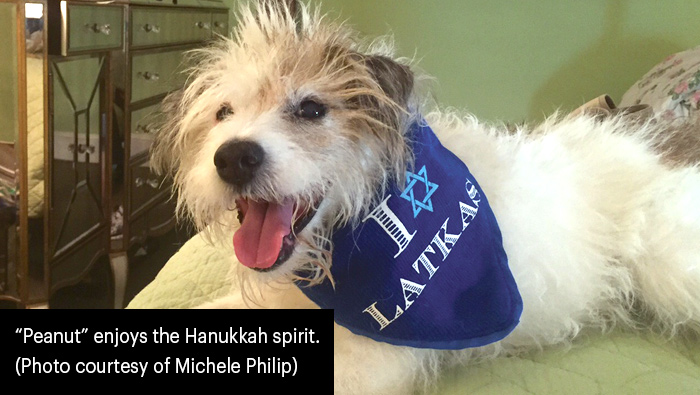 DEC. 6
Hanukah Menorah Workshop: Chabad Northeast Portland and Orchard Supply Hardware (4030 NE Halsey St, Portland) offer a Pre-Hanukkah Menorah Workshop at 10 am.
"During our long history Jews have learnt to become creative," says Mushka Wilhelm the Director of Chabad Hebrew School-NE PDX. "Who would think that random items from Orchard Supply Hardware could become the enduring symbol of freedom that the Menorah represents?"
Craft your own unique menorah with materials supplied by Orchard Hardware. Music and Hanukkah refreshments. Parents should accompany their kids. Free with RSVP: JewishNortheast.com/OSH or call 503-309-4490.
Hanukkah Donuts + Dancing: Make decorations, Israeli dance, and eat sufganiot – jelly donuts at this Hanukkah celebration for the whole family. 2-4 pm at the Mittleman Jewish Community Center, 6651 SW Capitol Hwy., Portland. Families: $10. Individual: $5. Register at oregonjcc.org/donuts
Celebrate Hanukkah! A Festival for Kids and Families: Kids ages 0-12 will enjoy creating a menorah, making sufganiyot (jelly donuts), playing dreidel, storytime, play area, music and dancing. Dec. 6 9:30 am-noon at Congregation Neveh Shalom, 2900 Peaceful Lane, Portland. Free and open to everyone in the community. No need to RSVP. Info: 503-293-7309
Early Childhood Family Hanukkah Program: For families with young children. Dance and sing with Kim Schneiderman, listen to a story from the clergy and make a craft. 10-11:30 am at Congregation Beth Israel, 1972 NW Flanders, Portland. 503-222-1069.
Preschool Family Education Hanukkah Gathering: Free for all families with children ages 2-6. There will be singing, stories, crafts and delicious treats! Adults will get the opportunity to learn with Rabbi Rose while the kids play. 10 am-noon at Congregation Shaarie Torah, 920 NW 25th Ave., Portland. 503-226-6131
Grand Menorah Lighting & Community Hanukkah Celebration: Ice Menorah Carving, Laser Light Show,  Children's Craft and food –  Latkes, Donuts, Matzah Ball Soup and Pastrami Sandwiches. 4:30-6:30 pm at Ester Short Park, 415 W 6th St., Vancouver. Tzivie@jewishclarkcounty.com
DEC. 8
PJ Library & Green Bean Books Present Eric Kimmel: Come hear the author of Herschel and the Hanukkah Goblins and other childhood favorites read his own stories. 11 am at Green Bean Books, 1600 NE Alberta St., Portland. Free!  facebook.com/events/1664360440446138/
DEC. 9
Night of 100 Hanukiyah: Dinner and program for sixth- to eighth-graders. 6-8:30 pm at Congregation Shaarie Torah, 920 NW 25th Ave, Portland. Planned by Congregations Neveh Shalom, Beth Israel and Shaarie Torah, USY, OJCYF, NFTY, NCSY and BBYO; with support from PAJE (Portland Area Jewish Educators), a project of the Jewish Federation of Greater Portland.  Questions: Rachel Rothstein rachelr@jewishportland.org or 503-892-7415
DEC. 13
Teens Hanukkah Party and TJJ Info Session. Celebrate the holiday and learn about NCSY's The Jerusalem Experience.
10 – 11:30 am. Hosted by by the Blooms: 215 Glenview Dr., Ashland. doovie@ncsy.org