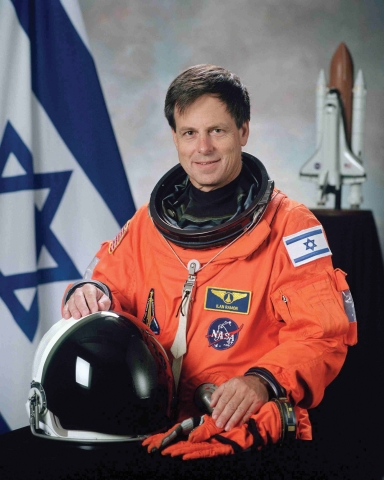 The tradition of leaving gaps in the thatched roof of a sukkah sufficient to allow natural light to pass through makes the week-long harvest festival of Sukkot a natural time to speculate about space and the people who explore it.
As my family gazed contentedly at the Portland night sky from our sukkah, the clear skies made for excellent stargazing. A brilliant harvest moon loomed over us, and my kids began to ask questions: "Why does it 'follow' us when we drive at night? And, How come some nights it's a half-moon?" My son Leo (age 6), asked me if there are any Jewish astronauts. It turns out there have been 13 Jewish astronauts and one Jewish cosmonaut. The story of these intrepid Hebrew explorers has been marked by tragedy and triumph, mirroring the Jewish experience itself. Nearly every major Jewish holiday has been observed in space, and the Torah has flown to the heavens twice. Just as Jews have spread throughout the Diaspora and thrived, as man has moved out into space, Jews have played a pivotal role there.
Jewish spaceflight got off to an inauspicious start in 1964 when Soviet cosmonaut Boris Volynov was bumped from his first space mission because of his Jewish lineage. He persevered and five years later became the first Jew in space when he commanded the Soyuz 5 mission on Jan. 15, 1969. After surviving a harrowing crash landing in the Ural mountains, far from his designated landing site, Volynov walked for miles in subzero temperatures to the nearest house with a mouthful of broken teeth! Volynov went on to fly again on Soyuz 21 and spent a short time onboard the Salyut 5 space station.
In 1984 Judith Resnik became both the first Jewish woman and the first Jewish American in space when she flew on the maiden voyage of the shuttle Discovery. Resnik was recruited by none other than Star Trek actress Nichelle Nichols, who was helping NASA to recruit women and minorities at the time. As a child Resnik attended Hebrew school and became a bat mitzvah in her native Akron, Ohio. As an adult she charmed a nation when she famously flashed a sign reading "Hi Dad" toward the cameras while on the Discovery. As only the second American woman in space, she was seen by many as a trailblazer. With her long brown hair undulating in microgravity, Resnik stood in stark contrast to the public's preconceptions about what astronauts should look like or who they could be. She inspired countless women and girls around the globe. Tragically, Judith Resnik perished aboard the ill-fated Challenger, which exploded shortly after launch in 1986.
Jeffrey Hoffman was the first astronaut to truly explore his Judaism in space. Hoffman's first mission on the shuttle Discovery departed shortly before Passover 1985, so he asked if he could bring matzah. NASA officials denied Hoffman's request over concerns that the matzah crumbs would pose a hazard to the delicate equipment onboard the shuttle. Sorry kids, no Afikomen in space! Hoffman was able to attach a mezuzah to his bunk with Velcro on the Discovery. In December 1993, Hoffman made history when he became the first Jew to celebrate Hanukkah in space. Serving as mission specialist on the shuttle Endeavour's Hubble Space Telescope servicing mission, Hoffman participated in three challenging spacewalks, including the second-longest spacewalk in NASA history. During a well-deserved break, Hoffman demonstrated to a live TV audience how to spin a dreidel in space! He even brought a small silver menorah with him, but could not light it, as open flames are a fire hazard in space. Three years later he made another space first when he read from a small Torah he brought with him on the shuttle Columbia. It is now known as the Space Torah and resides permanently at Houston's Congregation Or Hadash. Echoing the crew of Apollo 8 as they read the opening verses of Genesis on Christmas Eve 1968, Hoffman read those same verses in Hebrew. In a 1996 interview with Sandra Savlovsky of the Jewish Telegraphic Agency, Hoffman said, "Wherever Jews have wandered, they have taken the Torah with them. Astronauts are human beings and when we travel, we take with us our culture and heritage. It is important to me to take my Jewish heritage with me as well."
Astronaut David Wolf lived on the Mir space station from September 1997 to January 1998. While onboard he observed Rosh Hashanah, Yom Kippur and Hanukkah. Dr. Wolf recorded a New Year's greeting for his father's congregation in Indianapolis. In an interview with Miryam Wahrman on jewishfederations.org, Wolf explained, "Yom Kippur was unlike anything on Earth. All I had to do was fast for an hour and a half, because sunrise occurs every 90 minutes. I fasted a few sunrises." When Hanukkah arrived Wolf celebrated much as Jeffrey Hoffman did. "I probably have the record dreidel spin; it went for about an hour and a half until I lost it. It showed up a few weeks later in an air filter. I figure it went about 25,000 miles."
Perhaps the most compelling Jewish voyage of all was that of Ilan Ramon, who died when his shuttle broke apart over Texas in 2003. A hero in every sense of the word, Ramon fought in the Yom Kippur War and was the youngest member of the elite team that destroyed the Osirak nuclear facility in Iraq. Ramon broke new ground by observing Shabbat onboard the Columbia and becoming the first astronaut to keep kosher during his time in space. Prior to launch Ramon consulted with rabbis who determined that Shabbat would follow Houston time. Colonel Ramon even brought a silver kiddush cup into space and recited the blessing over grape juice.
During World War II, a young boy imprisoned in Theresienstadt envisioned what the Earth might look like from the surface of the moon, nearly a quarter of a century before Apollo 8 cameras snapped the epic "Earthrise" photo in 1968. That boy, Petr Ginz, died at Auschwitz in 1944. Colonel Ramon, the son of Holocaust survivors himself, took a copy of "Moon Landscape" with him on his shuttle flight, a fitting tribute to a boy whose powers of imagination could not be extinguished even by the Nazis. Ramon also took along a Torah that was used in a covert bar mitzvah celebration at the Bergen-Belsen concentration camp. Though these precious artifacts were destroyed along with Columbia's crew, Ramon's personal diary was miraculously recovered from the wreckage. On day six, Ramon recorded the following entry: "Today is maybe the first day that I really feel like I live in space. I turned out to be a man who lives and works in space, just like in the movies."
In May of 2008 Garrett Reisman of Morristown, NJ, became the first Jewish crew member on the International Space Station or ISS. Reisman brought a copy of the Israeli Declaration of Independence given to him by Ilan Ramon's widow, Rona, as a tribute to the fallen hero. On the occasion of Israel's 60th anniversary, Reisman sent a video greeting from space to the Israeli people. You would think such accomplishments would make any parent proud. Speaking about his choice of careers in the Jewish Chronicle in an article by Paul Berger, Reisman explained, "I have a typical Jewish mother. She is disappointed that I didn't become a doctor or a lawyer."
In perhaps the most delicious achievement in Jewish space history, Canadian Jewish astronaut Gregory Chamitoff became the first person to bring bagels into space in 2008 on the Shuttle Discovery en route to the ISS. Chamitoff's cousin owns Montreal's famed Fairmount Bagels and was only too happy to provide the 18 sesame bagels that made it into orbit.
The future looks bright for Jewish spaceflight, as Jeffrey Hoffman, speaking at the 10th anniversary of Chabad Santa Fe in 2007, makes clear: "I thoroughly hope that when humans go to settle Mars, Jews will go too and bring their Jewishness. It's part of what makes the world holy and we should bring it wherever we go."
Rich Geller is a freelance writer and father of three living in Portland.