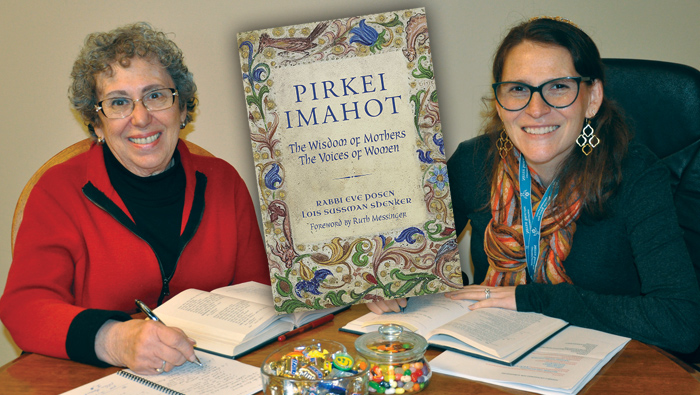 Just in time for Mother's Day, Pirkei Imahot, the Wisdom of Mothers, the Voices of Women is available to share with mothers and those who love them.
Co-authored by Rabbi Eve Posen and Jewish educator Lois Shenker, the book grew from the pair's one-on-one study project. Pirkei Imahot explores women's voices, insights, experiences and – of course – questions, previously posed in Pirkei Avot, written by Jewish male sages in the second century CE.
With the publication of this new book by Jewish women – and for everyone – the authors say they want to make the phrase Pirkei Imahot as common as its progenitor, Pirkei Avot.
A book launch party in Portland (see below) will feature Ruth Messinger, who wrote the forward to the book. She writes of the authors: "They are building for women a sense of our own power to be the speakers, teachers, commentators and leaders for change in the 21st century."
Ruth now serves as the inaugural global ambassador of American Jewish World Service, an international human rights and development organization for which she served as president and CEO from 1998 to July 2016.
Lois is a community and family matriarch, life coach and published author. Lois and Arden, her husband of 56 years, are the proud parents of three children and their mates, 10 grandchildren and four great-grandchildren. Rabbi Posen is assistant rabbi of Congregation Neveh Shalom and a first-time author. Rabbi Posen, her husband, Duncan Gilman, their children, Shiri and Matan, and their dog, Stanley, live in Portland.
"We planned the launch on May 8 because it is Lois' 80th birthday," says Rabbi Posen. "We also liked that it dovetails nicely with Mother's Day. This whole project is a wonderful way to celebrate Lois' birthday and the wisdom that women can share with each other."
Shenker and Posen set out to give Jewish women their own voice and reflect our 21st-century world, Jewish and otherwise. Their introduction notes: "It was written as a result of our own unique experiences as women, mothers, leaders and teachers in our community, and those of the many women who contributed their own words of wisdom to this book."
Rabbi Posen says the two reached out to and received submissions from 48 women around the country, in varying life stages and occupations.
In the first half of Pirkei Imahot the authors introduce key writings from Pirkei Avot and then offer their own analyses and context. Following these are study questions for readers to ponder or to spark their own group discussions. Blank space following these sections invites readers to note their own thoughts or further inquiries.
The authors tackle topics including authority, friendship, study, respect for people of all ages and even the strategic use of silence.
From Pirkei Avot 1:17, it is written, "…nothing becomes a person more than silence." In Lois's analysis, she says, "It is often during the silence, the pause, where clear thinking truly takes place and clarity occurs." Then she poses the question: "Can you think of a situation in which keeping silent would help to resolve a problem?"
The second half of the book is filled with fascinating contributions by Jewish women of all ages, geographies and personal experiences, reflecting topics as diverse as Jewish ideals of tzedakah and tikkun olam, as well as universal ones like justice, mothering and ethical behavior.
"Pirkei Avot still feels real and relevant to our daily lives, perhaps more so than other texts," Rabbi Posen says. "It reads as an ethical will of sorts from the great rabbis. Lois and I believed it was time to look at what those values have evolved into for today's world from an entirely female perspective."
Shenker adds, "Either by reading our book or attending a workshop, if a person just makes one change in her or his course of action, or becomes more mindful, or feels more comfortable with the moral imperative Judaism gives us, we will be satisfied and gratified by the efforts put forth in writing this book and learning from those who contributed to it."
To purchase books and for more information, visit wisdomofmothers.com. Books also are available online, beginning May 1, at Amazon and Barnes & Noble.
BOOK LAUNCH PARTY & RECEPTION
WHAT: Pirkei Imahot, the Wisdom of Mothers, the Voices of Women (Luminare Press, May 2017)
WHEN: 7:30 pm, May 8
WHERE: Congregation Neveh Shalom, 2900 SW Peaceful Lane, Portland
GUEST SPEAKER: American Jewish World Service Global Ambassador Ruth Messinger
FREE