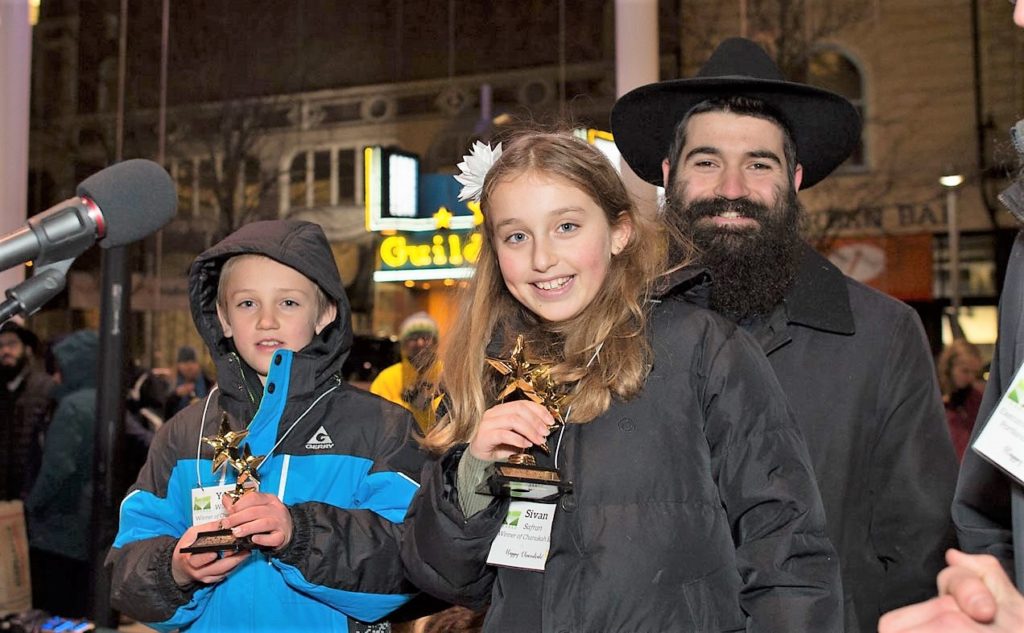 PHOTO: Yossi Wilhelm, a third-grader at Maimonides Jewish Day School, and Sivan Safran, center, a fifth-grader at Portland Jewish Academy, read their winning essays. Photos by Rob ProPhoto
Winners of the Chanukah Essay Writing Contest on "What Chanukah Means to Me" read their winning essays Dec. 12 the annual Chabad public menorah lighting in Director Park.
Sponsored by Maimonides Jewish Day School, the contest drew entries from elementary school students from Portland Jewish Academy, Raleigh Hills K-8, MJDS, and the International School of Portland. Award-winning author Eric Kimmel endorsed the competition.
 Yossi Wilhelm
Boruch ata, in my house, we are lighting the menorah.
As I light the menorah, I think about how many people have done this and how much light we add to this world. People from Sydney, Victoria, Moscow, Yerushalayim (Jerusalem), all light the menorah. Each candle adds more light, warmth, and happiness to this world.
I also realized that every person can do the same.
Every time someone helps or visits someone that's sick they're adding so much light, warmth, and happiness to the world.
I think about all the people in the world. Not all are the same. Some are old, and some are young. Some are tall, and some are short.
Some may have special needs, and some may not have special needs, but they all add light to this world.
Sometimes, I am scared of the dark, but if there is even one candle, it lights up the dark. It is the same with people. Just one good deed adds so much to the coming of Moshiach (the Messiah).
I hope when you light the menorah for the rest of this holiday, you feel how much light you are adding to the world. Happy Chanukah!
Sivan Safran
Most weekdays, someone in my family has something to do after school, and we don't often have the luxury of stopping to talk with one another at length. We don't regularly eat dinner as a family and the only time we spend talking for a long time is when someone needs help with homework or when our parents are putting us to bed. We are so busy that sometimes it feels like life might pass us by without giving us the chance to enjoy each other's company. To me, Chanukah is especially meaningful because it is a time of year where we get to connect and communicate.
The chanukiah (often referred to as a menorah) reminds us to turn off our electric lights and gather around the candles. These candles bring light when the days are short. When we sit around enjoying the chanukiah, I try to sneak in some non-Chanukah related songs, too, so we can be together for longer, and we sing our hearts out like there's no tomorrow. We stay together until the candles burn out. This helps me savor eight marvelous nights.
I think when we get to be together as a family it's like a third miracle of Chanukah.