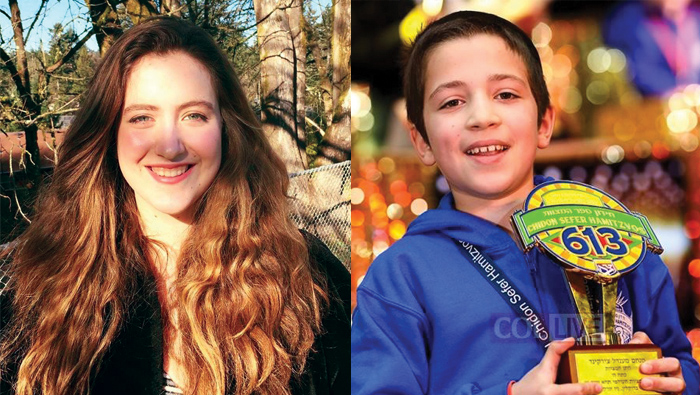 Riverdale senior Noa Cohen receives prestigious scholarship
Noa Cohen, Riverdale High School senior and Jewish Student Union president, has been awarded the Stamps Scholarship.
Each year, the University of Oregon selects five incoming freshmen from Oregon to receive its most prestigious and generous undergraduate scholarship, the Stamps Scholarship. This year, Noa is among this elite group of high-achieving recipients chosen for their strong leadership potential, academic merit and exceptional character.
Noa is the regional president of the JSU, president of the Riverdale drama department and is active in mock trial. A Hebrew music and dance specialist and private tutor, Noa has had an article published in the national Jewish magazine Ignite, in which she wrote about her work teaching Portland high school students about the Holocaust, anti-Semitism and tolerance. She is a classically trained pianist and regularly competes in piano festivals and competitions. She volunteers at Rose Schnitzer Manor assisted living and has worked as a camp counselor at the YMCA. Noa also received the Oberlin Book Award for Commitment to the Arts and Community.
The Stamps Scholarship program at UO is very selective, and Noa was chosen from an applicant pool of hundreds to receive this merit-based scholarship. The award covers tuition and room and board for four years of undergraduate study, and provides up to $12,000 in enrichment funds that help students pursue study abroad, unpaid internships, research endeavors and other opportunities such as participating in a leadership program or academic conference. In addition to generous levels of financial support, Stamps Scholars are automatically granted admission to the university's Robert D. Clark Honors College.
The Stamps Family Charitable Foundation supports promising students who are eager to make their contributions to the world and have the work ethic to make their dreams a reality. Other benefits of the Stamps Scholarship include participation in a national day of service, access to a growing network of scholars and alumni, and opportunities to attend biennial conventions, where scholars are able to network with each another and learn from recognized leaders.
In a notice about Noa's scholarship sent to Riverdale High School, UO's Assistant Director of Scholarships Holli Johnson wrote: "She was offered this award after a rigorous application process that included two interviews, and she impressed the scholarship committee at every turn. … You are no doubt very proud of all she's accomplished at Riverdale High School and feel – as do we – that she is poised to excel at the highest level in college."
Portland Jewish day school student brings home gold medal
Comparable to the Scripps National Spelling Bee, the International Chidon Sefer Ha'mitzvos (Hebrew for "contest about required good deeds") shone a spotlight on Portland's Maimonides Jewish Day School, known for excellence in Judaic and general studies.
And that light was gold.
Mendel Mishulovin, 10, proved himself an expert on the 613 good deeds found throughout the Torah, or the five books of Moses. Mendel placed first – winning the gold medal – out of 3,000 children, ages 9 to 13, from 80 schools around the globe, who came in late March to Brooklyn, NY, to exercise their Torah chops.
"This is the first time a Maimonides Jewish Day School student has won a Chidon medal," Principal Rabbi Shneur Wilhelm said. Mendel's classmate, Levi Greenberg, also medaled.
"The brightest Jewish day school students from around the world – including Asia, South America and Europe – compete in this very tough contest," said Rabbi Zalman Glick, one of the contest's judges. "Oregon can be very proud it produced a gold medalist."
Participants in the annual contest spend nearly an entire academic year studying large volumes of detailed texts that delve into the intricacies of the Bible's 613 required good deeds. To master this information, students carve out about seven months, spending their free time preparing after school and via special online classes.
Mendel said he enjoyed the studying process because it earned him a Chidon berth. His experience yielded not just gold, but friends from all over the country and the world.
"I thought that if I tried for it (the first-place medal), I could get it, and I made friends from Arizona, England and Australia," he said.