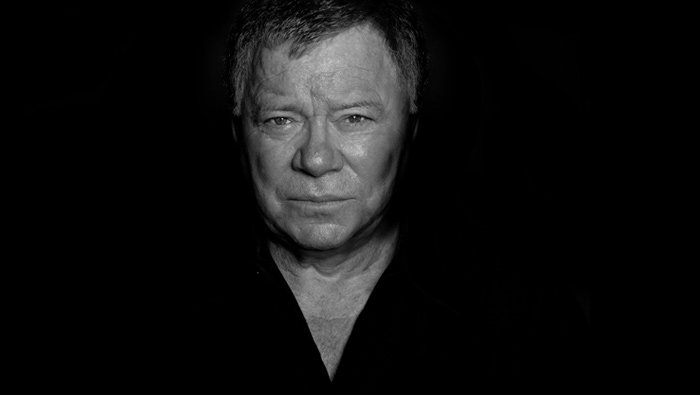 Portland federation gets "Star Trek" star to offer first Jewish address in decades
He's boldly explored a multitude of strange new worlds and civilizations, but the last time William Shatner formally appeared before a Jewish gathering was perhaps when he became a bar mitzvah in Montreal 71 years ago.
So when Shatner appears at the Jewish Federation of Greater Portland's Benefit for the Future Nov. 14, guests won't be the only ones having a novel experience. While he speaks, sings and performs before countless audiences around the globe every year, this will be the first time he has spoken to a Jewish audience as a celebrity.
"For several years early in my career, I didn't speak too much about being Jewish," said Shatner in a phone interview. "But Leonard (Nimoy, z'l) did."
While he didn't speak publically about his Judaism during the 1966 to 1969 run of "Star Trek," Shatner says he did talk to his fellow Jew on the bridge of the Starship Enterprise.
"It was amusing to us that two Jewish guys were prowling around the very 'clean' – non-ethnic spaceship," says Shatner. "All ethnicities would have been ironed out and no one belonged to any specific group in (Gene) Roddenberry's imagination.  … Of course it didn't make sense that the Russian was speaking with a Russian accent."
Shatner says Roddenberry's desire "to show all parties in the world had long since become one" led to what was reportedly the first interracial kiss on a scripted TV show. On the Nov. 22, 1968, episode "Plato's Stepchildren," Capt. James T. Kirk kissed Lt. Uhura (Nichelle Nicols). Since the 1970s Nicols has used her celebrity from the show as an ambassador for NASA to help recruit minority and female astronauts.
Shatner, too, has parlayed his celebrity into raising awareness and funds for issues close to his heart.
A longtime owner and breeder of Quarter Horses and American Saddlebreds, nearly three decades ago he decided to rescue a California horse show that was due to be cancelled. Perhaps seeing the long life a cancelled TV show can enjoy ("Star Trek" celebrates its 50th anniversary next year) inspired him to seek out new life for the horse show.
"I thought, 'how difficult can it be to run a horse show and find a charity to benefit?' " Shatner says. "About the same time I saw a thalidomide child on a horse. She didn't have arms; she held the reins in her toes. I decided to benefit that charity."
"I've been able to use the celebrity I've acquired to get sponsors to give money to many charities to benefit children," he says.
Over the decades, Shatner says the show has raised several million dollars for therapeutic riding programs for children with disabilities. Research shows children with physical, mental and emotional disabilities benefit from horseback riding, showing gains in areas as diverse as balance, muscle tone, hand-eye coordination, self-esteem and communication.
His wife, Elizabeth, who was a horse trainer and horse show judge before the two married, has launched her own charity, the All Glory Project, which brings those same benefits to veterans suffering from physical, mental or emotional wounds.
In 2006-07 Shatner launched an effort to help therapeutic riding programs in Israel expand those therapeutic and other benefits to children throughout the region in a riding program through the Jewish National Fund.
"I had ambitions of taking children from Jordan, Egypt, even Gaza, and busing them to riding centers that would take young children who hadn't yet been inculcated into hate, and they would see the commonality of all humanity," says Shatner.
Shatner and his wife visited some of the 30 or so therapeutic riding centers in Israel, and a friend pledged $1 million to launch Shatner's vision. But after the real estate crash the next year, that donation never materialized. Shatner says that while he was able to help raise some funds for the Israeli centers, his vision never came to fruition. "We got some money to the riding centers, but it never came off the way I hoped it would," he says.
Still, he did gain one lasting touchstone from the experience. He told Lifestyle Magazine after the visit, "I learned these words when I was in Israel: 'sussim osim nissim' – horses make miracles."
So he and Elizabeth continue to make miracles for U.S. children and veterans with disabilities by supporting therapeutic riding centers here at home.
The couple owns many Saddlebreds and Quarter Horses and both have won many championships on Saddlebreds; they also compete, sometimes against each other, in reining horse events. His love for horses began as a teen in Montreal.
In 1985, when he was again starring in a TV show, this time as detective T.J. Hooker, Shatner told the LA Times that his love for horses stretched back to his childhood: "I first got to know horses when I was about 15, in a cheap, shabby, muddy stable near my home in Montreal. My parents became aware of my newfound love because of the way I smelled. I'd ride my bike to the stable three or four times a week, sandwiching these trips between football and acting."
His acting career also began in Canada. Roles on a radio drama of children's fairy tales helped pay his college tuition at McGill University. Shatner says he has fond memories of his acting experiences at the Stratford (Ontario) Shakespeare Festival. "I went on as an understudy for 'Henry V,' " he says. "Nobody had learned the lines and I had. I went on with no rehearsal and did quite well. It was quite a triumph."
Shatner's childhood in the Notre-Dame-de-Grace neighborhood of Montreal was steeped in Jewish tradition. He attended a Conservative synagogue and frequented Moishe's Deli, which was down the street from his father's clothing factory on St. Lawrence Street. His parents, Joseph and Anna (Garmaise) Shatner, were the children of Jewish immigrants from Austria, Poland, Hungary and the Ukraine.
"Montreal in those years had some sentiment of anti-Semitism," says Shatner.
So years later, when Shatner and Nimoy dressed as Nazis in an episode of Star Trek, "It brought back all kinds of memories.
"Leonard and I have almost similar backgrounds in terms of being Jewish," says Shatner.
"We talked about it."
When he directed the 1988 motion picture "Star Trek V: The Final Frontier," Shatner says he had hoped to reflect the search for God in the film. But he says he discovered that the word God is an anathema to Hollywood, where they fear people will "feel slighted if it is not their God."
"One way or another, everyone is searching for God, whether God is money, philosophy, family or the variety of ways humans search for something beyond themselves," he says. "I'd hoped to reflect that search in the film."
From directing that film, he does have an interesting story, which he says, "I may tell at the meeting (in Portland)."
Of his upcoming appearance in Portland, he says, "A gentleman I know asked me to do it. I haven't spoken really in front of the Jewish people. I thought it's close by, so it's convenient and it sounded good."
The gentleman who asked was Barry Greenberg, who worked with Shatner for many years on fan conventions such as Comic Con and has been a personal friend for about 15 years. When Greenberg lived in Los Angeles, he says he was one of a handful of people Shatner would invite over to watch football when he was home. Then Greenberg and his then-wife decided to move to Portland to raise their triplets. Now 5½ years old, the triplets attended The Gan Preschool for three years. In fact Greenberg persuaded Shatner to let him include a clip in a fundraising video for The Gan. In the video, Shatner makes fun of Elliott Gould's mispronunciation of Oregon.
"The Gan is an absolutely lovely preschool and my triplets loved it," says Greenberg.
Greenberg believes that many people experience a growing yiddishkeit as they age. He says he occasionally finds himself joking in a heavily accented old-man voice, and he's seen his friend also express that. "I love the slightly yiddishkeit part of Bill," says Greenberg. "Bill is such a lovely and approachable example of what a good Jewish guy can be.
"Bill has been intensely in the public spotlight since 1966," adds Greenberg. "We are very fortunate to have him up here in Oregon."
Noting that at 63, he can't keep up with his friend, who is two decades older and a few pounds heavier, Greenberg says, "The guy gets up on horses; he used to fly paragliders and airplanes. He rides motorcycles, he directs and he loves his singing engagements. It's an insane amount of activity."
In addition to "Star Trek" and "T.J. Hooker," Shatner also starred in seven Star Trek motion pictures, hosted the reality-based series "Rescue 911," and starred as attorney Denny Crane in "The Practice" and its spinoff series "Boston Legal." He also has a one-man show, "Shatner's World," which following a Broadway run is now a periodic traveling show. He also engages in plenty of horseplay as longtime spokesman for the online travel site Priceline.com.
But while he may share some fun stories of his life as an actor, director, singer and philanthropist, Shatner says people who hear him at the Portland gala shouldn't expect a message.
"I don't have messages," he quips. "Guys who have messages send them by telegram – actually nowadays they Tweet them."
While Shatner may not tweet messages, his stories, both on and off screen, are rich in meaning.