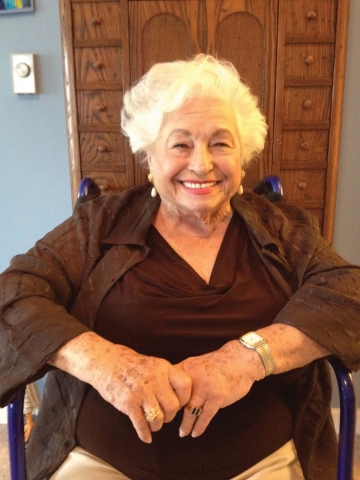 My interview with Evelyn Hirsch ("Call me Evy!") took a while to arrange because her new play was opening, and she was kind of busy. It was a huge success, to nobody's surprise.
So were the previous plays. As are the art classes she helps teach and the writing workshop she's a part of. She's on the Rose Schnitzer Manor Resident Council and the Director's Advisory Board. Oh, and she is Cedar Sinai Park's Volunteer of the Year.
Still, when she welcomed me into her beautiful apartment at the Rose Schnitzer Manor, you'd think I was the only thing on her mind. Dressed, coiffed and made up like a fashion model, she gave me a tour, gliding in her wheelchair from travel mementos and treasured family photos to paintings with her own signature. Jackie Kennedy's televised White House tour had nothing on my visit with Evy.
Evy always wanted to be an artist, but she became a bookkeeper and married Jack Hirsch. They had three children and went into business together. She was active in the synagogue, Hebrew shool and gift shop. Her art, however, wasn't on hold. She would pull out the easel when everyone was asleep and paint in the kitchen. When she and Jack divorced in the late 1970s, Evy moved to Florida and started over, this time as a real estate agent and broker.
Evy has the arts – and maybe a higher power – to thank for her second husband and lifelong partner, Michael Mogell. Evy was studying opera and gothic architecture at the community college when she bumped into her ex-husband's cousin. Shortly after, the cousin's ex-husband asked Evy to dinner.
"I always thought if God wants me to have someone," says Evy, "He'll send him over with red roses, a bottle of wine and a big smile." When she answered the door on that first date, there was Michael, complete with roses, wine and a smile. They went on to enjoy 34 years together, sharing their love of art, writing and teaching.
When it was time to move out of their house, Evy and Mike wanted a residence home based on Jewish values where they could continue the active lifestyle they had always enjoyed. With her daughter Deborah Burchiel and her husband, Dr. Kim Burchiel, in Portland and the Rose Schnitzer Manor offering all they had hoped for and more, they relocated in 2009 and jumped right into life at The Manor.
Mike's heart condition became a serious problem, though, and number one on his short bucket list was to finally become a bar mitzvah. He "became a man" last summer in front of 150 friends and family in a lovely ceremony at Rose Schnitzer Manor and passed away a month later. At that ceremony, again at RSM, her daughter Susan read aloud a comedy Evy had written about a time when Mike attended a party in drag. "It was beautiful," Evy says with a smile.
Today Evy reads the paper online every day, writes plays and stories and, most important, shares her gifts with her fellow residents. She is friendly and invites everyone to join in the classes and activities that make her days so fulfilling. Her personal mantra is "Yes I Can," but she doesn't stop there.
"I try to turn my 'Yes I Can' into 'Yes You Can' for my friends and neighbors."
"Evy is a wonderful member of our community," says RSM director David Kohnstamm. "She brings a great energy to RSM and models for all of us how to add to what is offered and not merely sit back and be passive. RSM is a better place because of Evy Hirsch."
Liz Rabiner Lippoff is a medical marketing consultant and a freelance writer. She's wondering if maybe now isn't finally a good time to take an art class. www.LizInk.biz.