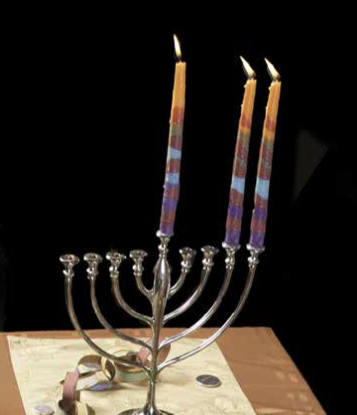 On Nov. 28, 2013, worlds will collide when the first day of Hanukkah falls on Thanksgiving Day. Due to a rare confluence of the Hebrew and Gregorian calendars, this is the last time this will happen for about 75,000 years! No doubt by then the Jewish people will have successfully colonized most of the galaxy, but until then, American Jews will have a unique opportunity to combine that most American of holidays – Thanksgiving – with that most Americanized of Jewish festivals – Hanukkah.
Thanksgivukkah is the brainchild of Norwood, MA, Marketing Specialist Dana Gitell, who came up with the quirky holiday's name and launched a website, Twitter and Facebook page devoted to "eight days of light, liberty and latkes!" She even teamed up with moderntribe.com to create official Thanksgivukkah T-shirts. MAZON: A Jewish Response to Hunger will receive 10% of proceeds from T-shirt sales. As she explained to JNS.org reporter Jacob Kamaras, "You can celebrate Judaism, you can celebrate America, and you celebrate the Jewish-American experience on the same day, because how would this be possible if we didn't have a country as free and as welcoming as America?"
Hanukkah and Thanksgiving have much in common. They both center on family, food and gratitude. Whether it is gratitude for our families or for the miracle of the Hanukkah lights, there is plenty to be thankful for. In addition to the traditional blessings for the candles and the blessings for the children, the Shehechiyanu (We thank G-d for sustaining us to reach this season) fits in nicely with the holiday. We can build on that sense of gratitude by helping members of the community who are in need. Volunteer at Jewish Family and Child Service or elsewhere in your community. If you cannot volunteer, make a donation in the spirit of tikkun olam or repair of the world. If you have children, encourage them to donate their tzedakah to buy a Thanksgiving Box for a needy family.
The first Hanukkah candle will be lit on the night before Thanksgiving, right smack in the middle of what for many people is either an intense night of cooking and preparation or a night of hectic travel (think "Planes, Trains and Automobiles"). Throwing dreidels, gelt and latkes into the mix won't make it any easier, but it will make for a memorable night. If you really want to get into the spirit of the season, you'll want to light the candles on the traditional Thanksgivukkah menurkey! OK maybe not traditional, but definitely fun! Designed by 9-year-old mini-mensch, Asher Weintraub of Manhattan, the menurkey is a turkey-shaped menorah intended to commemorate this goofy holiday. Gobble one up at menurkey.com.
Let's face it, for most of us the main event of Thanksgiving is the food. When it comes to mixing and matching the two days, the sky's the limit. Just think pumpkins and cranberries and have fun. There are several indispensable online resources for holiday recipes, including forward.com, kveller.com and joyofkosher.com. "The Jew and the Carrot," the food blog of The Jewish Daily Forward, has an unusual recipe for challah-pastrami stuffing for your bird. Joan Nathan's excellent cookbook Jewish Cooking in America offers several wonderful Thanksgiving recipes. The silver lining for all those hard-working holiday chefs will be the abundance of leftovers available on Friday night. Shabbat will be a welcome respite from the tumult of the holiday. However, if you still feel that you have not sufficiently flexed your culinary muscles, kveller.com has a fun recipe for a turkey-shaped challah that besides being absolutely adorable is a very kid-friendly recipe. Be sure to enlist your little minions into shaping the dough balls that form the bird's "feathers." Or consider a pumpkin challah; the recipe can be found on the "The Shiksa in the Kitchen" blog at shiksa.com. Other creative culinary possibilities include pumpkin latkes topped with cranberry sauce or sufganiot filled with cranberry preserves or orange-pumpkin buttercream. A recipe for the latter can be found at chow.com. Looking for something to do with that miraculous Hanukkah oil? Try deep-frying your turkey! For those readers who keep kosher, excellent kosher birds can be found at many area markets. What better way to wash down your Thanksgivukkah day feast than with a locally brewed pumpkin ale? There are at least half a dozen well-regarded Oregon varieties of pumpkin ales and beers. Most are brewed using pumpkin pie spices such as nutmeg, cinnamon, ginger, clove and allspice. I recommend Rogue Pumpkin Patch Ale brewed with what else but freedom hops!
If you have little ones, there are plenty of fun crafts and activities that can be found on the aforementioned websites. One of my favorites is the marshmallow/candy corn menorah. Use nine large kosher marshmallows and arrange them in a row as the base of the menorah and top each with a piece of candy corn with the tip facing up to create the "flame." Don't expect this menorah to survive until the last night of Hanukkah! Help your kids create hand-traced turkeys with a Hanukkah twist like a kippah on 'ol Tom Turkey's keppela. Tryptophan kicking in? Divvy up the kid's chocolate gelt and curl up with a double feature of "A Charlie Brown Thanksgiving" and "A Rugrats Chanukah!" At bedtime tuck into Turkey Trouble by Wendy Silvano and Hershel and the Hanukkah Goblins by Portland author Eric Kimmel.
So what is the true meaning of Thanksgivukkah? Family, friends and gratitude. Jews have thrived in America like never before in our history. There is so much to be thankful for. As we light the candles and recall the miracle of the oil, we can rejoice in our many blessings and enjoy the novelty of this lighthearted mishmash of a holiday. And remember, unless you're planning to have yourself placed in cryogenic suspension for the next 75,000 years, Thanksgivukkah will be a once-in-a-lifetime treat, so enjoy it while you can!