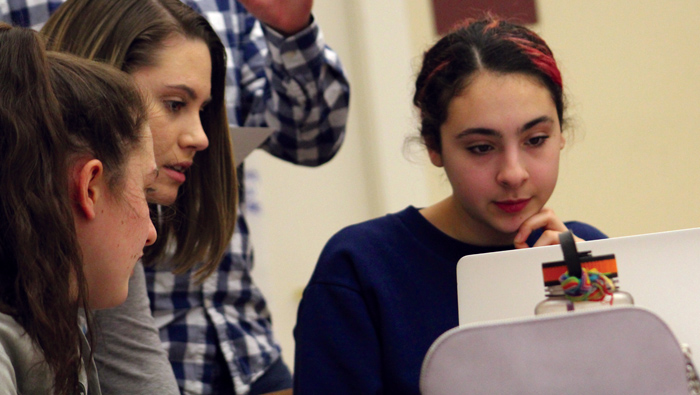 Now in its 14th year, the Oregon Jewish Community Youth Foundation continues to be a dynamic program for high school students. OJCYF's Annual Benefit Dinner, A Festival of Giving, will be April 27.
At monthly meetings from September through May, the teens discuss the importance of giving back to their community and the Jewish values that shape their philanthropy.
Participants in the program are split among three groups – Manhigim (leaders), Lomdim (apprentices) and Bonim (builders) – based on how long a teen has been in OJCYF. The Bonim and Lomdim learn what it means to give consciously and how to serve on a board; they also engage with community organizations through site visits and guest speakers. The Manhigim focus on planning the annual dinner, learning about investing and strategic grant-making, and hearing from representatives from organizations around Portland.
The highlight of each OJCYF year is the annual benefit dinner and celebration (see box) that raises funds for the teens to grant to the community's nonprofits. OJCYF fully entrusts the grant-making decisions to teen members. Every dollar raised goes back into the community. Over the course of the program's life, OJCYF teens have made grants to organizations both locally and in Israel totaling almost $440,000. The organizations supported have been diverse and reflect the interests of the teens each year.
Sponsored by the Oregon Jewish Community Foundation, OJCYF is designed to develop a strong generation of future Jewish leaders in our community. For more information, contact Sonia Marie Leikam, collaborative giving program coordinator, at soniamariel@ojcf.org or visit ojcf.org.
As the teens prepared for this year's dinner, Hannah Glass and Jesse Rothstein took some time out to discuss what OJCYF means to them. A senior at Lincoln High School, Hannah is in her fourth year in OJCYF. She serves as the regional president for the Pacific Northwest region of USY and is involved with the organization Hands of Peace. Jesse, a sophomore at Beaverton High School, is in his first year of OJCYF.
Hannah: Why did you decide to join OJCYF?
Jesse: I knew that it would be a great opportunity for learning leadership skills. I also wanted to meet new people.
Hannah: What is your favorite part of OJCYF so far?
Jesse: I like learning about all the organizations in the community and getting to know the teens in the OJCYF community. Learning about other organizations through OJCYF has inspired me to become more involved with nonprofits in my community on a hands-on level.
Jesse: Hannah, why do you keep coming back to OJCYF?
Hannah: I come back every year because OJCYF allows the teens to make a real impact. Teens are involved in the grant-making process from the start, when they reach out to organizations in the community, until the end of the year, when they make the final decision of where the money goes. It is rewarding to see the impact our work makes in visible ways around the community.
Jesse: What has been your most memorable moment with OJCYF?
Hannah: Definitely making the Mitzvah Moment paddle raise speech at last year's dinner. It was both exciting to be able to make a speech in front of a large audience and rewarding to see the donations coming in to support our grant-making.
Jesse: What will you take from OJCYF to college with you next year?
Hannah: OJCYF has impacted my Jewish identity by reconnecting me to the Jewish value of giving. This is the Jewish value that most resonates with me, and I am grateful to have had OJCYF as an outlet to foster this Jewish principle.
A Festival of Giving
OJCYF's Annual Benefit Dinner
GUEST SPEAKER: Judy Margles, executive director of the Oregon Jewish Museum and Center for Holocaust Education
WHEN: 5:30-8:30 pm, Thursday, April 27, 2017
WHERE: Mittleman Jewish Community Center, 6651 SW Capitol Hwy., Portland
TICKETS: $54 per adult; $36 per youth (OJCYF members, alumni, students)
REGISTER: by April 20 at ojcf.org
INFORMATION: 503-248-9328 or ojcf.org