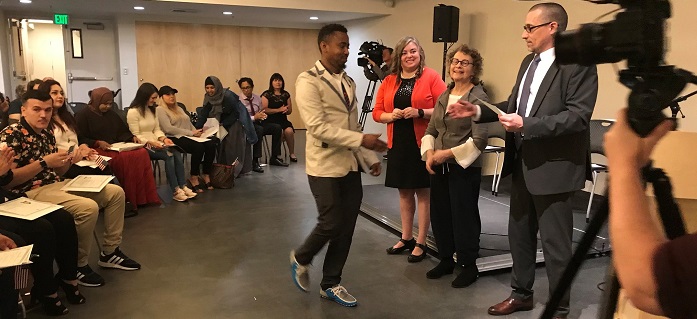 PHOTO: Speaker Amy Herzfeld-Copple, left, and OJMCHE Director Judy Margles joined Richard Miller, Portland field office director for U.S. Citizenship and Immigration Services, as he presented citizenship certificates after he administered the citizenship oaths. Photos courtesy of OJMCHE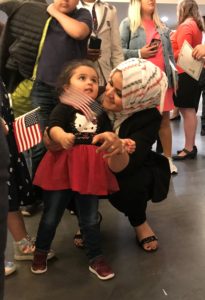 To celebrate World Refugee Day, Oregon Jewish Museum and Center for Holocaust Eduction hosted a naturalization ceremony on June 20.
During the ceremony, 15 new citizens from nine countries were sworn in. The new citizens are from Burma, China, Ethiopia, Indonesia, Iraq, Somalia, Ukraine and the United Kingdom.
"There are particular reasons why we at OJMCHE are grateful to host the Naturalization Ceremony on World Refugee Day," says OJMCHE Director Judy Margles. "First, it brings an opportunity for our community to show support for families forced to flee their homelands. Moreover it reminds us that American Jews are composed of a community deeply connected to the immigrant story, a history that encourages us to shed light on the path that brought us here, for those who come after us."
The new citizens, families and well-wishers were greeted by Amy Herzfeld-Copple, deputy director of programs and strategic initiatives for Western States Center.
"Good morning and congratulations for being here as you complete the final step towards obtaining your American citizenship," she began.
Following are excerpts from her speech:
Today, we gather to celebrate you, your journey, your families, and your accomplishments as you begin a new chapter of your lives as naturalized American citizens, with all the political and economic rights it entails.
Successfully obtaining citizenship is no easy task. All too often, naturalization is a long, challenging and expensive process — one which can weigh heavily on applicants and their families, loved ones and friends. …
I'm deeply grateful that you've persevered all this way and thrilled that, later today, you'll leave this room with the civil rights and official recognition you've worked so hard to obtain. Thank you for being my neighbors — for your patience, your resilience, your courage and your willingness to complete a process which so many of us have never had to go through. Anyone who is prepared to endure as many obstacles as you no doubt have to give your family the opportunity to thrive is exactly who I want to be in community with. From the bottom of my heart, I hope this new chapter of your lives brings you and your families the dignity, peace of mind and safety you deserve.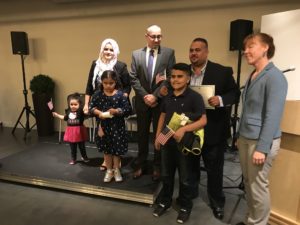 Today, June 20, is also World Refugee Day — a reminder for all of us to reckon with the long and ongoing struggle of individuals and families forced to travel far from home in search of a better life, free from famine, violence and persecution. To those of you who have come here in those painful and difficult circumstances, I hope the United States makes good on its promise to you and your families … and that as a society we live up to our nation's highest ideals and the values of inclusion and prosperity that we pride ourselves on holding.
A brief look at our country's history makes clear that these values haven't always animated our policies. Just 80 years ago, as the rise of Nazism left millions without homes, the United States government shamefully turned its back on thousands of refugees, in large part Jews, Slavs, Roma, LGBTQ+ individuals and people with disabilities — all of them rightfully fearing for their lives. Among millions of others, a 15-year-old Jewish girl named Anne Frank perished in a Nazi concentration camp because of our government's willingness to ignore her humanity. … Tragically, this is far from the only time our country has neglected its commitment to those who simply wished, for countless reasons, to call themselves our neighbors and survive with their families.
To create a future where all people are welcome, safe, and free, we must never forget these shameful chapters of our history. … Only with this knowledge can we build an inclusive, multicultural and multiracial, democratic society where all people are free to live, love, play, work, and worship free from fear and bigotry, with equal protection under the law, and justice for all.
Together, we must fight for a vision of inclusive democracy, for a country which every newcomer and refugee can call their home, and government policies that reflect our solidarity with refugees and immigrants, no matter what language you speak, what religion you practice, and what corner of the world you came from. Today, we must renew our commitment to building a country that pledges allegiance to you — not just the other way around.