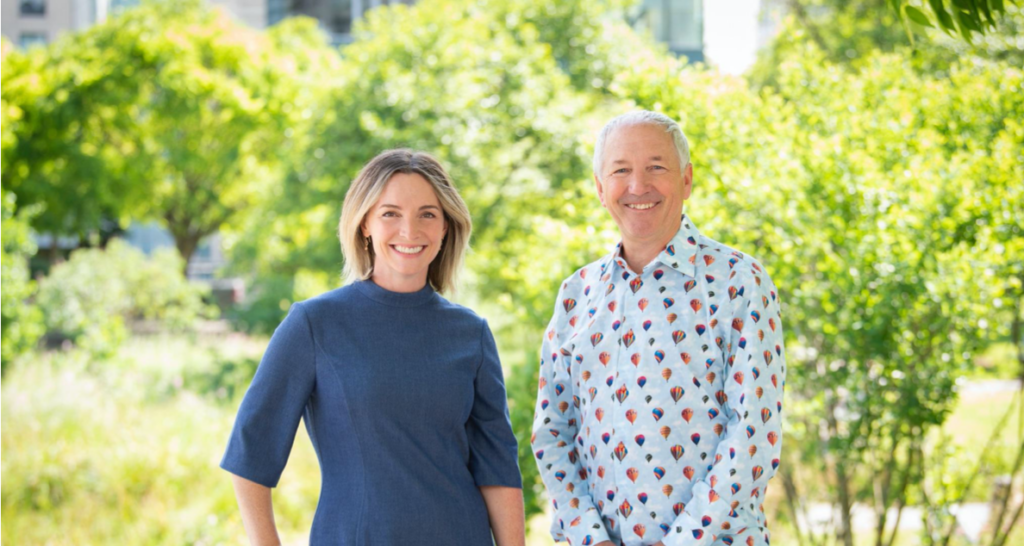 Photo: Molly Ishkanian and Lee Weinstein (photo credit: photosbykim.com).
Oregon's leading boutique public relations agency, Weinstein PR, is being acquired by local PR veteran Molly Ishkanian, formerly PR director of R\West and owner of Noteworthy PR. Weinstein PR, which was founded in 2007 in Portland and the Columbia River Gorge, is the sole Oregon agency member of PR Boutiques International, an association of international communications agencies where the owner is directly involved in every project.
"Molly is among the most talented PR leaders I have ever met. She is incredibly smart, agile and creative, and has a brilliant future ahead of her as a leader in our industry," said Weinstein PR co-founder Lee Weinstein, who directed communications at Nike, Inc. for 15 years before founding Weinstein PR.
"Our clients will be in excellent hands, and we look forward to helping Molly and her team during the transition, with Lee continuing as a consultant," said co-founder Melinda Weinstein.
Ishkanian has been an independent consultant working with Weinstein PR since 2019. For 10 years she was with R\West, an integrated marketing agency with offices in Portland, New York and San Francisco, serving as director of PR leading strategy for clients. She was an adjunct instructor in public relations at the Art Institute of Portland and is a marketing board member for SMART Reading.
"I am thrilled at the opportunity to carry on the legacy of Weinstein PR, and what a legacy it is," said Ishkanian, who will become president and CEO of Weinstein PR in August 2021. "Lee built this business from the ground up, accomplishing everything from launching Facebook's data centers supported by renewable energy across the U.S. to rebranding the Portland Development Commission as Prosper Portland to launching the Phil and Penny Knight Campus for Accelerating Scientific Impact at the University of Oregon. Reputation is something that must be earned, and his is a lasting legacy in our state and beyond."
Lee Weinstein will continue as founder and senior consultant at Weinstein PR. He will work with existing and future clients, providing strategic advice and counsel and creative input, and assisting with business development. He currently serves on the boards of QualityLife Intergovernmental Agency, helping to expand broadband access in Wasco County, and Oregon Public Broadcasting. He will also continue his work as president of Intentional Life Planning, LLC, teaching workshops and promoting his workbook, Write, Open, Act: An Intentional Life Planning Workbook.
From select companies and brands to consumer goods and services to nonprofits and public entities, Weinstein PR partners with great organizations on media and influencer relations, brand marketing, employee communications, graphic design, web development and more.
Current Weinstein PR clients include De La Salle North Catholic High School, Facebook, Higgins Restaurant, Intel, LaCrosse Footwear, Ledlenser USA, Marion Polk Early Learning Hub, Mercato Grove, Miller Nash, Moss Adams, Nike Inc., ORM Fertility, Pacific Retirement Services, Portland Coffee Roasters, Portland Farmers Market, Providence, Solace, Sunday Afternoons, The Society Hotel, and the University of Oregon.
Weinstein PR has won two Oregon Travel & Tourism Industry Achievement Awards from Travel Oregon. Info: weinsteinpr.com.