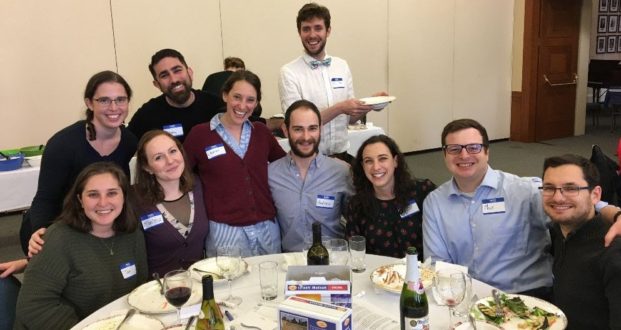 Photo: Portland's Moishe House holds Passover Seders, Shabbat dinners, and an assortment of recreational, social and educational opportunities for young adults. They are looking for a new housemate to join them in planning the events.
Portland's Moishe House is seeking a dynamic young adult, between the ages of 22-30, who is excited about living with others and creating a Jewish community for their peers in the Portland area.
Portland Moishe House is one of 112 Moishe Houses in 27 countries designed to help young, innovative Jews create their vision of an ideal Jewish communal space. House residents plan and host events for other young adults. The grassroots community the housemates have built connects people with Jewish experiences, friends and even partners.
Residents of Moishe House create seven programs per month and receive a generous rent subsidy, programming budget and support from Moishe House staff.
Applications are open through July 1 for a Sept. 1 move in to the Portland house.
Moishe House is a global network connecting more than 65,000 Jewish young adults with 11,000-plus programs through Moishe Houses, Moishe House Without Walls, Immersive Jewish Learning Retreats, Camp Nai Nai Nai and the Open Dor Project.
An ideal candidate to join the Porltland house: is passionate, fun-loving, and sociable; enjoys working in groups; has time and energy to commit (about 10 hours per week); and is clean and organized.
If you enjoy planning, hosting, cooking, adventuring and connecting with people to build Jewish community, the current housemates want to meet you. For questions, email moishehousepdx@gmail.com.
To apply, fill out the application here (be sure to select Portland as an existing house).