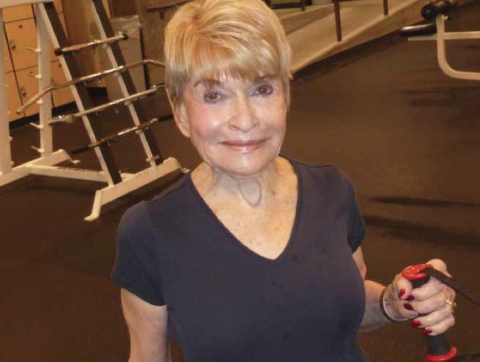 I lift weights a few days a week at a local gym. Mostly, I listen to NPR on my headphones and mind my own business, so I don't have a lot of gym friends. But I watch other people all the time. What have I learned?
There are lots of great exercises for abs, and I'm not doing enough of them. Nobody likes someone who leaves a machine all wet and sweaty. And, for the most part, people who are the most serious about working out are dressed pretty grubby.
Of course there are people who take both their workouts and their hairstyles seriously. And I confess that I put on lipstick and mascara before I go. (In my defense, I wear my hair very, very short, and I have been asked where the men's room is. I spare both of us embarrassment by dolling up a little.) But the people who are ready for their close-up, Mr. DeMille, are way outnumbered by the sweaty Bettys in ratty college tee shirts.
So there I was, doing curls and listening to an interview with Virginia Postrel about her new book The Power of Glamour. Bill Clinton, she said, has charisma, not glamour. You walk across a room to be with him. Barack Obama, in contrast, has glamour. You see him and sort of stand in awe. People aspire to glamour, she maintains.
Hmmmm, I thought, as I watched a woman walking with her trainer. I'd noticed her before. She always looks glamorous, with hair perfect and her makeup runway ready. My gym persona is thinking: she can't be serious about working out. But my new, NPR-sensitized self was starting to admire her a little. So I watched her. And then I interviewed her.
"What's the secret to looking so fabulous?" I asked. "A great salon? Fancy facials?"
"Exercise," she replied.
Muriel Feuer and her husband Jerry are New Yorkers who retired to Lake Oswego 20 years ago when their first grandchild was born in Portland. They adapted quickly. They belong to Congregation Beth Israel in Portland. Muriel was on the board of the Oregon Area Jewish Committee and did some projects with the Jewish Federation of Greater Portland and the World Affairs Council of Oregon.
And she found herself a gym. Jerry had been in textiles his whole career, and Muriel was a health teacher and guidance counselor. But even working full time and raising kids, she went to the gym and played a lot of tennis. She has never let up, even now, at 81 years old.
Muriel is on a campaign to be sure seniors get exercise.
"Elderly people should try to keep their bodies moving, no matter what," she says. "And weights are important. There are lots of articles on this. Challenge your body to become strong."
She goes to the gym several times a week, attending cardio classes, lifting weights or working out with a trainer. Now that she lives in The Pearl, she also walks everywhere she can. Muriel exercises her mind as well. She is socially active, and she reads The New York Times every day. She enjoys a wide range of books and just finished This Town by Mark Leibovich, about Washington, D.C. (She recommends it.)
Her husband Jerry now lives in a memory-care facility and, because she visits him almost every day, she has gotten to know the other residents. One lady is 102 years old, and Muriel asked her what she believes helped her to live that long.
"Exercise," said the lady. She used to exercise all the time, but now, she complained, there's no way to keep it up.
Muriel got right on it. "You need exercise for the residents," she told the manager. She insisted, and they did hire someone to lead the residents in group activity games. Muriel could see the change in the residents, especially in Jerry. "It's so much better for them than just sitting around and sleeping."
OK, Muriel's glamour does come from other tricks of the trade. She always wears makeup, gets a manicure and has her hair colored and styled. "It's both a habit and a way to make me feel good," she says. "It helps my attitude."
I am working on my attitude and my habits. I'm bumping my cardio up a notch. I'm adding more exercises for my abs.
And I'm going to wear my pearl earrings to the gym from now on.