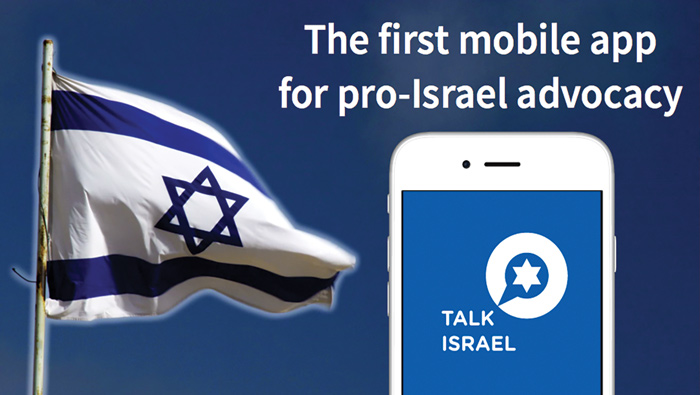 Amir Give'on is a pretty smart guy. Just ask his classmates at Princeton or Cal Tech, or his co-workers at NASA.
He's also passionate about Israel and connecting Israelis with Jewish Americans. Now he has used his entrepreneurial bent and his technical knowledge to help others be more savvy advocates for the Jewish homeland.
With a background in mechanical engineering, Amir is one of those bright guys who may be just flat-out brilliant. This fellow, who once worked with the people who sent us to the moon, has developed an intriguing app – Talk Israel (talkisrael.org/app).
Talk Israel launched in mid-September for iPhones and Android-based phones. The Talk Israel app acts as an aggregation and distribution channel for pre-existing content. It collects information about users' preferences and then analyzes the data to provide people with the content they want most. Content delivery is based on an algorithm that recommends content, just like Pandora, Netflix, Hulu and Amazon.
"We provide each user with a personal touch," says Amir. He says Talk Israel's developers believe that advocates will share more if they get the content in areas of interest they care about.
The goal of Talk Israel is to deal directly with Israel advocacy – to help users understand and reach beyond their basic ideas to provide content they can use to support their advocacy of Israel. It motivates and informs users to be better advocates.
"Talk Israel is there to help advocates to reach outside their inner circle," says Amir.
Talk Israel helps advocates reach beyond the base or boundaries."
Amir came to the United States from Israel in 1995. He started his education career at Princeton, left there to work for NASA and did postgraduate work at Cal Tech. He has a Ph.D. from Princeton in mechanical and aerospace engineering. At NASA he worked in the Jet Propulsion Lab for six years.
In starting Talk Israel, he spent a year designing the algorithm that is the foundation of the app. Part of that process is running tests and simulations – in essence test-driving the product.
Since the launch in September, Amir and his team have been going strong and picking up speed as they work out the kinks.
"We didn't want to start too quickly," says Amir. "We wanted to learn what users were looking for."
One part of the research behind the project involves conducting focus groups to increase passion and interest for certain parts of the app. These groups are beginning to define trends and what direction users are moving. Clearly, Talk Israel has taken the pulse of what its users want in the app.
To date, they have a few thousand users, with about 20% of them returning to the app daily. But the future looks so bright that they are seeing good signs in their data, in where they want to go and what is at the end of the game.
The app has done well in spite of little marketing to this point.
"We didn't want to throw marketing money at it until we knew what users liked," says Amir.
"This is our goal. We want it to be a collaboration of any organization about Israel advocacy."
Talk Israel's three founders are forward thinkers and have a clear vision for their process. Amir works with Daphna Wegner, a former DreamWorks Animation programmer, and Gadi Rouache, an award-winning creative director.
Talk Israel has received funding from the Israeli-American Council and the Milstein Family Foundation, a Los Angeles-based foundation that supports a diverse group of more than 60 pro-Israel organizations.
IAC is the largest Israeli-American organization in the United States. According to its website (israeliamerican.org), the mission is to build an engaged and united Israeli-American community that strengthens our next generations, the American Jewish community and the State of Israel.
One of IAC's goals is to build bridges between the Israeli-American and Jewish American communities in the United States. The group works to mobilize the community to respond to strategic causes that support U.S.-Israel related initiatives. Talk Israel seems like an asset that can promote both of those goals.
"Talk Israel helps advocates reach beyond the base and boundaries," says Amir. "Feeling that we are always talking to each other and agreeing with each other is the norm. Talk Israel is there to change that, to help advocates reach outside their inner circle."
Amir is proud of other parts of his life as well. On the personal side, he and his wife, Naomi Leight-Give'on, are expecting their first child in March. The couple also founded jewcer.com, a nonprofit crowd-funding program for Jewish initiatives. So far, jewcer.com has helped more than 300 projects raise more than $1.9 million. While Amir serves as Jewcer's "professional geek" and chief executive officer, Naomi is the nonprofit's board president and chief operating officer.
During the day she is a trade diplomat in Los Angeles, but after-hours she focuses her attention on Jewcer, cooking, baking and mosaic making.