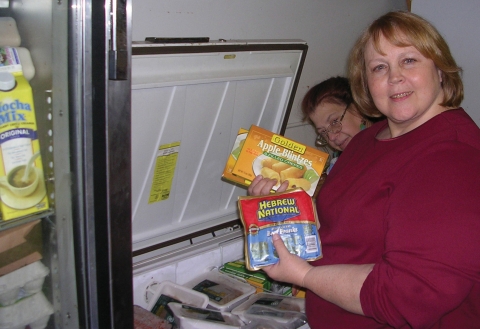 The Sunshine Pantry, which now helps more than 1,000 families a month, was started 30 years ago by Sharon Straus as a project for her son's Cub Scout Pack. Almost six years ago her pantry moved from her home into the Reif Business Park located just off of Hall Boulevard at 7795 Cirrus Dr., Bldg. 26, Beaverton.
Last year Sunshine Pantry provided in excess of 500,000 meals to families and people in need from Beaverton, and Washington, Multnomah, Clackamas and other counties where the economy has had a devastating impact. The pantry also provides clothing and amenities such as toothpaste, shampoo, diapers and toilet paper.
"We have always helped veterans and victims of domestic violence but more recently we are defining within our organization additional services we provide for out of work individuals which includes computer use help with resumes and job interviews," said Jared Mannis, Straus's son and director of operations for the pantry.
The pantry relies on volunteers to serve as many families as possible.
"We need caring, honest, sincere volunteers," said Mannis. "Of course we always enjoy large groups because with scheduled planning we can get so much work done with a concentrated effort. But what we really need are individuals that may be able to come on a weekly basis for months at a time. This allows us to train the person in specialized job responsibilities and helps us to operate our pantry on a daily basis."
Additionally, the pantry provides ideas and involvement for all those seeking volunteer opportunities as they become a bar or bat mitzvah.
For information on volunteering at Sunshine Pantry, email volunteers@sunshinepantry.org.
Organizations and projects that wish to recruit volunteers, can submit information to editor@ojlife.com (put volunteer in subject line).