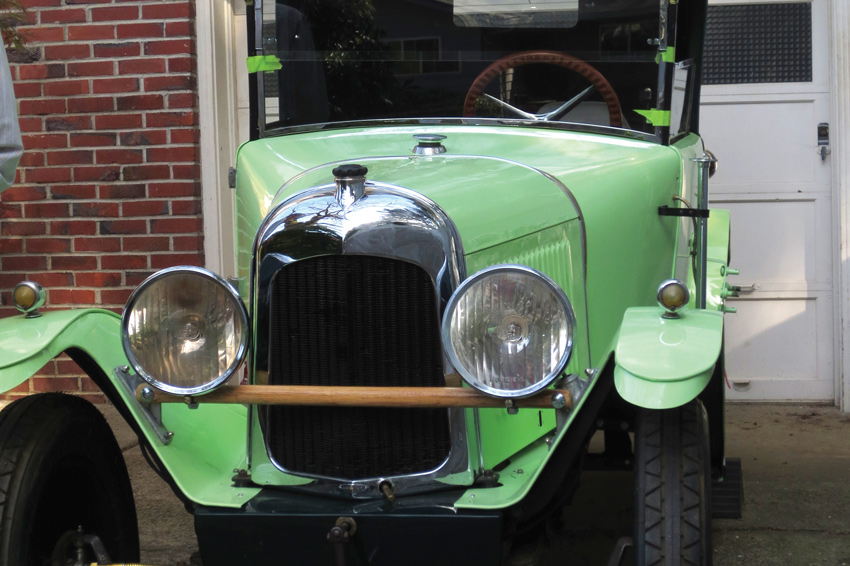 When envisioning a Citroen, the French car that has rolled out of the Parisian factory since 1919, what might come to mind is an otherworldly, avant-garde vehicle popular in films.
Retired psychologist and Southwest Portland resident Robert Weisman has owned two of these exotic Parisians and maintains a Citroen Club membership. So he knows, for instance, that early models – the Type As and Type Cs – produced from 1919 to 1926 did not have that "otherworldly" look about them. The small, charming Type Cs that fascinated Weisman were dubbed ladies' cars, not only because their size facilitated easier maneuvering, but also for their built-in electric starters. Post-World War I ladies need not strain. Also, since the cars' thin tires with unusually large radii rendered them puddle jumpers, Type Cs became favorites among doctors making house calls.
History buff Weisman estimates that today "maybe 200 of these 90-year-old French heirlooms exist worldwide" and that there are "less than a handful" in the United States. So, ever mindful of tikkun olam (repair the world), he chose to resurrect a 1924 Type C Cabriolet wrought about the time his rabbi grandfather became a teacher (and later an attorney).
Our self-trained mechanic found the major parts of this two-seated Type C convertible relic lying in a shrouded heap outside of a California barn. Rusty piece by rusty piece, Weisman labored to find missing elements. He called this "bucket of bolts" that he hoped to bring back to life Lazarus.
Countless Citroen aficionados don't take on near-hopeless projects like Lazarus. But Weisman needed a sizeable challenge.
"I've never been around vintage cars," he says, "but I was retiring and needed a large project to take up a lot of time and thought. From some psychology readings of years ago, I learned you can get satisfaction from undertaking a creative project. Time can fly. Also, I had rebuilt a couple of engines and even earlier upgraded early home dialysis machines for the University Hospital in Denver. I figured those activities would certainly help."
They helped alright. Still, Lazarus, which Weisman calls his "Magnum Opus of Mechanics" threw figurative wrenches into its own restoration many times, to the point where Weisman nearly gave up.
His first obstacle was that, unlike most cars, Lazarus had a wooden body. Its ancient structure, the size of a small rowboat with a pointed rear, applied brakes to the progress because it was dry-rotted out. Weisman had to create one.
"Rebuilding a wooden chassis without any specifications was extremely difficult," he says. Yet, however frustrated he found himself, he succeeded beautifully. You might note that Weisman suffered from childhood polio and still finds ambulation somewhat of a challenge.
Another of Lazarus' many cliff-hangers involved a missing driveshaft gear. They are no longer made, you see. Yet again Weisman was not prepared to throw in the towel. So he contacted a local foundry to make the gear. "Yes," said the maker of many things metal, "I can do it for you for $25,000. But once I make the die, I can sell you a second for $50." As many people would, Weisman found this too much to pay – way too much. So, sadly, after all of his meticulous work, our vintage car mechanic was skunked; Lazarus would not rise again. Weisman could do nothing but adopt a philosophically rueful stance.
Yet after one stalled year slipped by, serendipity crossed his path. In France with his new wife, painter and photographer Ruth Ross, Weisman located a man in Bordeaux whose father had owned a Type C. This son was parting out the dilapidated rig, and amazingly, our good doctor was able to buy an old differential with the requisite gear still in it – and for fraction of the cost of a foundry-made one.
Assemblage was again afoot, posing that myriad of additional challenges, things like a dashboard covered with green house paint, which when removed revealed beautifully preserved mahogany. (What was someone with a paintbrush thinking?) Then, of course, there was the cloth top hanging in "rags of time" status; it needed fashioning from scratch. Weisman still raves about the small miracle a local automotive upholsterer performed in creating the watertight, detailed, dark-green-nearly-black top. The word "spiffy" is an understatement.
Now, eight years later, after Weisman strove for a final year to fix a spongy gas pedal with a "simple but elegant solution," Lazarus rises classily from decay, donning beautiful dark green wheels and a key-lime-pie-colored body. Voila! A miraculous French treasure threads its way through Portland, running on regular, pulling 40 miles per gallon.
When asked if he would like to sell Lazarus – probably for a bundle – Weisman answered with a succinct "No." Then would he like to raise another Citroen spirit from the dead, create "Magnum Opus Mechanical II?" Weisman again did not mince words: "No."
He and his wife want to travel and not necessarily in Lazarus. But his interest in history in general, and mechanical objects in particular, hasn't diminished. He's currently plying his talent on a defunct 1926 radio. Who knows if he will stop at just one?
Lee Braymen-Cleary is a freelance writer and retired educator. She is also a highly enthusiastic grandmother of a 5-month-old granddaughter. She lives in Southwest Portland with her husband and yellow Lab.