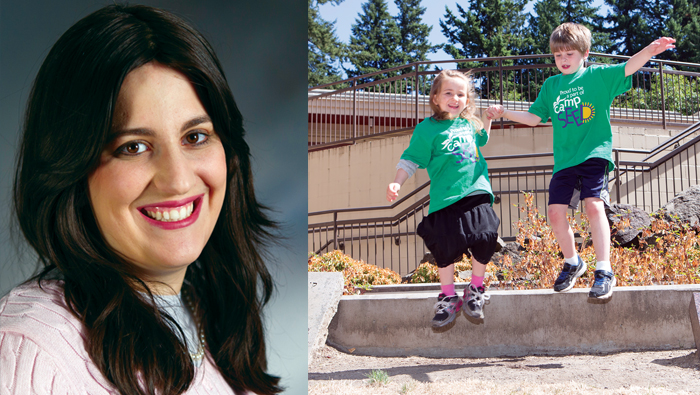 When Sarah Goldblatt moved to town in 2012, she realized the local Jewish community was big, diverse and spread out, with most people not affiliated with any Jewish organization.
Sarah and her husband, Rabbi Yossi Goldblatt, came to Oregon from Belarus to become part of the Portland Kollel (see story, page 56).
The mother of four children ages 2-7, Sarah created Portland Jewish Moms on Facebook to help mothers in this far-flung community find connections, support and friends. Now 450 members strong, the group includes young mothers with their first babies and grandmothers willing to share their insights.
"First people connect virtually," says Sarah. "Then many arrange face-to-face meetings. Others continue the online connections as a place of support for mothers, Judaism and family. It makes me happy when people use the group to ask questions … a lot of people answer from their experience."
Portland Jewish Moms is a closed group, meaning people must apply to join. Sarah says she reviews applicants' profiles to ensure they fit the profile for the group.
"I want to connect people who are similar," she says. "I think that builds a strong community."
After introducing people through the easy, nonthreatening virtual world, Sarah wanted to help people discover the community. So last summer she began posting meet-ups at various parks around town. She'd be there with balloons and snacks, and other moms would bring their children for real life connections.
"People hung out together," she says.
Through her Facebook and face-to-face interactions over the summer, Sarah realized that though many parents didn't want to commit to day school or weekly religious school, they were interested in having their children experience Jewish culture.
"It shouldn't be all or nothing," says Sarah, who also teaches at Maayan Torah Day School.
She thought a Jewish Holiday School would to be a perfect solution. This year Sarah planned seven gatherings, one for each of the major holidays. "I wanted these kids to be able to experience the fun and vibrancy of Judaism."
Each session meets before the holiday. During the 90-minute session, kids listen to stories, sing songs and come home with a project they can use for the holiday. For instance, before Hanukkah, each child made their own menorah.
"I want them to have good memories and positive feelings about Judaism," says Sarah.
An optional concurrent class gives parents an adult-level connection with the holiday, so they can discover how it is relevant for their family.
The Jewish Holiday School Passover session will be April 17, and the Shavuot gathering will be June 5. New students are welcome.
This summer children ages 3 to 12 can have a more intensive experience through Camp Seed. The camp will meet at the Fulton Park Community Center in Southwest Portland from July 11 through Aug. 19. Attendance is flexible with options for one day, one week or the entire six weeks.
To join the Facebook group, search for Portland Jewish Moms on Facebook and click on "join group."
For more information on Camp Seed and Jewish Holiday School visit funtobeJewish.com, or contact Sarah at sarah@portlandkollel.org
or 503-381-7344.