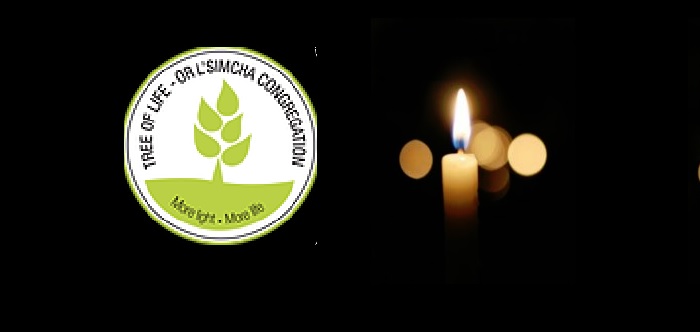 Today, Sunday, Oct. 28, at 4 pm the Oregon Board of Rabbis and the Jewish Federation of Greater Portland will sponsor a community vigil at Congregation Beth Israel (1972 NW Flanders St., Portland, OR 97209). Love Your Neighbor: A Community Gathering of Peace is open to all who wish to stand together following the massacre at the Tree of Life Synagogue in Pittsburgh.
"To know they were killed only for being Jewish, while observing Shabbat and celebrating a baby-naming in their neighborhood synagogue, adds another painful layer to this tragedy," wrote JFGP President and CEO Marc N. Blattner in a post-Shabbat email about the tragedy and the vigil. "I know I speak for our entire Jewish community that we send our deepest condolences to the families of the victims, the congregants of Tree of Life Synagogue, the entire Jewish community, and the city of Pittsburgh."
Shortly before taking an assault rifle and multiple handguns into the synagogue during morning Shabbat services, the man charged with killing 11 people there posted a message on Gab, a two-year-old social network widely used by neo-Nazis and other extremists: "HIAS likes to bring invaders in that kill our people. I can't sit by and watch my people get slaughtered. Screw your optics, I'm going in."
"For many years, I have wished more Americans would know about HIAS. Now I am heartbroken by why they will," wrote Lev Golinkin, a refugee and a writer, in a New York Times Op-Ed. He went on to share the story of how HIAS rescued his family when they fled anti-Semitism in the Soviet Union in 1989.
He also shared the transition of the Hebrew Immigrant Aid Society to simply HIAS: "Some felt it was inappropriate for HIAS, a Jewish group, to devote resources to aiding Muslims; HIAS, to its eternal credit, disagreed. As Mark Hetfield, the president and chief executive of HIAS, once told me, 'We decided to help, not because they are Jewish, but because we are Jewish.'"
While Jewish and non-Jewish groups have issued statements condemning the attack, it seems appropriate to quote HIAS since it was named specifically by the alleged killer. HIAS, the global Jewish nonprofit that protects refugees, released the following statement in response to the tragedy in Pittsburgh today:
"There are no words to express how devastated we are by the events in Pittsburgh this morning. This loss is our loss, and our thoughts are with Tree of Life Congregation, our local partner Jewish Family and Community Services (JFCS) of Pittsburgh, the city of Pittsburgh and all those affected by this senseless act of violence. As we try to process this horrifying tragedy, we pray that the American Jewish community and the country can find healing.
As one of the nine national refugee resettlement agencies, HIAS partners with the United States government to resettle refugees as part of the U.S. refugee admissions program. Founded in 1881 as the Hebrew Immigrant Aid Society, HIAS stands for a world in which refugees find welcome, safety, and freedom. Guided by Jewish values and history, HIAS rescues people whose lives are in danger for being who they are."