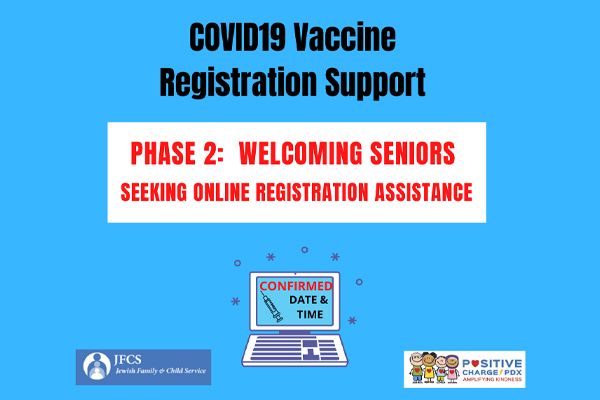 Many seniors in the Portland Metro area can't schedule their Covid-19 vaccinations on their own. They do not have access to the internet, do not know how to navigate the online appointment platforms, or they have a language barrier. Many also don't have friends or family to assist them. That's where background-checked volunteers with Positive Charge! PDX come in. Although they're not miracle workers, they are committed to helping seniors register for their vaccinations – in an effort to keep them safe as well as to make our community safer for everyone.
PC! PDX then joined forces with Portland's Jewish Family and Child Service (which already provides services for seniors and Holocaust survivors). JFCS is handling performing background checks for volunteers.
"We've been hearing our client's concerns about the roadblocks the vaccine appointment process presents. To be able to partner with Positive Charge! PDX and work with their strong base of passionate volunteers mean we can serve the community more effectively. We are thankful for partnerships like this so we can continue to evolve with the changes the pandemic brings." says Sammy Monk, JFCS volunteer coordinator.
"We have a very generous and engaged community, and we are very excited, once again, to offer another opportunity for everyone to create a positive impact within our community and world," says Sallie.
For more information: