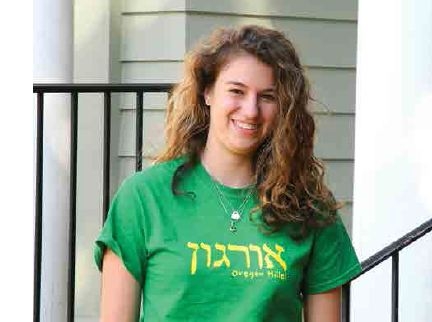 University of Oregon sophomore Erin Horwitz was recently awarded a campus fellowship with the anti-genocide organization Jewish World Watch for the 2013-14 academic year.
Founded in 2004, JWW is a nonprofit organization that draws on traditional Judaic values while aiding in the fight against the ongoing crimes against humanity in Sudan and the Congo. JWW programs include the Solar Cooker Project, which aims to reduce the risks Sudanese woman face when leaving the safety of refugee camps to collect firewood.
Long involved in her Jewish community while attending Los Angeles Hebrew High School, Erin was already familiar with the nonprofit when her Freshman Interest Group professor Shaul Cohen pointed her toward the fellowship opportunity. "I took a class in 10th grade which was called Jewish Civics Initiative, and it's all about Jewish advocacy and tikkun olam, but mostly the advocacy side," Erin says. "One of the things we did was we got involved in Jewish World Watch." Along with the fellowship, Erin is deeply involved in Oregon Hillel on the University campus and serves on the student board as vice president of tzedakah (justice and righteousness).
Oregon Hillel Executive Director Andy Gitelson believes there's great value in combining the mission and resources of JWW with those of the Hillel, especially the way in which the nonprofit applies the lessons and messages from the Holocaust to combating current crises.
"I think that having that outlet on this campus is unique given the makeup of our student population – our Jewish population on campus," Gitelson says. "We're now able to tap into a resource center to help have more conversations about what happened during the Holocaust, to have more conversations about what the fallout was from that – other than the creation of the state of Israel, which was a very important fallout."
For Erin, the practice of using the Holocaust as a teaching tool and weapon against present and future genocides is less of a tactic and more of a responsibility. "The thing I think about most – the Holocaust happened," Erin says. "So many people were there to help the Jews after the Holocaust; we all say 'never again.' I feel like people have more of an obligation to help stop genocides, because we say 'never again' – it happened to us."
Equipped with her knowledge of the issues and the resources of JWW, Oregon Hillel and the university at large, Erin is aiming high with her goals for the fellowship. Not only does she hope to have an event at the Hillel house, she's looking to involve other humanitarian organizations on campus. "My big idea is to have a big "Dar- Fest" where you have bands play… and have all the different groups represented," Erin says. "In Darfur, the crisis doesn't affect just one group of people."
Her goals may be big, especially on a campus full of religious, ethnic and political groups, but Erin believes that JWW can gain traction with students of all backgrounds. "I think the University of Oregon just cares so much about issues," Erin explains. "Every issue, people seem to care about it. It's not like I'm forming a new group of followers; I'm going to be taking people that are already involved in different aspects and just teaching them more information, so they can go teach more people."
Will Rubin is a junior at the University of Oregon with a major in journalism and an internship at Oregon Hillel. A lifelong resident of Eugene, Will has covered the Oregon Ducks for the Oregon Daily Emerald and AddictedToQuack.com, and currently writes for DuckTerritory.com. In the future, he hopes to write for a major metro publication or work for a collegiate athletic department.