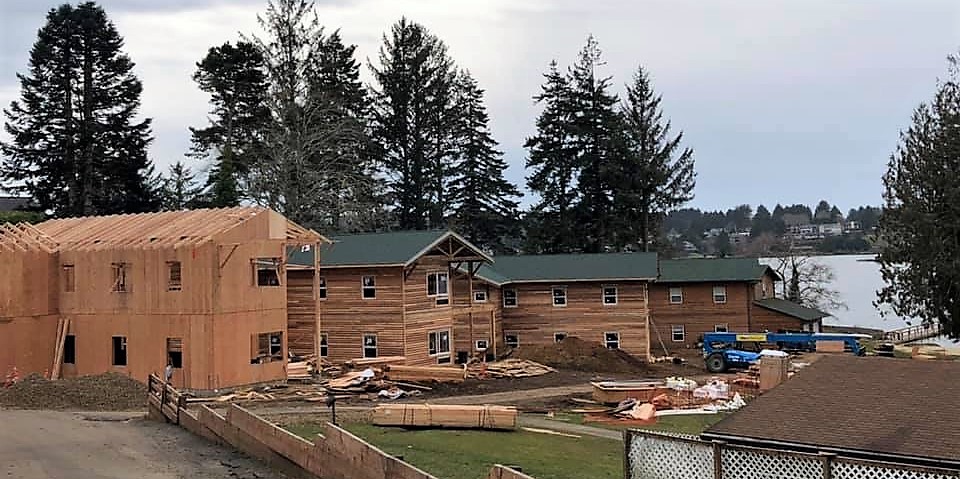 PHOTO: Camps receiving grants for the Yashar Initiative can use the money to build accessible facilities such as these ADA-accessible cabins currently under construction at B'nai B'rith Camp.
Two Pacific Northwest camps are among 16 Jewish day and overnight camps that have received grants in an unprecedented national push for inclusion.
B'nai B'rith Camp near Lincoln City and Camp Solomon Schechter near Olympia received the grants through the Foundation for Jewish Camp in the first phase of the $12 million Yashar Initiative. The Hebrew word Yashar translates as both level and integrity.
Each of the 16 camps were carefully selected for their commitment to expanding accessibility for campers and staff with disabilities, providing even more people with the opportunity to experience Jewish camp.
Funded by The Harry and Jeanette Weinberg Foundation, this innovative grant enables Jewish day and overnight camps to make important capital improvements to increase accessibility for campers and staff with disabilities. This first cohort has been granted a combined $2.5 million to implement exciting upgrades – such as physical renovations to facilities, building sensory rooms and ADA compliant playgrounds – as well as critical funding for professional development, staff training, research and evaluation.
According to research conducted by FJC, attending Jewish camp can have a crucial impact on life-long Jewish identity and involvement. A lack of accessibility and inclusion, however, has long been a barrier to the participation of campers and staff with disabilities. In keeping with the goals of the initiative to promote a greater culture of inclusion, each grant recipient has committed to increasing their total campers with disabilities to at least 5% of the total camper population.
"Our grantees, all of whom had begun the process for broader inclusion independently, will now be able to complete their visions for improving the accessibility of their camps," says Rebecca Kahn, director of field expansion at FJC. "They will lead the way in modeling accessibility and inclusion at Jewish camp and inspire other Jewish communal institutions to evaluate how they can better welcome Jewish people with disabilities."
The Yashar Initiative will open again for applications this fall, and again in the fall of 2020.
B'nai Brith Camp Inclusion
B'nai B'rith Camp's planned capital improvements include construction on three ADA accessible two-story double cabins. The new bunks will have wheelchair accessible pathways, including bridges instead of staircases to each structure's upper level, to accommodate 16 campers and three counselors per cabin, 32 campers and six counselors per structure. The $320,000 grant from the Yashar Initiative brings BB Camp over $10.5 million raised toward the camp's $13 million Second Century Capital Campaign. Past support includes a $368,000 grant from The Harry and Jeanette Weinberg Foundation, and grants from the Ford Family Foundation, the Meyer Memorial Trust and the MJ Murdock Charitable Trust. These grants, and the generous support of more than 100 donors, inches B'nai B'rith Camp closer to their goal of building a brand new camp for the next century by the time the camp celebrates its 100th Anniversary in 2021.
"BB Camp is proud to accept this meaningful award, which will greatly assist us in better serving our community, as we continue to ensure inclusion and accessibility for all," says Michelle Koplan, executive director.
By participating in this first phase of the Yashar Initiative, BB Camp is helping set an example for the entire field, paving the way for a process of national substantive change regarding inclusion in camps across the country.
Camp Solomon Schechter Inclusion
"At Camp Solomon Schechter we celebrate the diverse array of backgrounds and needs within our community of friends," says Executive Director Zach Duitch. "Every year we strive to meet the needs of an ever-increasing diverse community so that we can offer the best experience to the widest range of children. … As a welcoming community, we intend to continue to grow the number of campers with special needs that we serve to at least 5% of our camper population."
Making Camp Solomon Schechter a welcoming place for everyone is a priority of the camp's ongoing master building plan.
Zach reports:
We have taken every opportunity to remove barriers, contend with more than 80 feet of vertical level changes around the campus, and provide level entrances to all our buildings.
In addition to the three fully ADA accessible bathrooms in the new kosher kitchen and dining room, we also built a fully accessible nongendered restroom building adjacent with six oversized toilet rooms, as well as a fully accessible shower facility.
Every threshold is low-rise or fully smooth; every floor seam is flattened; and every doorway widened. In addition to the bricks-and-mortar improvements, we added a full range of new accessible trails, regraded many existing ones and even added pavement in places to be easily accessed by wheeled conveyances.
We also added "assistance" poles throughout the main camp area, to speed up communication in an emergency or when a camper needs additional assistance. All these upgrades contribute to the welcoming environment for every one of every ability.
We also built a remote storage area near our entrance gate, which includes a freezer, cooler, dry storage and an area for garbage, recycling and compost. This eliminates the need for large vehicles to drive into main camp when campers are about, better safeguarding all our campers, especially those who may have physical or sensory disabilities.
"We also created a new space at camp called the 'chill zone,' " says Zach. "This space was designed for campers who need to take a break from the action, campers who get over stimulated or anxious can always stop by the chill zone to get some TLC, read a comic, sip on tea, relax and recharge for the rest of the day."