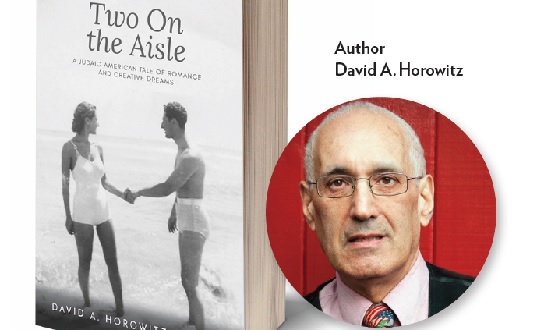 A dramatized reading of Two on the Aisle will explore American Jewish identity through this recently published family chronicle. This free event will be at 7 pm, May 22 at the Oregon Jewish Museum and Center for Holocaust Education, 724 NW Davis, Portland
PSU History professor David A. Horowitz will present literary and narrative selections from Two on the Aisle: A Judaic American Tale of Romance and Creative Dreams, accompanied by PowerPoint and Gershwin musical excerpts.
Two on the Aisle: A Judaic American Tale of Romance and Creative Dreams, is a hybrid cultural history and family chronicle that traces the aspirations, experiences and creative works of the David's parents, Nathan and Dorothy Horowitz. The account encompasses many of the central themes and contradictions of 20th-century American and Jewish history and identity. The story describes how two offspring of Eastern European immigrants combined a struggle for material security with literary efforts that blended Yiddish-flavored humor, social compassion, religious devotion, and secular concerns with piercing meditations on life's disappointments and fragility. While sampling fragments of the couple's three-act play that enjoyed a brief run off-Broadway in the 1950s and excerpts from published poetry, short stories, sketches, and essays, Two on the Aisle draws on an archive of correspondence, journal entries, and unpublished work to provide a fully human dimension to this remarkable story.
A native of the West Bronx and Long Island, New York, graduate of Antioch College, and University of Minnesota PhD., he teaches U.S. cultural and political history at Portland State University and lives with his wife, Gloria E. Myers, in Portland and Arch Cape.
David's previous books include America's Political Class under Fire: The Twentieth Century's Great Culture War (2003); The People's Voice: A Populist Cultural History of Modern America (2008); and a memoir titled Getting There: An American Cultural Odyssey (2015).
www.ojmche.org | 503-226-3600