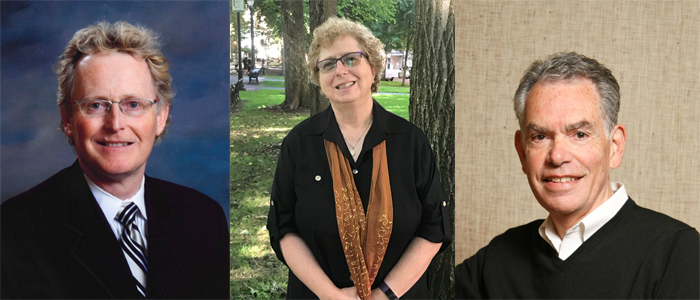 Photo: Steve Reinisch, Eddy Shuldman and Gary Pearlman.
Gary Pearlman, Steve Reinisch and Eddy Shuldman have been selected as this year's recipients of the Rabbi Joshua Stampfer Community Enrichment Award. The three honorees have used their talents to make substantial contributions to the fields of art and education in the local area.
Established to honor Rabbi Stampfer on the 50th anniversary of his ordination, the award honors individuals and organizations that have significantly enriched Jewish culture, education and community. It is sponsored by the Institute for Judaic Studies, the Oregon Jewish Museum and Center for Holocaust Education, Camp Solomon Schechter, the Harold Schnitzer Family Program in Judaic Studies at Portland State University and Congregation Neveh Shalom, all organizations in which Rabbi Stampfer has played a key role.
Gary Pearlman is an interior designer and artist who holds degrees from the University of Oregon and New York University. He began a second career as an internationally known Hebrew calligrapher after becoming captivated by the beauty of the Hebrew letter while working on a ketubah to honor his parents' 50th anniversary. He has since used his talents to create logos and awards for many Jewish institutions in the local community and designing works of art such as the ark in the Stampfer Chapel at Neveh Shalom and the Nepom Gates at the entrance. His recent contributions include the redesign of the Rose Schnitzer Manor lobby, the newly created Marcy's Bar and Goodman Hall at the Manor, and design of the ark in the Sara Cogan Chapel at Cedar Sinai Park.
Steve Reinisch, a graduate of Willamette University College of Law, has been a practicing attorney in Portland for 42 years. He has served on the board of the Oregon Jewish Museum and Center for Holocaust Education for the past decade, and following the example set by his parents, has been a key participant in interfaith dialogues in the Portland community. He sees the role of OJMCHE in "breaking down walls of intolerance, and sharing a message of diversity, respect, inclusion and education to combat hate and prejudice through the lessons of history," to be an integral part of his personal mission in life.
Eddy Shuldman, who taught in Portland Public Schools for 33 years and has served as an adjunct professor of Education at both Portland State University and the University of Oregon, is a lay leader at Congregation Neveh Shalom and a co-founder of the ORA Northwest Jewish Artists collective. Her artistic work includes unique Torah adornments crafted in celebration of Neveh Shalom's 150th anniversary, and in collaboration chapel at CSP. She chairs the Religious and Spiritual Life Committee at CSP and works jointly with their organization and the Portland Jewish Academy in their B'yachad intergenerational learning program.
RABBI JOSHUA STAMPFER COMMUNITY ENRICHMENT AWARD
WHEN: Oct. 24, 6 pm
WHERE: Congregation Neveh Shalom, 2900 SW Peaceful Lane, Portland
TICKETS $60 RSVP: by Oct. 18 to Marg Everett meverett@nevehshalom.org or 503-293-7318