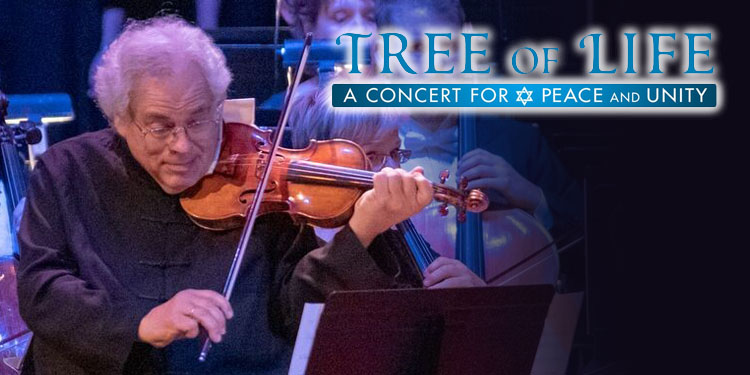 PBS will broadcast nationally WQED's locally-produced "Tree of Life: A Concert for Peace and Unity," a free community event, presented and hosted by the Pittsburgh Symphony Orchestra to honor the Tree of Life Synagogue victims and first responders. The performance, featuring Itzhak Perlman at Pittsburgh's Heinz Hall, was taped on Nov. 27, one month after the tragedy, as part of the PSO's "Music for the Spirit" series.
Made possible with support from the Corporation for Public Broadcasting (CPB), "Tree of Life: A Concert for Peace and Unity," a one-hour special, will air nationwide on PBS stations on Tuesday, Dec. 11. It will air on OPB at 8 pm.
"Tree of Life: A Concert for Peace and Unity" will stream on PBS.org and on the PBS Facebook page concurrently with the broadcast. The concert will also be available for streaming after broadcast on station-branded PBS platforms, including PBS.org and PBS apps for iOS, Android, Roku, Apple TV, Amazon Fire TV and Chromecast.
The Pittsburgh Symphony Orchestra's special concert evening of remembrance and reverence brought the Pittsburgh community together to find comfort, strength and solace through music, hope and unity.
"This was public media at its finest, celebrating community and hope over evil," said CPB President and CEO Pat Harrison. "The voices of this community from the Chief of Police to those who were directly impacted by the attack on the Tree of Life Synagogue, affirmed that hatred can't weaken the city of steel. Pittsburgh 'strong' is a reality and reflected through the partnership among WQED, the PSO, and local police, government and diverse religious leaders."
"Through our production of this Pittsburgh Symphony Orchestra concert, we hope to inspire healing and to repay the kindness the world has shown Pittsburgh during the city's darkest days in the aftermath of the tragedy," said WQED President and CEO, Deborah L. Acklin. "The community collaboration on this project was extraordinary.  The Corporation for Public Broadcasting was able to quickly fund this project so that the people of Pittsburgh, through the Pittsburgh Symphony Orchestra, could thank the world for their support and share an evening of solace with the nation."
Renowned Israeli-American violinist Itzhak Perlman joins Music Director Manfred Honeck, the Pittsburgh Symphony Orchestra, PSO Principal Clarinetist Michael Rusinek and the Mendelssohn Choir of Pittsburgh. All artists graciously donated their services for this performance.
The performance features the following works:
Maurice Ravel: "Kaddish" from Deux Mélodies Hébraïques for Clarinet and String Orchestra
Dmitri Shostakovich: "Largo" from Symphony No. 5 in D minor, Opus 47
David Zehavi (arr. Pigovat): Eli, Eli ("My God, My God"), A Walk to Caesarea
Felix Mendelssohn: "Lift Thine Eyes to the Mountains" from Elijah
Johannes Brahms: Ein deutsches Requiem (A German Requiem)
Opus 45 IV. Wie lieblich sind deine Wohnungen
John Williams: Three Pieces from Schindler's List for Violin and Orchestra
Edward Elgar: "Nimrod" from Variations on an Original Theme, "Enigma," Opus 36
"It is our hope that the Concert for Peace and Unity brings a sense of peace and healing in the wake of unimaginable tragedy," said Paula Kerger, President & CEO, PBS. "We thank the Corporation for Public Broadcasting and WQED for partnering with PBS to share this beautiful tribute with a national audience."
"As advocates of peace, tolerance and understanding, the Pittsburgh Symphony Orchestra brings people together through the universal power of music to collectively grieve and heal after this horrific tragedy, both locally and across the country," added PSO Music Director Manfred Honeck.