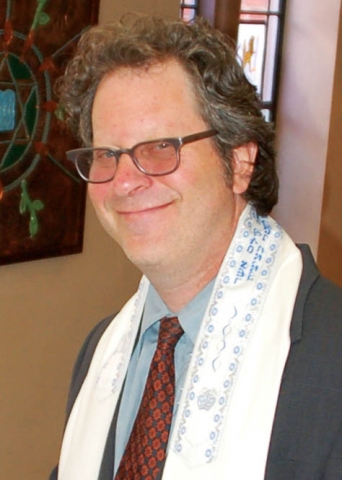 Does integrating students with special needs benefit all students or the community in general?
Ben Sandler
Education Director
Congregation Beth Israel
"You shall not insult the deaf or place a stumbling block before the blind." Leviticus 19:14
Integrating students with special needs absolutely benefits everyone! The first illustration that comes to mind is the work we do with our high school students in our madrichim training. To work in our religious school classrooms, madrichim complete a course on best practices and on becoming a Jewish role model. Coursework and practicum are devoted to working with students with disabilities. I have taught the class for seven years, and this topic always elevates the level of discussion and reveals the madrichim's desire to understand and help individuals with special needs. We discuss the Leviticus verse and how putting a learning disabled student in a classroom in which they cannot succeed is like placing a block before the blind. We help the madrichim see themselves as the ones who can help remove those stumbling blocks by learning techniques that can help and through caring and patience. Students gain a better understanding of many types of special needs including autism, ADHD, learning disabilities, Tourette's syndrome and Down syndrome. Most importantly, they experience working with classroom teachers to help build a positive school community for all of our students in which everyone feels safe.
Mel Berwin
Director of Congregational Learning
Congregation Neveh Shalom
Our students are our community. The amazing thing about being part of a congregational community is that we bring our whole selves. We participate as learners and friends, but also as spiritual beings, as real people dealing with all of life's challenges and blessings.
Every one of us has challenges and strengths whether we have been identified with special needs or not. Special needs does not describe the whole of any person; it simply alerts us to the particular sensitivities or challenges of that learner. At Neveh Shalom, we define special needs broadly – whether a child has a diagnosis or not, it benefits the child and the community to know what helps this child learn or what makes that child anxious.
We strive to help every child succeed to his or her greatest ability, to recognize and celebrate what shines in each child, and to provide support for children in managing or overcoming their challenges. We all benefit from understanding each other's strengths and challenges. We learn compassion and empathy watching friends struggle; we build confidence when we reflect our friends' strengths back to them; and we are inspired when our friends succeed despite obstacles.
Dorice Horenstein
Education Director
Congregation Shaarie Torah
At Congregation Shaarie Torah, we teach one of the great principles of Torah – V'ahavta L'reacha Kamocha, love your fellow as yourself. Can you truly be commanded to love others as you love yourself? How much do you love yourself?
After a decade at Shaarie Torah, I have discovered that each of us has special needs – some more than others. At Shaarie Torah, our obligation to our special needs children is to provide all that they require, including the respect and dignity that is the entitlement of every human being. For our classmates to realize that not everyone was born the same, but we are all born in the image of God, is not only a true and realistic lesson, but something that they can carry for rest of their lives.
We have been lucky to be able to incorporate special needs students in our classes. All students learn the material together, each one reaching their highest level of understanding.
The mother of one student with special needs wrote: "She has been encouraged to explore Jewish life and tradition on a level that fits her needs. The educational staff and clergy always include her, while remaining sensitive to her individual learning style."
Deborah Eisenbach-Budner
Education Director
(with Eve Berry, VP for Education)
Havurah Shalom
Havurah Shalom holds as a core value the Jewish understanding of b'zelem elohim (we are all made in the image of God). Since its inception, Havurah Shalom has strived to be an inclusive community. We all benefit from developing the compassion and skills to be with people who are different from ourselves.
We address the special learning needs of youth within our Shabbat School, a family cooperative with parents as the teachers. We do not have special classes, but we work with families to develop a plan. For example, we might have the parent stay with that student for his/her class time. Or we may have the student participate for a limited part of the class. In addition, we may work with the other students in the group to give them the tools to understand and embrace their classmate's learning issue. We try to vary our teaching and programming to reach all learners.
The Jewish community has been slow to embrace those with different learning styles and needs. This is an important issue and we are glad to acknowledge that we, along with the larger Jewish community, are talking about how best to handle our diverse students.