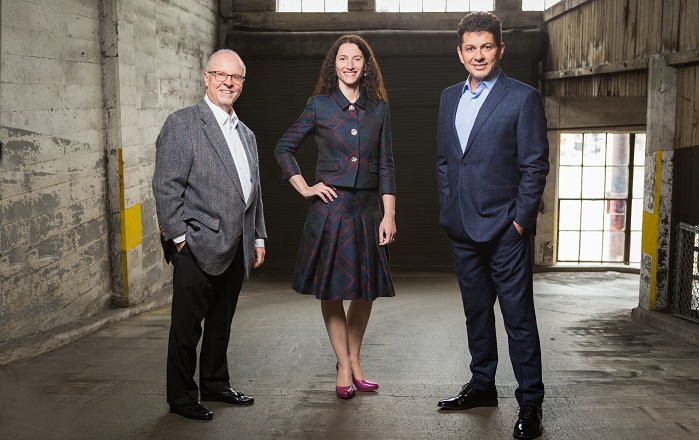 PHOTO: Ken Miller and Bianca and Tony Urdes. Photo by Ed Keene/Keene Studio
Tony Urdes was a doctor in Romania when the Romanian Revolution broke out in December 1989. A year later he started a new minimum-wage life in Portland. Then he began ascending the ladder to success here. For the past 20 years he has been a practicing financial advisor, a profession with the same values that drew him to medicine a lifetime and a world away.
AN INVESMENT TEAM FORMS
Tony and Bianca Urdes and Ken Miller formed an investment team in 2013. In April of this year, the Urdes Miller Group joined the Portland office of Stifel Financial Corp. because they appreciated the company's client-first approach that "supports small boutique teams like ours," says Tony. The team brought their more than 65 years of investment industry experience and clients to Stifel from UBS Financial Services, where they were responsible for more than $300 million in client assets.
"They respect our group and business model and clients," says Tony of Stifel.
Founded in 1890 in St. Louis, this century Stifel has grown into one of the nation's leading full-service wealth management and investment banking firms. Stifel has recruited successful financial advisors such as the Urdes Miller Group, who, according to company literature, "recognize that Stifel's entrepreneurial culture offers less bureaucracy, along with the ability to serve their clients as they see fit."
Tony says Stifel offers a platform that supports advisors as they serve their clients. For instance, Stifel is a member of the Securities Investor Protection Corporation, which protects clients of its members against insolvency or liquidation similar to the FDIC protection for bank deposits. But while SIPC protects up to $500,00 in securities including $250,000 in cash, Stifel has additional securities insurance that augments the SIPC coverage to protect a total of $150 million of securities coverage per client and up to $1.15 million in cash coverage (this coverage does not protect against market loses).
Tony says that is just one of the benefits Stifel provides to enable teams to serve their clients successfully.
FROM ROMANIA TO PORTLAND
Tony finished medical school in Timisoara in mid-1989 and began his medical practice in a nearby town. He was in Timisoara for post-graduation training that December as Romania's revolution began in that college town.
"It was unreal," says Tony. "People were excited and scared in equal doses. We were so afraid they would come with tanks."
The tanks and soldiers did come, but the revolution spread to the capital in just a few days.  President Nicolae Ceausescu was arrested; after a quick trial, the bloody revolution ended with the Dec. 25 execution of Ceausescu and his wife.
A year later Tony arrived in Portland. He says that Sweden and South Africa were offering incentives for emigres to go there, but he decided to come to America. "The U.S. didn't offer anything, except freedom and the opportunity to choose," he says.
He was granted equivalency for his medical degree, but since he didn't speak a word of English, he was unable to take the boards. Needing to pay the rent, he got a minimum-wage job packaging bagels at night for a wholesale bagel bakery. He was soon promoted to the day shift "because I knew how to count," he says.
He ultimately rose to manager.
"Then I started investing my money and other people's money," says Tony. In 1998 he was hired by Paine Webber, which was acquired by UBS in 2000. Tony earned the Certified Investment Management Analyst designation from the Wharton School of the University of Pennsylvania in 2002.
That same year, Bianca came to Portland on a student visa from Transylvania, Romania. She had finished law school and came to Portland State University to earn an MBA in finance. After graduation, she began PSU's doctoral program. But she decided she needed a break and started work at UBS.
"When I became a financial advisor, I never imagined I would love it as much as I do," says Bianca.
"I followed all the steps in the system to be able to stay," she adds. "Besides calling Portland home, I am a citizen, I am an American."
STARTING A FAMILY
A mutual friend wanted Bianca and Tony to meet since they were both from Romania. After initially resisting, they met and became good friends. They married in 2007 and began working together in 2013.
They also joined Congregation Beth Israel, where they have become active volunteers. They chaired the congregation's Taste of Temple fundraiser two years. Bianca served on the finance committee, and Tony is now on the board's executive committee.
"We feel so grateful to be part of such a great community," says Bianca.
"We chaired the fall fundraiser while we were very pregnant," she adds. "There were contractions, but we made it."
On Oct. 2, 2016, Shira was born. She was welcomed home by her four-legged "big brother" Ozzie, a vizsla (Hungarian pointer-retriever).
Tony also has an adult daughter, Sabina Urdes, from his previous marriage.
INVESTING STRATEGY, IMPACT INVESTING
"We believe in building strong relationships that pass the test of time," says Bianca. "Our core purpose is to provide prudent stewardship of your family's assets and to earn your trust."
Noting a recent study from the BMO Wealth Institute that reveals women control 51% of the private wealth in the United States, Bianca says she enjoys working with women investors to help empower them "to vote with their wallets for equality." Bianca says women in particular want a relationship with their advisor that's built on trust, and they appreciate a high level of service and a personal approach. "We find women want … to support their families' values and lifestyle."
"Tell us what you want, and we'll make it our strategy," she adds.
Tony notes that many clients of the Urdes Miller Group are interested in impact investing, which he calls "the next level of socially conscious investing."
"How can we invest to make a difference – to impact some aspect of life?" he asks.
As an example, he cites investing in companies that offer medical insurance to part-time employees or those that pay tuition for employees seeking to expand their education. "We can invest in these companies and support them," he says.
Bianca calls it "a way to do well by doing good."
The couple consider themselves fortunate to work with their partner, Ken, who has built his investment business for more than 35 years.
"Ken and his wife, Sue, are very loving people who connect instantly with clients," says Tony.
"Sue is not on the payroll, but she has such a big heart you feel her presence, and the clients feel it, too," Bianca adds. "If an animal is hurt, they will take it in and heal it. This kind of care and genuine love and interest in the well-being of all fellow beings – two-legged or four-legged – is really amazing."
That concern for others was what drew Tony to study medicine and is now the motivation behind the entire Urdes Miller team.
Urdesmiller.com | 503-499-6260