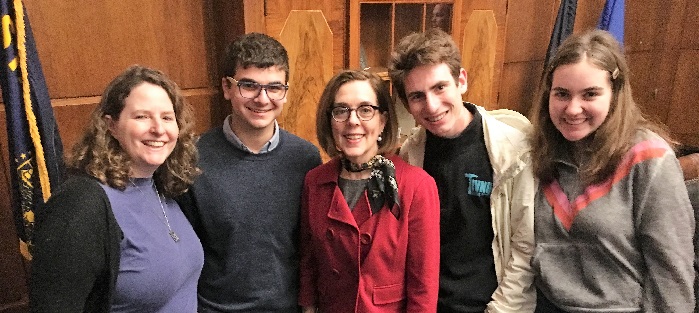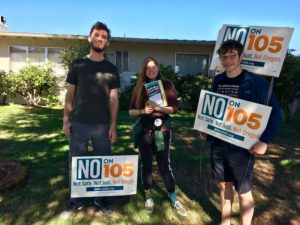 PHOTOS: Above, Tivnu participants meet with Gov. Kate Brown in Salem while attending the proclamation of Cesar Chavez Day at the Capitol in March. At right, Tivnu participants canvas against Measure 105 before last year's election.
From Staff and PR Reports
Portland-based Tivnu: Building Justice was one of seven organizations to receive the 2018-19 Lippman Kanfer Prize for Applied Jewish Wisdom during the Jewish Funders Network Conference in March. Tivnu received a $30,000 prize.
The prize is funded by the Lippman Kanfer Foundation for Living Torah along with Democracy Fund. Groups from across the nation received $150,000 for innovative applications of particular Jewish wisdom to universal human questions.
This year, the prize focused on the timely issue of democracy and civic engagement and was awarded to seven organizations – both established programs and new ideas – whose work was deemed exceptional by the prize's external reviewers and judges.
"We're quite proud that our work, and more specifically the work of our gap year participants, is being acknowledged for its contribution in these areas (civic engagement and democracy)," says Tivnu Executive Director Steve Eisenbach-Budner. "We're thrilled to be associated with a foundation that recognizes, as Tivnu does, that Jewish wisdom has much to contribute to today's most challenging and critical issues. Certainly few are more important than supporting our young Jewish adults in their desire to engage actively in our society, working to make it more equitable, and one in which everyone's needs and voices are taken into account, including the marginalized among us."
Tivnu Gap Year, the only domestic Jewish gap year program, brings high school graduates to Portland for a nine-month experience that includes individually tailored internships with a wide range of local, grassroots direct-service and advocacy organizations; skilled construction of tiny homes with and for houseless individuals; study of today's most important social justice issues through Jewish and other sources; and collective living within their own pluralistic Jewish households.
"Jewish wisdom contains deep insights for life's big and small questions," says Marcella Kanfer Rolnick, chair of Lippman Kanfer Foundation for Living Torah. "This year's prize winners highlight how our ever-accumulating wisdom tradition provides meaningful guidance for an area of life on the top of people's minds today – how we engage in protecting and advancing our democracy and civic life."
"American democracy is at a critical moment in its history," explains Joe Goldman, president of Democracy Fund, which co-funded this year's Prize. "These organizations are seizing this moment and turning it into an opportunity to make our country even stronger."
The winners were chosen from over 100 applications from across the United States through a multi-round process. Prizes were awarded in two categories. The three "Established Programs" each received $30,000. The four "New Ideas" garnered $15,000 each.
Other established programs receiving the prize were Minyan Tzedek: Organizing for Social Change (Los Angeles, CA) and Facing History and Ourselves' Professional Development for Educators in Jewish settings (Brookline, MA). New programs winning the prize were Brandeis Precollege Programs – Being the Change: Public Policy, Justice, and Advocacy (Waltham, MA); Jewish Federation of Greater Los Angeles – CIVruta (Los Angeles, CA); Matovu – Three Occasions: Shalosh Regalim for Civic Engagement (Saint Louis, MO); and Northern Virginia Hebrew Congregation – The Rebuilding Democracy Project (Reston, VA).
"Today, we celebrated organizations that are reimagining ritual, that are applying ancient texts to entirely new contexts, that are drawing on Jewish history, and so much more," says Aaron Dorfman, president of Lippman Kanfer Foundation for Living Torah. "These applications of Jewish wisdom, together, can heal and strengthen America's democracy. Each serves as an exemplar of how Jewish wisdom can help people live better lives and shape a better world."
tivnu.org | lkflt.org | democracyfund.org