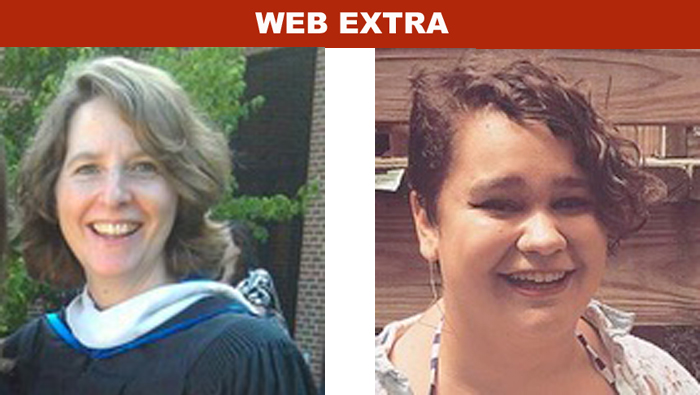 PHOTOS: Adinah Miller, left, and Rebecca Mather, right
Tivnu: Building Justice has hired Adinah Miller as the group's new Program Director. She has been the Dean of Jewish Life for the last six years at the American Hebrew Academy, the Jewish boarding school in North Carolina. She has a wealth of Jewish knowledge and practical experience, and is currently making the drive across the country with her husband and son.
Rebecca Mather is Tivnu's new House Supervisor, and will be living with the participants in the Gap Year bayit. Rebecca is coming off of a year of service with Avodah in New Orleans. She has a strong social justice background, a great deal of experience in living in communal households, as well as training in group process and communication skills.
The Tivnu Gap Year is nine months of hands-on, Jewish social justice engagement in Portland. Participants live together, create community, discover the Pacific Northwest and explore connections between Jewish life and social justice with their heads, hands and hearts. Options include the Building track or the new Direct Service and Advocacy track.
Meanwhile, over the summer, the TivnUSY summer program brought teens from around the country for eighteen days of hands-on volunteer work, Jewish learning and exploration of the Pacific Northwest.
Shabbat morning started with several TivnUSYers receiving aliyot (honors) during Shacharit (morning services) and lunch with the members of Neveh Shalom, the synagogue where the group is staying. The first afternoon was rounded out with a discussion about how a community can be created that supports itself through open communication, honesty and trust.
In between Shabbat menucha (R&R) they learned some new songs, enjoyed story time and ended the evening with just enough time to get down to the Portland waterfront for Fourth of July fireworks! The night was capped off with an ice cream sundae bar and dance party.
The following week was filled with meaningful work! Every day they got dirty with the Learning Gardens Laboratory, as they learn sustainable gardening techniques while being educated on issues of food justice and security.
There is still one more spot available for the 2015-2016 Tivnu Gap Year, the only domestic Jewish gap year program for recent high school graduates. Partticipants work to alleviate homelessness while they gain social and hands-on skills that will benefit them in college and beyond.
For its second gap year program, Tivnu offers two tracks. Building Track: Learning and applying construction skills by building affordable housing projects with Habitat for Humanity. Participants also intern one day a week with local service and advocacy groups. The new Direct Service and Organizing Track: Participants work four days a week with local social justice organizations that align with their particular interests, including affordable housing/homelessness, food security and environmental justice. They will spend one day a week on a construction project.