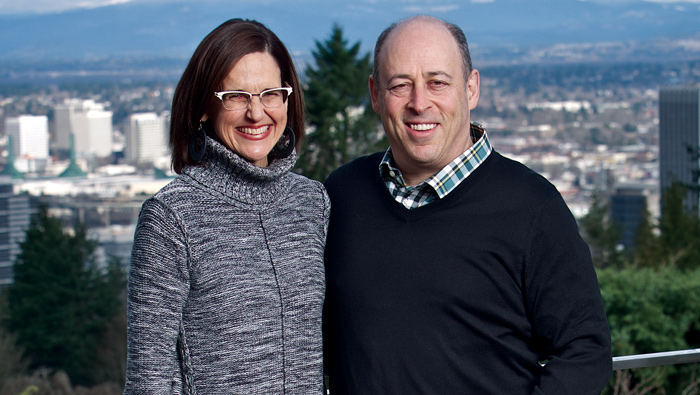 Timbers executive Mike Golub says that winning a major sports championship "crystallizes" the phenomenal connection between Portland fans and their sports teams.
In just their fifth year as a Major League Soccer team, the Portland Timbers won the MLS Cup in December – the city's first major sports championship since the 1977 Portland Trail Blazers' NBA championship. As the Timbers prepare to resume regular season play March 6 in a MLS Cup rematch against the Columbus Crew, Mike says, "You get a taste for winning and want to do it again. It will be harder – people will be gunning for us – but we kept the core of the team together."
The 54-year-old sports aficionado has extensive experience in major league sports and a great appreciation for sports fans. Since 2009 Mike has been the Timbers' president of business operations. Formerly the chief operating officer for the Trail Blazers, Mike also served as a senior VP for the National Hockey League's New York Rangers and began his career as a producer for Major League Baseball Productions.
"In my view, at the heart of a good sports franchise is the ability to create community, to be a positive influence and to become part of the fabric of the community," he says. "Winning a championship crystallizes that and brings people together. Disparate people come together for good."
Soccer is especially good at bringing diverse people together, according to Mike.
"Soccer is the universal sport – it is played the same way in every corner of the world," he says, noting that soccer players come in all sizes and from all ethnicities. "In a city not known for diversity, every ethnicity and shape can come and enjoy soccer. Soccer is a very open and democratic sport."
Portlanders have a strong sense of place and sense of pride, which Mike says creates avid fans.
"This city is so proud and supports its teams in an incredible fashion," he says. "Soccer is a younger league in this country (MLS is 20 years old), and we are helping write the early chapters. The Timbers elicit incredible loyalty and devotion. The Blazers have a 45-year tradition and wonderful fan base, as well. … The loyalty and devotion of our fan bases are very similar."
The Timbers have sold out every home game since joining the MLS five years ago. And the club's women's team, the Thorns, has also enjoyed immense popularity. The Thorns' attendance average of 15,000 per game is the highest in the league. Mike says he hopes the Timbers/Thorns support will ensure the success of this third attempt to create a viable women's professional soccer league in North America.
Being part of the fabric of a community means that team executives, coaches and players are involved in the community outside of the stadium. The Timbers have been named one of Oregon's most philanthropic businesses for five years straight, and in 2015, the Portland Business Journal named the team the state's most philanthropic medium-sized business.
That focus on philanthropy fits well with Mike's upbringing in New York, north of the city, where the Jewish community is prevalent and so vibrant that he says you feel very connected to it. His father, Israel Golob, z"l, left Poland before the Nazis invaded his village, and he settled in Brooklyn. His mother, Betty Golub, grew up in north Manhattan. During Mike's childhood, sports and the arts "were common threads of my family," he says.
The values of tzedakah and tikkun olam that he grew up with are now part of his professional life.
"I'm really proud of the work we do in the community," says Mike. "Our philanthropy speaks for itself. Our community aegis is 'stand together.' "
In addition to regularly providing grants to a variety of nonprofits, volunteerism is a big part of the Timbers culture. Every year the Timbers host a week of volunteering that has been proclaimed Stand Together Week in both the city and state for the past few years. During the week, players, fans and sponsors volunteer with more than 40 nonprofits. The event is scheduled for a week in June when both the Timbers and the Thorns are in town.
Additionally, Mike says that the senior executives, head coach and department heads "all look at our jobs to be out there representing the organization and to give back and become involved in the community.
"I enjoy that part of the job," he says. "It connects me with the community that I care so much about, and it lets me understand our community and the fans."
Mike is vice chair of the board of directors of the Oregon Cultural Trust and serves on the board of directors of the Portland Business Alliance, Pioneer Courthouse Square, the Regional Arts & Culture Council, Oregon Special Olympics and the Oregon Sports Authority.
"I'm really involved civically," says Mike, noting that this has not left much time to connect with the organized Jewish community in Portland. But he does attend some Jewish community events and has personal connections that are important in his life. He says he is good friends with the Sacks family, who helped Mike and his wife, Sam, find the younger of their two rescue dogs – Tatum, "our wild child." The couple's older "chill dog" Tuck is also a mixed-breed rescue dog.
"We are big supporters of the Pixie Project," says Mike, referring to the nonprofit founded by Amy Sacks and her mother Ann that offers personalized pet adoption and low-cost veterinary assistance. (The Pixie Project was the Oregon Jewish Life cover story September 2014). "I am on their board."
Mike and Sam also rely on a good friend, chef Lisa Schroeder, at Passover. "I think Lisa puts on the best seder, so I try to participate."
Like the good Jewish son that he was, when Mike headed to Dartmouth College he intended to become a lawyer. Until his senior year, he had his sights set on law school.
"I had an epiphany my senior year," says Mike. "A mentor opened my eyes to the possibility of doing something I love and eat and breathe. I had no talent to play, but I might have the talent to contribute to the business side of sports."
He says a summer job at Apple "reaffirmed for me that sports is where I need to be. Sports has been my goal and path since the lights went on."
After graduating with a bachelor's degree in government, he went to Stanford and earned his Master of Business Administration.
After his first sports job working for Major League Baseball Productions, Mike managed the National Basketball Association's Events Division from 1991 to 1996.
After that, he discovered Portland. In the late '90s he moved to Oregon as a founding member and director of Nike Sports Entertainment, which created and administered Nike-owned sporting events.
He returned to professional sports in 2000, serving as executive vice president for the Memphis Grizzlies and then senior vice president of business operations for the New York Rangers.
But the Pacific Northwest had gotten under his skin.
"I fell in love with the place and wanted to get back, and I found a way to come back with the Blazers in 2006," he says. "Portland is a welcoming, proud, progressive community. I've lived in some wonderful places, but this is a special community that cares. That really resonates with my wife and me."
A retired lawyer, Sam now runs a freelance design firm in Portland.
"From the moment we moved (here), we felt at home," says Mike.
In 2009 Mike joined the Timbers and helped lead the team to its successful launch as an MLS team in 2011. He oversees all business functions of the Timbers, Portland Thorns FC and Portland Timbers 2 (tier 2 soccer team). He received the Doug Hamilton MLS Executive of the Year honor in 2011 in recognition of the Timbers' remarkable inaugural season in the league.
In 2013, along with the Boston Red Sox, Chicago Blackhawks, Golden State Warriors and Seattle Seahawks, the Timbers were named as finalists for Sports Business Journal's "Sports Team of the Year." That same year, Mike received the MLS Executive of the Year award for a second time.
"We set out to make this organization and the experience of being a fan a true expression of Portland and our community," says Mike, adding that Timbers' games are "accessible, affordable, safe, secure."
The stadium's location in the heart of downtown, just off the Max line and within walking distance of many neighborhoods, has played a big role in that accessibility. About 8,000 to 9,000 fans arrive at each game on the Max trains.
"We have sold out every game we ever played, and we have a waiting list of over 13,000 for season tickets," says Mike. He says they cap season ticket sales at 15,500 of the 21,144 available seats to give every soccer fan in the city the opportunity to attend a game.
That amazing fan base has also made the Thorns a pivotal team in the future of women's soccer. Mike says the future of the women's professional soccer league is thriving, with the Thorns leading the way in attendance. "The Thorns are a great addition to the Timbers family," says Mike.
As the Timbers family turns its attention to a new season, Mike says the team is poised to be competitive. Players returned to the practice field just seven weeks after winning the MLS Cup Dec. 6 in Columbus. Two days later 25,000 fans turned out on a rainy day to cheer the Timbers' victory parade through downtown Portland.
"We'd like to have another parade in December of this year," says Mike, with just a hint of  swagger – or make that pride – in his voice.