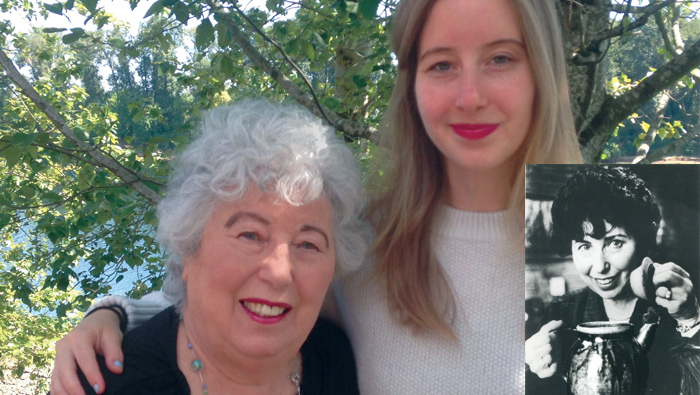 For a lot of folks, Portland resident Elaine Cogan earned her place in history in 1983 when she wrote a letter to the editor of The New York Times that resonated with thousands – hundreds of thousands? – of Americans who felt they were being discriminated against in restaurants. Who were these people? Tea drinkers! And I quote from Elaine's letter:
"The prevailing practice (back east) seems to be to serve tea drinkers a cup of hot water and a tea bag. … This is comparable to serving instant coffee to coffee drinkers, a practice universally shunned. There seems to be no understanding that a decent cup of tea needs to be brewed in a pot."
It created quite a tempest in a … well, quite a stir. Elaine got letters and calls from people all over the country.
What would you do next? I would probably have told the story at cocktail parties for years until nobody would invite me over again. That is not, however, what Elaine did.
Elaine did a little survey, calling food editors all over the country. The results validated what she herself already knew: most people did not know how to make tea. On the basis of what she calls "that scanty information," she and her husband, Arnold, started Elaine's Tea Company, a mail-order operation that sold tea-brewing paraphernalia and 25 different tea blends. Many credit her with starting a "tea revolution." Elaine and Arnold eventually sold the rights to her special tea to Harney & Sons Tea Company, but even today you can buy Elaine's Blend on its site (4 oz. tin of loose tea is $10 plus shipping!).
Dayenu, you tea drinkers are saying! But there are a few other constituencies that respect and honor Elaine Cogan even if they don't know their lapsang from their souchong. That is because tea was just an interest that became a sideline for Elaine; her professional life spanning 40+ years has been as a writer and as founding principal, with her husband, of Cogan Owens Greene. As a consultant to individuals, organizations and communities involved in urban planning and public policy, Elaine has been involved in communications and strategic planning on projects ranging from the Antelope Ridge wind farm siting-facilitation process to the proposed Walmart in McMinnville.
Dayenu? Elaine was also the first woman president of Congregation Neveh Shalom and the first woman chair of the Providence Hospital Board. She was the editor of The Jewish Review. She was the first – and only – woman chair of the Portland Development Commission. She hosted a weekly radio show and for 15 years wrote columns for the Oregon Journal and The Oregonian. The League of Women Voters named her a "Woman of Achievement." This year, she is a Portland Business Journal "Woman of Influence" and a Portland Daily Journal of Commerce "Woman of Vision." She chaired the Governor's Commission on Liquor Control, for heaven's sake. And she has written three books.
All this while she and Arnold were raising three children.
Dayenu? Nope. Lisa Schroeder of Mother's Bistro & Bar in Portland chose to feature Elaine on Mother's "Mother of the Month (MOM) Menu," noting that Elaine "has made all the family's bread for many years … challah, rye, pumpernickel, whole and cracked wheat and sourdough … using a starter she has nurtured since 1985."
Now in her 80s, Elaine admits she is feeling her age a bit. She is no longer an active consultant, although she confesses that she might take on a project or two if it particularly appealed to her. She does still go to Rabbi Daniel Isaak's Bible class every Thursday afternoon. She and Arnold are thinking about going to Italy again, although she says she will "go slower. Or take a longer rest."
"I do not understand people who say they are bored or don't have enough to do," says Elaine. "Find something that interests you and raise your hand! Rabbi Joshua Stampfer is the poster child for what we're talking about. As long as our minds are working, we should be able to handle everything else."
Now she is focused on sharing what she has learned.
"The fallout from the Business Journal award was very interesting," Elaine says. "I've gotten emails, notes and calls from young women who read about me. Two even took me out to lunch; they just wanted to know what I know."
As a result, Elaine is now focused on writing. First, she is rewriting a book she and Ben Padrow of Portland State published in 1984:  You Can Talk to (Almost) Anyone about (Almost) Anything: A Speaking Guide for Business and Professional People. "I'm going chapter by chapter, and I can't believe how much I have to add."
Elaine is moving along on this, though, because she is excited about her new book on communications for professional women. "I am interviewing hundreds of women. (When I tell them what I'm doing,) their eyes light up and they say, 'Oh, do I have stories to tell you!' It's still a man's world in a lot of respects. How we navigate that world is the key to success."
Elaine's granddaughter, Kate Van Brocklin, 24, is helping her with the project. Kate, a graduate of Brown University and an experienced writer and researcher, comes to Elaine's every Friday. Elaine says Kate is helping her organize the reams of material she has already amassed.
"Naturally we have different life experiences," Kate acknowledges. "But we seem to have the same basic ideals, values and points of view on the most important matters. I'm impressed by her awareness of issues that women deal with every day. I am inspired that she is writing a book that I think will empower women.
"My sisters and I have close relationships with both my grandma and grandpa," Kate adds. "We have always felt connected and find them easy to talk to. I'm glad we live in the same city so I can help her with this project."
So, we add "Awesome Grandma" to the list.
I couldn't help but ask her: if you could have a do-over, would you change anything?
She answered immediately. "I would have kept the tea company."
Liz Rabiner Lippoff is a marketing consultant, freelance writer and community volunteer. LizInk.biz