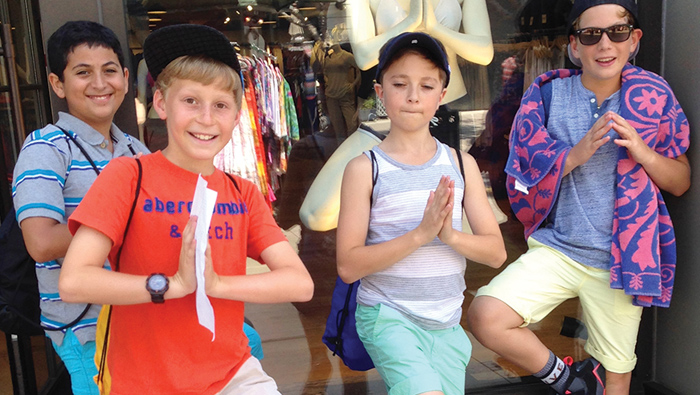 The rambunctiousness is palpable as dozens of 12- and 13-year- olds pile onto the school bus for Sarah's batmitzvah party.
"Where are we going?" "Why do I need this beach towel?" "How long until we get to our first stop?" The questions come rapid fire, repeating over and over, as if the guy in charge will break down and give any sort of clue as to what's about to happen.
That guy in charge is Dave Green, the Chief Mysterious Officer of Mystery Trip, and he parries their inquisition with ease: "Not telling." "You'll see." "I forget." They stomp off, smiling. They'll find out soon enough.
Although specializing in corporate team bonding events, Mystery Trip has become one of the hottest alternative bar mitzvah events in Los Angeles over the last 18 months as parents look to move beyond the typical parties into something more experiential and memorable for their b'nai mitzvot.
"We figured by the end of the school year, everyone would be tired of the standard bat mitzvah party," Wendi Levy, the bat mitzvah girl's mother, explains. "We wanted to do something that would be unique and memorable."
What started as a side project for Green in 2011 became a full-time endeavor in January 2015. The company has since expanded to accommodate trips nationwide, including in New York, Philadelphia, Boston, San Francisco, Denver, Dallas, Pittsburgh and Sonoma. Upcoming events are slated for Portland, Seattle, Austin, Chicago and Washington, D.C.
Drawing from an enormous (and ever-growing) database, Green creates the personalized, all-inclusive events for his clients based on what they want to do, and is quick to mention he's never done the same trip twice. "Each trip is custom-made for the client to ensure they have an experience that resonates with them personally, which makes it all the more special and memorable."
After a massive scavenger hunt in Little Tokyo, a kosher lunch on a hidden patio downtown with a New York feel and an escape room adventure, the kids are tuckered out, but happy after their six-hour adventure. They are even happier when the bus pulls back into the meeting spot where there is an ice cream truck waiting for them.
Eating their soft serve together, mother and daughter are all smiles. "Dave nailed it," says Wendi. "He spent a lot of time on the phone with me and David, my husband, to get it right. I was surprised he wanted speak with Sarah, too."
Green walks by and Sarah – who is already wearing the custom-made shirt she helped design – gives him a big hug. "Thanks for making this a really memorable day for me! Seriously, that was amazing!" she says, before running over to hang with friends and take more selfies.
Wendi adds, "To me the best part is that Dave acted as our concierge to book everything for the event. All we did was show up! How great is that?"
getmysterious.com | saul@getmysterious.com  310-701-5208