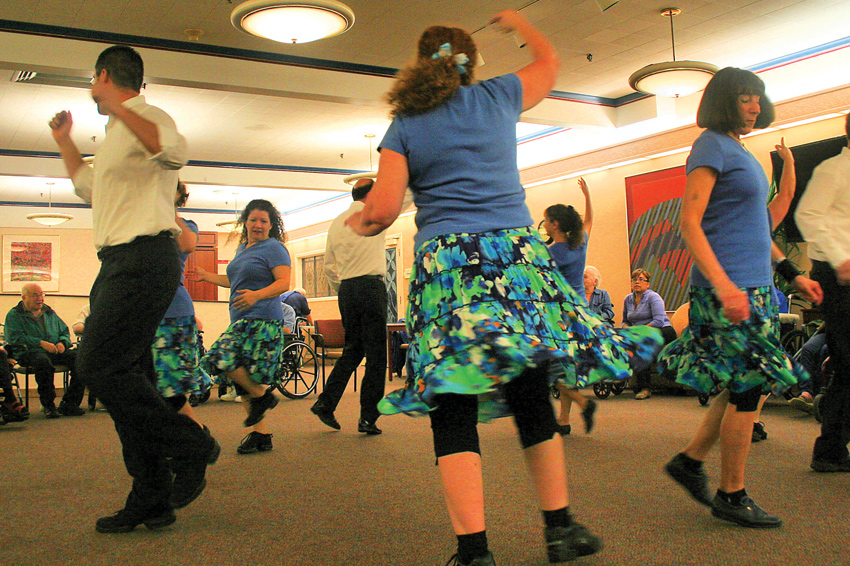 You'll find them almost any night of the week, from Sunday circles and couples at the Fulton Community Center to Wednesday night beginners at the Mittleman Jewish Community Center. Israeli folk dancing has been part of the local scene for more than 40 years. And for 20 of those years, a group led by Melba Davidson has entertained at Cedar Sinai Park every month. Throughout that time it has commonly been known as one of the residents' favorite entertainments.
"I was only planning to do this a few times," Melba says, recalling how the program started. An alternative health practitioner, she grew up in Calgary and moved to Portland about 40 years ago. Along with caring for two children, she loves tennis and dancing and took up Israeli folk dancing 21 years ago when she found the music "touched her soul."
"I thought it would be fun to entertain the residents," she says. "I didn't realize it would go into years. In the early days I brought a big boom box. Now the music is all on the laptop."
The laptop belongs to Duane Robins, who Melba recruited when her Cedar Sinai Park program began. He stores music for up to 5,000 dances on his computer. A few hours before each session, she calls him to say which ones they'll use that evening. "I normally put together 14 or 15," Melba says. "I tend to use contemporary more than classics. I love the amazing dances coming out of Israel today. I try to please the residents and make sure the dancers have a good time."
Melba draws from a pool of Portland's experienced Israeli dancers and recruits between five and 10 each month. "I send email and get a count," she says. "That tells me the kind of program I'll put together. We try to coordinate outfits and look like a troupe, say black on the bottom or a certain colored skirt. In the early days, I had sashes but the dancers aren't in to that too much anymore."
Thursday, March 20, at 6:30 pm the dancing began. Chairs filled with residents circled the Robison Home's large living room. Israeli music from Duane's laptop floats through the halls. The dancers, looking lovely in coordinated outfits, vary their program between fast and slow, circles and couples, all in perfect time. Halfway through the performance, CSP resident Mark Padgett gets up for his usual comedy routine. "On Mondays I host an hour of trivia, and every other week we do word games," he later says. "I used to work in radio."
Some in the audience have a long history with Israeli music and dance. Former librarian, Mimi Silver, says she has danced since she was 2 years old and still does. "I've watched her dance at our anniversary party," her friend Betty Munch comments. "She's still active."
Grace Klor says she's been at the Robison Home forever. "I love it here. First of all, I do all these dances myself."
Melba recognizes residents from week to week. "It's sad when I don't see them again," she says. "They ask if we can come back and hold our hands. Every dance is different; you never tire of it."
For more information on local Israeli dancing visit portlandisraelidance.com.