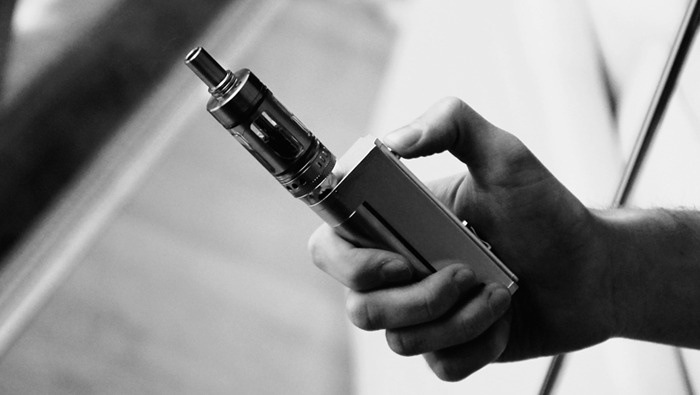 PHOTO: Image courtesy of http://vaping360.com/juul/
"Dear Parent/Guardian,
We want to inform you about the recent epidemic of e-cigarettes being used by our young people. E-cigarettes – also referred to as electronic cigarettes, hookah pens or vapes – are an electronic nicotine delivery system designed to mimic smoking a cigarette. They produce an odorless vapor of nicotine liquid, or in the case of marijuana a THC liquid, that resembles smoke. We are concerned about the potential for these devices to be used for the intake of drugs. Additionally, because of the novelty value, the common assumption is they are safe. E-cigarettes may also encourage young people to start smoking more than nicotine."
This is the first paragraph of the email I got from my oldest son's, Levi's, high school a few weeks ago. The letter went on to explain that e-cigs or "vapes" come in lots of teen-friendly flavors like cherry, apple and watermelon. That they come in fun-colored packages and look more like pens than cigarettes. That they are marketed to adolescents and can be easily purchased in convenience stores, gas stations and, of course, online.
As I waited for Levi to get home from school, I started paging through my husband's medical journals and googling as much as I could about vapes. The facts were troubling. First of all, there is a prevalent belief among young people that because vapes don't have tobacco in them, they are safe. Allow me to dispel that misconception. E-cigarettes contain liquid nicotine that is highly addictive and can literally produce structural changes in developing adolescent brains that can lead to future alcohol and various drug addictions. In fact, the FDA has dubbed some liquid nicotine products "starter" products due to the fact that these childlike, flavored delivery systems establish patterns that actually lead to long-term addictions.
According to the most recent CDC National Youth Tobacco Survey, e-cigarettes are now more popular than traditional cigarettes, with a total of 450,000 middle school students and at least 2 million high school students now using e-cigs. This translates into a triple increase in e-cigarette usage among teens in the last year. The e-cigarette market has become a multibillion dollar industry, and Wall Street analysts are predicting that revenue from e-cigarettes will exceed traditional cigarette earnings within a decade.
But perhaps the most alarming part of the e-cigarette story is that the entire industry remains completely unregulated, with virtually no federal rules or government control. While this could change any day as the FDA and Congress argue over whether or not to give the FDA control over the vaping industry, right now the only federal law surrounding e-cigarettes is one recently signed by President Obama that requires childproof caps for the liquid nicotine containers used with vapes.
The difficulty in regulating e-cigarettes is that they are not tobacco products, so they cannot be FDA-controlled under current tobacco guidelines. Research on e-cigs is mixed with many studies lauding the new liquid nicotine delivery systems as majorly beneficial when used as a traditional smoking-cessation device. Vaping advocates claim that vapes are potentially life-saving products, and for the first time in decades, glamorous television ads are appearing that rekindle the fashionable image of smoking. All this translates into more teenagers being lured to the devices.
While many claim that e-cigarettes are significantly less harmful than smoking traditional cigarettes, a recent study published in the journal Tobacco Control showed that teen users of e-cigarettes are three times more likely to smoke conventional cigarettes one year later. So this thought that our kids are avoiding the carcinogenic exposure to tobacco by smoking vapes appears to be questionable at best. Another study done at Harvard University found evidence of chemicals that cause respiratory problems in 47 out of 51 types of flavored e-cigarettes. Plus, with no federal regulations, there is no way to know what is actually contained in the devices' cartridges or cartomizers.
Finally, I read several news stories about e-cigarettes exploding in people's faces or pockets, causing severe burns and damage. This was the last straw. I waited for Levi to walk in the door. When he finally did, I was less than subtle.
"Levi," I said, "I know all about the vapes. I know everyone is using them, and I need you to fess up and tell me the truth."
"Mom," he said, looking at me as if I had suddenly sprouted a second head, "Are you kidding me? Do you actually think I would ever do something that stupid? Anyway, they already talked about this at school a few days ago. You really should read your emails on a more timely basis."
Then he smiled, gave me a peck on the cheek and headed into the kitchen for his afternoon snack of two Kraft mac 'n cheeses, a box of wheat thins and three bagels. Ahhh, the joy of teenage boys.
Debra Rich Gettleman is a mother and blogger based in the Phoenix area. For more of her work, visit unmotherlyinsights.com