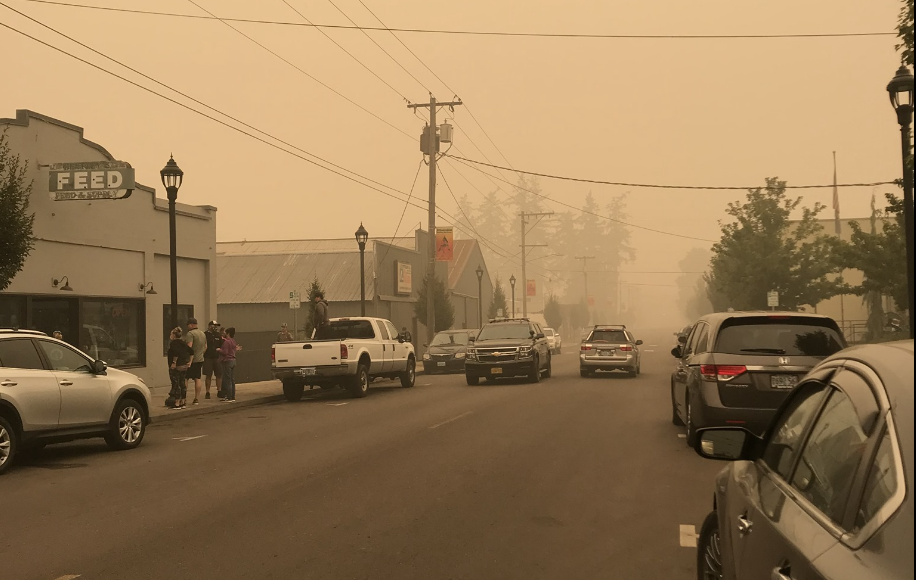 Photo: The sky in Molalla has an orange hue from the nearby fires.
Leah Klass in an entrepreneur and advisor who is passionate about helping migrants and refugees connect to the resources they need, advocating for those who have the least voice in our community.
Last week, she felt overwhelmed by all of the tragedy befalling her state and thought, "I have to do something!"
She started by reaching out to the United Way of Salem.
"I saw that they were collecting supplies, so I called them, and they said, 'Oh, you're from Portland. A lady from Portland just called, her name is Sallie,' and I said, 'I know her.'"
It turns out, the Sallie they were talking about was Sallie Cohen, founder of Positive Charge PDX.
Leah reached out to Sallie and Sallie told her that she was getting ready to post something on Positive Charge PDX's Facebook page about coordinating a donation effort.
On Saturday, Sept. 12, Leah joined a group of nine other vehicles on a caravan to Molalla, OR in Clackamas County. "I thought, 'How desperate is the mother of remote learning elementary students to get out of the house that I am willing to drive into a fire," joked Leah.
"It's not very far from Portland, but the air is orange, and there's ash on the ground. You can see your footprints in the ash as you walk."
When Leah returned home that evening, she had heard that farm towns in the southern part of the state had been destroyed, and she immediately thought, "Oh, my gosh. What about all the migrant workers?"
Then she read an article in The Washington Post by Samantha Schmidt that addressed this very issue.
"There's a federal migrant worker education program, and I called into the school in the area and left a message," says Leah. When she didn't receive a return call, she did further research and found out that the school had burned down.
Leah tried to look up who she could connect with next. She wrote to a reporter in the Ashland area, and he gave her number to a high school teacher who, in turn, connected Leah with a woman who's in charge of their migrant education program at their school.
"I told her the work that I do, and I told her how important these communities are to us and how we want to help the most vulnerable," says Leah. She told Leah that their real need is housing, that they don't have a place to store donations.
"I sent her the photos of our Positive Charge drive from Saturday. I said, 'Look, this is what we can do, please, let us know if you do have a list of immediate needs.'"
The woman provided a list, and Leah forwarded it to Sallie. That night, Sallie posted on her Facebook page that they were going to help migrant workers, and is anyone interested?
This location is four to five hours south of Portland, and within a short period of time, Sallie had multiple people willing to drive.
Again, Leah found herself in the parking lot helping fill up trucks and vans of the people who were going to make the 250-mile journey south.
"I noticed someone in the parking lot pointing in my direction because I am the liaison, and they walked over and said, 'Would it be possible for us to donate our doublewide trailer?' and I just burst into tears. You know, it's like it was my birthday," says Leah.
"I was just overwhelmed. I told all these other people in the parking lot how amazing that was. And then someone else said, 'Oh, we might have more resources for you like that, too.'"
The next day, Leah wanted to check in and thank one of the drivers, who was a principal of an elementary school in Newberg, not far from Portland. She wrote back saying that many of her families had been evacuated, and they're down on their luck. She went on to explain that here's a significant migrant worker population in her area.
"So I said, 'How can we help?' She said, 'Oh, you're busy. I said, 'No, how can we help you?' I mean, this is what we can do. We can act quickly, we can call on the community, and we can see what response we're going to get," says Leah. "I think we're going to do something for that school community. I think a lot of people are really moved by the idea."
Leah comments that the community's response has been amazing and even during the quarantine when people may feel disconnected, the desire for community building is still there.
And even though she is new to working with Positive Charge PDX, she says what a pleasure it has been to participate. "It gives you that – that's exactly the name of it, right? –  it gives you a positive charge."
Leah suggests donating directly to Unete: Center for Farm Worker and Immigrant Advocacy if you would like to help the migrant workers impacted by the fires.