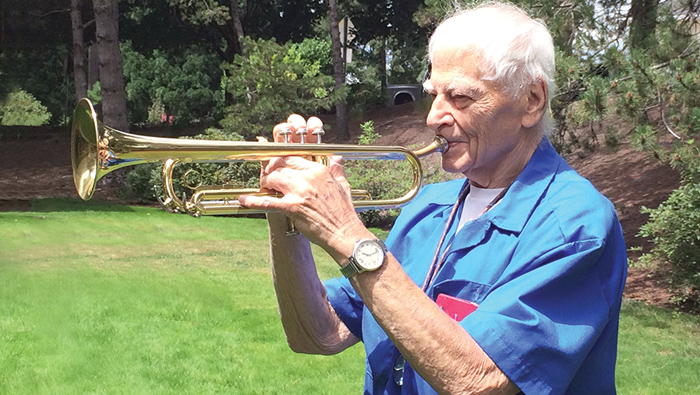 Parents, confess: when you encourage your kids to take up an instrument, you are hoping – praying! – they don't choose the trumpet (OK, drums neither.) The flute is good: it takes a long time to even get any sound out. A violin does sound horrible in the hands of an amateur, but if he closes his bedroom door, you don't have to hear it. But a trumpet? There is no escape.
So, I was on my way to an appointment at the Rose Schnitzer Manor in Portland … and I heard someone playing a trumpet. Rose Schnitzer Manor, for our non-Portland audience, is an assisted-living residence and an unexpected place to hear a trumpet. But residents were gathered around the May Library, listening. Others were paused in the hall, smiling. Nobody had their hands over their ears. This was beautiful music, a haunting melody played with tone and feeling.
"Who is playing the trumpet?" I asked my companions, but nobody knew. We had to move on to our meeting, but I knew I had to find the mystery trumpet player of RSM. Eventually I found him, and a warm thank you to Jen, Jemi and Nate for helping me track him down. His name is Arne Westerman, and I recognized the name right away because we bought one of his paintings at an Oregon Jewish Museum event years ago. I see it every day. It's gorgeous. Arne Westerman, famous artist and author, is the mystery trumpet player!
His apartment is more art studio than apartment, complete with paintings stacked everywhere and a student working quietly in the corner. I was a little star struck. I always wanted to take drawing lessons, I confessed. I did one drawing a few months ago, and I really enjoyed it. "Switch to paint," he said right away. "It helps you think in terms of shapes, not lines. And use acrylic: it dries fast. If you don't like it, put another color on top. If you don't like that, put another color on top of that." That simple!
"It's natural," Arne says. "Everyone can draw." The problem, he believes, is that people think too much. "I tell my students: 'I don't want you to think. I want you to just draw what you see.'
"Jerry Stern (z"l) was my oldest friend, and he had purchased some of my paintings. Once we were at a restaurant, and I asked him why he doesn't paint something himself. He said, 'I can't draw a straight line.' I said, 'I look in the want ads, and there aren't ads for someone who can draw a straight line.' "
Arne pointed to a chair, and Jerry said he could never draw that. "I don't want you to draw a chair," Arne told him. "I want you to draw what's there that looks like a chair. Go down on the ground where it starts, follow the leg; everywhere it goes, you go with it. He drew a gorgeous chair because he wasn't thinking 'chair.' He was drawing what he could see."
Arne actually quit a successful career in advertising at the age of 50 to pursue his art. He didn't want to die, he said, and he figured he could live forever in the canvases he left behind. It turned out to be his calling. He has taught all over the world and published several books. Even now, at 89, he paints every single day. But the trumpet, I asked, what's that story? Trumpet music is over when it's over, unless one lands a recording contract or goes on YouTube.
Art and music, Arne replied, are both "an expression of joy, a celebration of life."
Arne played in the Portland Junior Symphony in high school and then later in an Army band. When he got out of the Army in 1946, he saw the movie "The Front Page" and got bitten by the writing bug. He boxed up his trumpet and didn't pick it up again for 60 years. He believes, though, that the music was in his head all that time, just waiting to be played. Now it seems to be the perfect counterpoint to his painting. He plays in the RSM dining rooms and in the auditorium. He doesn't play every day, but when he does, he sees the notes in his head, puts the trumpet to his mouth and the music just comes out. One resident complained once, so he quit, but others ask him to please play, so he does, but he is respectful of those around him.
His apartment opens onto a patio, with a lawn surrounding it and a wall of trees separating it from the street. It forms what feels like a natural amphitheater, Hollywood Bowl on Boundary Street. We stepped out there so he could play a little impromptu concert for me, first something I didn't recognize, then a Gershwin I did know, and I quietly sang along. He told me about a woman at RSM who requested he play "La Marseillaise," the French national anthem, and she sang alongside him in French. "I couldn't see her, but I could feel her beside me, gesturing, singing."
Nature was all around us that afternoon on Arne's patio. "What do the birds think of this," I asked.
"The crows like it," he said with a laugh.
Liz Rabiner Lippoff is a marketing consultant, freelance writer and serves on the board of directors of Cedar Sinai Park. LizInk.biz