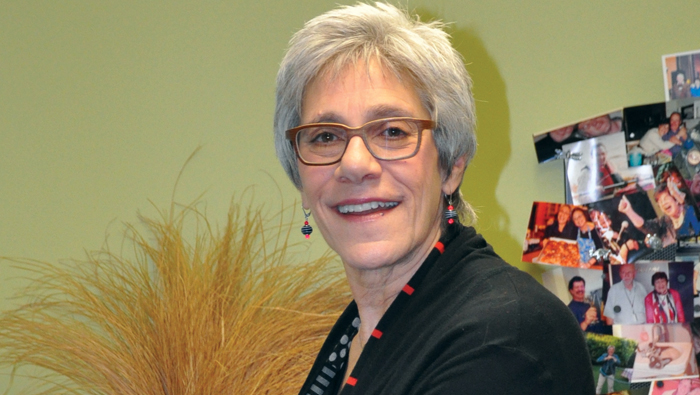 Discovering the wonder of nature at a Jewish summer camp was the first step on the path that led Margie Harris to become founding director of an independent nonprofit devoted to delivering affordable, clean energy for 1.5 million utility customers in Oregon and Southwest Washington.
Energy Trust of Oregon provides comprehensive, sustainable energy efficiency and renewable energy solutions to customers of four utilities (see box page 21). Margie has been the executive director since 2001, launching the first programs in 2002. She says the trust's efforts to drive energy efficiency and renewable energy investments helped propel Oregon to become the fourth most energy-efficient state in the nation last year.
With the 46th annual Earth Day coming up April 22, Margie reflects on the path that led her to play such a prominent role in the sustainable energy movement.
Hired as the first permanent employee of the Energy Trust in 2001, Margie has led the organization as it has grown to 105 office employees and thousands in the field. Now with an annual budget of $189 million, the nonprofit spends only 6% on administrative and program support costs, which Margie points to with pride. Though it is an independent organization, the Energy Trust is funded by a fee paid by customers of four investor-owned utilites. The funding was created by the Oregon Legislature in 1999. The trust was created to help utility customers use energy more efficiently and produce their own clean power with renewable resources.
"We (Energy Trust) are a resource for Oregonians this Earth Day and always, providing objective, impartial expertise whether (customers are) looking to lower monthly utility bills, protect our air quality and the environment, or boost the business bottom line," says Margie.
"We were created to focus on energy conservation and renewable energy. We have exceeded all expectations since we began programs."
Energy Trust has programs for homeowners and renters, as well as for businesses large and small. "Everyone uses energy and everyone has the opportunity to use it differently or better," she says.
Free resources for homeowners and renters include energy-saver kits and online home energy reviews, which offer suggestions on saving energy and contacts for contractors for potential energy-saving projects.
The trust has supported the installation of more than 8,500 solar electric systems, which Margie says is a drop in the bucket compared to the state's solar potential. "The empty roofs in every community are precious real estate for mini-power plant production, right on the site where the electricity is used." By combining the Energy Trust incentive with federal and state tax credits, customers can save up to 75 to 80% of installation costs for a solar system. Margie says not only does a solar system lower the participant's energy bills, it also adds local, nonfossil fuel energy to the grid and boosts the economy when customers hire local contractors. Energy Trust also supports projects using small-scale hydro and wind, geothermal and biopower technologies.
Since 2002 Energy Trust's energy-saving and renewable power projects have saved participating utility customers $1.9 billion and added $3.9 billion into the economy, while providing cleaner air by avoiding 14.6 million tons of carbon dioxide. Margie says that figure translates into taking 2.5 million cars off the road for a year – words that are an odd juxtaposition to Margie's roots in the Motor City, where she grew up during the heyday of the automotive industry in Detroit.
Born in Detroit, Margie says she learned Jewish traditions and values by osmosis surrounded by Jewish neighbors, teachers and friends. Her father, Donald Harris, was born in Detroit, his family having left Poland and Lithuania in the early 1900s; their family name of Wiesnieski (spelling uncertain) was changed to Harris, according to a family story, when they boarded a boat in England and the ticket seller couldn't spell a last name he couldn't even pronounce. Her mother, Betty Rogin, was born across the river in Windsor, Canada. Her family had owned land in a shtetl near Chernobyl, but fled to America shortly before the Russian Revolution. Family lore says an ancestor won the farm in a card game with one of the czar's soldiers. Margie still makes the Scheletzer soup of beans, barley and stew meat that the family fed peasants in the shtetl.
As a city girl, Margie's ties to the land didn't flourish until she went to Camp Tamarack in Ortonville, MI, where she fell in love with nature. She also celebrated Shabbat, learned about Israel from Israeli counselors and experienced the activism of the '60s.
"So my politicization and forming of my environmental convictions came from camp," says Margie.
The love of nature and the environment inspired her to enroll at the University of Michigan majoring in natural resources. The next step toward her future arrived with the four-day environmental teach-in the University of Michigan held March 11-14, 1970, weeks before the rest of the country celebrated the first Earth Day April 22, 1970.
"The Michigan teach-in was the first sign that Earth Day would be a stunning success," writes historian Adam Rome, author of The Genius of Earth Day: How a 1970 Teach-In Unexpectedly Made the First Green Generation (2013).
Margie was part of that new green generation.
"The first Earth Day was a very influential time for me," she says. "The environmental movement was just beginning and I thought, 'Oh, wow, this is just for me!' "
"It was a wonderful time – the first environmental laws were exploding (along with) advocacy, social change," she says, adding one of her professors urged her to explore the energy industry.
When she did, she realized, "Energy touches all of us and is the fuel that supports our economy and everyday life. … I've never been bored in this field, it has so many relevant connections to our society."
After graduation, Margie went to work for Ann Arbor's Ecology Center, which was an outgrowth of the environmental teach-in and Earth Day movement.
When she was 25, she moved to Oregon to work at the Oregon Department of Energy, where she helped craft the state's first energy conservation legislation and programs. But she says she felt isolated from the Jewish community living in Salem; at the time the only synagogue had no rabbi and limited activity. So after three years, she jumped at the chance to move to Portland in 1979 and become the marketing and outreach director at Western Sun, one of four regional solar energy centers President Carter established to help make the renewable energy source commercially viable.
Other than four years when she and her (now ex) husband, David Shapiro, and their twin daughters lived in Seattle, she has been in Portland ever since. She worked in various settings including TriMet, Portland Parks and Recreation, and as an assistant to former Portland Commissioner Mike Lindberg, whom she helped establish the city's first energy policies and programs.
Her first home in Portland was on Southeast 35thAve., a house she can see from her current home in Waverly Commons, the "intentional living" community built on the site of a former orphanage. The community of 19 homes is built around a common green area with a community garden at one end and a playground at the other. Developer Mark Desbrow, also Jewish, led the project, with many of the homes (including Margie's) taking advantage of solar energy incentives and resources available through the Energy Trust.
Margie says that she and David, to whom she was married for 17 years, realized their twins – Alana Harris and Rebecca Shapiro – wouldn't become Jewish by osmosis as Margie had done growing up in Detroit. So they enrolled the girls at Portland Jewish Academy for three years. And Margie expanded her annual Hanukkah parties. During their height when the girls were young, 70 people would crowd into the couple's home. Though the girls turn 30 years this month, Margie still hosts about 45 to 50 people for latkes, singing, candlelighting and other holiday fun. Until two years ago she used her mom's latke recipe, but then shifted to an online recipe that uses less oil.
For Passover, she collaborates with her long-time friend, Rachel Shimshak, the executive director of Renewable Northwest and the subject of a July 2013 article in Oregon Jewish Life (orjewishlife.com/rachel-and-renewables). Generally Margie hosts the second night seder, and Rachel provides Passover dinner on the Saturday of the holiday. This year, since both are the night after Earth Day, they won't be doing their usual seder together, but they still plan to get together to make gefilte fish.
Margie says she designed her home to be able to seat 22 to 24 people at the seder.
"To me Passover is about oppression everywhere in the world," says Margie, adding she has even created her own haggadah by borrowing from progressive, feminist haggadot that resonated with her. "I like to bring people together for celebration, somber reflection, togetherness and FOOD!"
"Holidays are a foundation to build upon," she says, adding "I treasure our traditions and rituals and symbols."
But she's "not a joiner," so she never joined a synagogue, though she does enjoy the music and High Holiday services at Havurah Shalom.
So when Alana decided she wanted to become a bat mitzvah, Margie called her old friend, David Fuks, who was then CEO of Cedar Sinai Park. The two have known each other since they were children in Detroit.  CSP's Rose Schnitzer Manor opened the year the twins turned 12. David told her the senior living center was available for b'nai mitzvah celebrations, and Alana became one of the first to take advantage of the opportunity.
"It's the custom I appreciate, so I appreciated the fact that Alana chose to do that," says Margie.
Alana, who is now getting a master's degree in special education, and her husband, Nick, live in Northeast Portland. Margie often visits the couple Saturday after her Zumba class.
She and Rebecca also share a tradition. Each Thursday Rebecca walks from her job with a podiatrist in Montgomery Park and stops at her mom's office in downtown Portland. Then the two walk to Southeast Portland together. Rebecca and her boyfriend, Brandon, live about a mile away from Margie.
She also regularly sees her mom, Betty, who at 90 still lives in her own home in Southwest Portland. Following the death of her husband, Donald, after 52 years of marriage, Priscilla Kostiner introduced Betty to her father-in-law, Howard Kostiner, who had lost his wife. The two hit it off, and Betty and Howard were together for 17 years until his death in September 2014.
New things are on the horizon for Margie. She has announced her retirement and will be leaving the Energy Trust after the board finds a suitable replacement. She is also planning to wed her partner, Jan O'Dell, in July. Though Jan isn't Jewish, Margie says she supports and participates in all Margie's Jewish celebrations and traditions.
"I'm a people-oriented person," says Margie. "For me it's about the individual, not whether they are a man or woman. I was heterosexual until I was 50, then I changed lanes."
Jan also brought Margie "back to water level." During summer camp as a child, Margie loved to canoe. But after she and David married, the couple spent their time on the water sailing. Jan is an avid kayaker, a sport Margie willingly adopted.
In retirement, Margie plans to continue to kayak, bake bread and sing in the band she and Jan helped found – Still Kickin. The band performs an eclectic mix of music from the 1950s to the present.
"Music makes me happy," says Margie.
While she wants to ensure her retirement involves a lot less responsibility, meetings and time indoors, she would like to stay involved.
"I'm interested in being a mentor or coach," she says. "One of the gratifying things about being a manager is the opportunity to develop other people and see them take off."
She's also interested in documentary filmmaking. She would like to be an interviewer and talk to people about their stories. "It's not the topic, it's the people … I want to share the stories of unsung heroes."
She has been meeting unsung heroes since 1990. When Steven Lowenstein, author of The Jews of Oregon 1850-1950, knew he was going to die, he created the Lowenstein Trust. Margie has sat on the board of her friend's trust, and each year the board "rewards someone in the Portland area who is making a difference and not otherwise known."
She would also like to write or participate in the writing of the history of Energy Trust – a project for which she is clearly well suited. And with her love of people and stories, chances are good it would be a very readable organization history.
ENERGY TRUST

Energy Trust information, technical services, engineering studies, cash-back incentives and contractor connections help homeowners, renters, multifamily property owners, small and large businesses, manufacturers, farmers, school administrators and other customers use less energy, generate clean, renewable power and protect the environment.
Energy Trust serves Oregon customers of Portland General Electric, Pacific Power and Cascade Natural Gas, and Oregon and Washington customers of NW Natural.
Source: energytrust.org/About/who-we-are