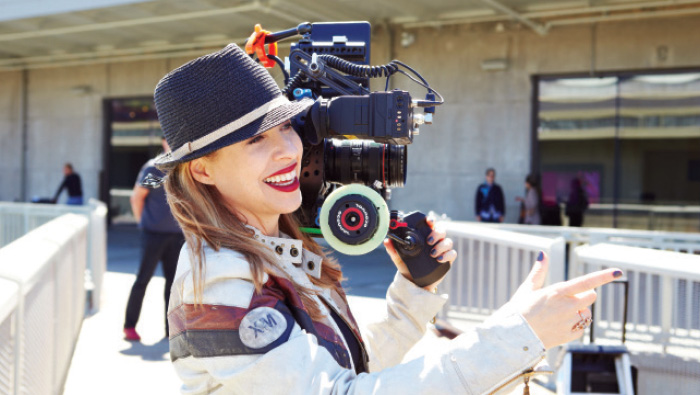 "The Making of a Mensch," a new film premiering this fall on Character Day 2015, will be shown globally and at five Oregon groups, including Congregation Shaarie Torah in Portland. Character Development Day is a global day created to engage Jewish and secular communities around the world in different perspectives and teachings around character. The release date intentionally falls during the Jewish High Holy Days, a period of reflection and self-examination on one's character.
The inaugural Character Day 2014 was a wide success with 1,500 schools and nonprofits around the world screening Shlain's film, "The Science of Character," which launched the event, and using resources to hold discussions with their communities. The U.S. State Department screened the film in Washington, D.C., and at embassies around the world. In total, people tapped in from more than 120 countries and 3,000 cities, and the film was translated into 14 different languages.
"The Making of a Mensch," directed by acclaimed Emmy-nominated filmmaker Tiffany Shlain (creator of Sundance hit film "The Tribe" and founder of The Webby Awards), explores character development through the ancient Jewish wisdom of Mussar, updating these teachings through her trademark accessible, provocative, engaging and entertaining 21st century lens.
"Premiering 'The Making of a Mensch' as part of Character Day, and during the High Holidays, will create a very powerful experience that we hope will spark new conversation and thinking about how to live fulfilling and purposeful lives in today's 24/7 world," says Shlain, named by Newsweek as one of the 'Women Shaping the 21st Century.' "People are hungry for deep and meaningful engagement around big topics like character and giving back in fulfilling ways. And after last year's Character Day, Jewish educators and rabbis introduced me to the teachings of Mussar and it became very clear we had to make this film and resources about character through the lens of these great ancient Jewish teachings. We want to deliver an experience through the film and conversation cards and materials that gets Jews of all ages excited to dive in and learn more."
This fall at Congregation Shaarie Torah, Rabbi Joshua Rose plans a class for adults that will do just that. The class, The 613  Habits Of Highly Spiritual People, is described thusly: "Did you know Judaism has its own guided path toward spiritual development and self-understanding? It is called Mussar, and it is an approach of self-awareness, self-understanding and personal development that is grounded in both deep reflection on Jewish texts and on spiritual practices that guide us toward greater control over our thinking and behaviors."
Additionally Shaarie Torah plans to develop the concepts throughout the year in the high school program. "Since the High Holy Days are a perfect time for introspection from a religious point of view, we, at Shaarie Torah will use the concept and the material during family service on Yom Kippur," says Education Director Dorice Horenstein. "We will take the words and ethical properties and will spread them throughout the building. That opening will allow me to then take this to the Wednesday Night School and continue to develop it throughout the year."
In Oregon, related programs also are being planned by Next Door, Inc, Hood River; Salish Ponds; Fun, Loving & Connected Family, Bend; and Astoria High School.
With "The Making of a Mensch," Shlain's filmmaking studio Let it Ripple hopes to engage more than 3,000 schools, synagogues, JCCs, nonprofits, Jewish camps, and other community organizations globally in film screenings and other activities on Character Day 2015. Partners  include the U.S. State Department, Foundation for Jewish Camp, The Covenant Foundation, National Association of Independent Schools, the San Francisco Unified School District, the Center on Media and Child Health, and many more. Let it Ripple used  "Cloud Filmmaking" to gain input, via video, from people all over the world on the issues the film addresses. Shlain and her team selected some of the submissions to include in the final film.
The "The Making of a Mensch" is Shlain's first explicitly Jewish-themed film since "The Tribe" in 2006, which explored American Jewish identity through the history of the Barbie doll. Shlain's original online series, the Emmy-nominated "The Future Starts Here," has over 40 million views and in its first episode, "Technology Shabbats," explored Shlain's family's weekly ritual of turning off all screens one day each week, an updated interpretation of the very old tradition of Shabbat.
"I think people are ready for this deep conversation, and it's this great opportunity to show how these ancient Jewish ideas are in fact very relevant and can be a guide to leading a meaningful and purposeful life in today's world,"  adds Shlain. "The Making of a Mensch and Character Day 2015 will ignite this dialogue. The short film is the appetizer, and the discussion everyone has afterwards, delving deeper into materials, is the main course."