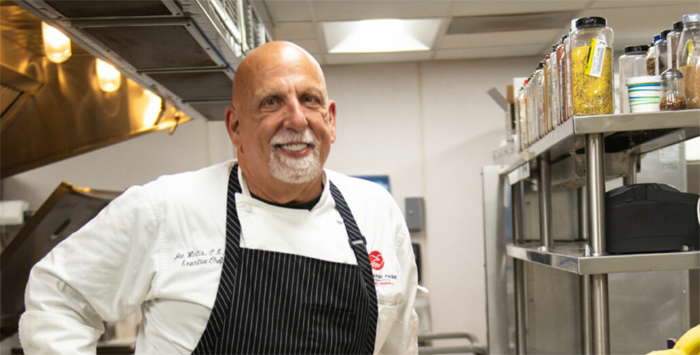 The love of food… This, in a nutshell, is what makes Chef Jon Wirtis, the Executive Chef and Director of Culinary Services at Cedar Sinai Park (CSP), excited to come to work every day.
For Chef Jon, creating beautiful and delicious food is an act of love. It's a way of bringing people together on so many different levels. He believes that food provides nourishment not just for the body, but for the soul and mind as well.
When he arrived at CSP in April 2019, Chef Jon joined a culinary family with deep ties to the residents there. Most kitchen staff had been with CSP for at least 5 years; some for more than 20. Chef Jon wanted to build on this foundation. "We 'live' here at work just as much as we live at home. We've built respect amongst each other, and for me, this isn't a one-time deal; it's something that I earn every day. I got their back no matter what."
CSP's culinary team manages two kitchens on campus: a kosher kitchen at Rose Schnitzer Manor and a second kitchen at the Robison Health and Rehabilitation Center that serves residents at the Center and at the Harold Schnitzer Center for Living.
The COVID-19 pandemic has changed some aspects of food service dramatically. Before, gourmet meals were served in dining rooms and the Cohen café. In warmer months, residents could dine al fresco on the patio and enjoy a glass of wine with friends at a weekly happy hour in Marcy's Bar. The kitchen prepared community feasts to mark holidays and occasional barbeques during the summer.
At the Harold Schnitzer Center for Living, residents could dine together in family-style settings in their respective household centers. Patients receiving rehab at the Robison Center have in-room dining with therapeutic and modified diet options.
Since mid-March 2020, for the health and safety of residents, community dining came to a screeching halt. Quickly adjusting, Chef Jon and his culinary team began delivering fresh, hot food to the rooms of some 150 residents. According to Chef Jon, the monumental shift required a cohesive, all-hands-on-deck approach with the residents' needs front and center. "We found the secret sauce to making things work," he said.
Today, residents select from personalized menu options in advance for the coming week. Accommodations are made for those who take medicine with food or need a "to-go meal" when a doctor's appointment conflicts with meal times. The team has learned who needs help opening their food containers and which residents are visually impaired and need help knowing where food items are on the plate.
With a sound system rigged to their cart on wheels playing Big Band favorites, the delivery team carts meals and music to residents on different wings and households. "The residents love the music," Chef Jon said.
And most importantly, the team takes time to talk with the residents, to hear about family and friends they're missing, or to be a shoulder on which to lean when it's needed. According to staff, conversations have deepened relationships with residents over the past nine months, a silver lining to the COVID-19 pandemic.
To keep his team motivated and up-to-date on COVID-19 developments, Chef Jon schedules meetings once a month. "I want to make sure we have full transparency and the culinary staff feels included. They're an important part of our team and larger CSP family." Chef Jon and his team also solicit feedback and suggestions about food service by distributing surveys periodically to residents.
Chef Jon reports that, when authorities deem it safe to re-introduce family-style meals, everything is in place and approved to have meals in the dining room again. "We've put safety precautions – like plexiglass screens – in place for the protection and health of our residents. We've really tried to make the dining room feel like home, even adding colorful new placemats to bring extra warmth, thanks to a wonderful suggestion by a resident."
"We're all ready to go! We can't wait for the residents to be able to eat together again. We just need the county to give us the green light!"
This story is part of the "Our Stories" series featuring people that live, work and volunteer at Cedar Sinai Park.