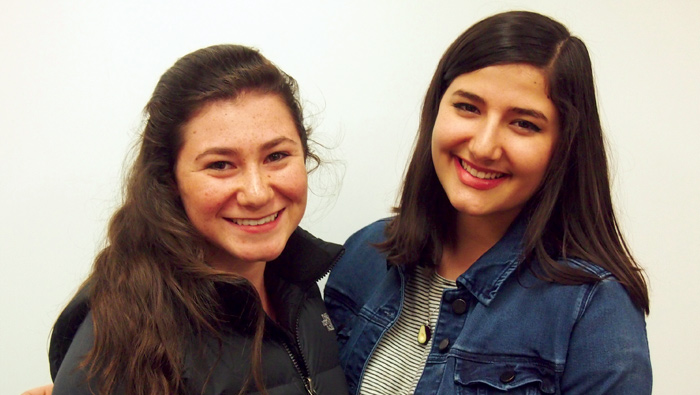 By Allie Rosenfeld and Estee Rosenberg
After all the excitement and attention of becoming a bat mitzvah and finally being recognized as adults in the Jewish community, we woke up asking ourselves the big question: "So … what now?" It can be difficult to know as a teen how to stay involved in Portland's wonderful Jewish community; however, there is no need to worry. We have a solution. It is called OJCYF.
What is OJCYF?
Started in 2003 by Julia Weiss as her bat mitzvah project, the Oregon Jewish Community Youth Foundation is a program for high school students that meets once a month. Teens gather to discuss the importance of giving back to their community and the Jewish values that shape their philanthropy. Currently, there are 50 high school students participating. Through OJCYF, teens have the ability to get involved in both funding and volunteering with community organizations. This year the program is celebrating its 13th year with a b'nai mitzvah celebration on April 20 (see below).
Why should I join?
You have a voice. It is extremely empowering to know that as teens, we have the capability to make a difference in our community. OJCYF meetings are focused around the students, and you will get to meet other Jewish teens who are just as enthusiastic as you are.
Allie: For me, OJCYF has been a great way to be involved with philanthropy and also spend time with other Jewish teens. Through the OJCYF meetings, I have learned about countless local and national nonprofits that I have loved being involved with.
Estee: It is super exciting when I get to work with or learn about a wide range of nonprofits. OJCYF has given me the opportunity to support organizations I am passionate about, as well as introduce me to new ones.
What has been your favorite OJCYF experience?
Allie: One of my favorite memories from OJCYF was our first meeting. I was very nervous walking in, and we started the meeting with an icebreaker. After talking to a couple of people, I realized I recognized their names … where was it from? During the meeting, it clicked. I had been in preschool with many of the other kids in the room. I was in a room with some people I had known and others I didn't know, but we were all connected through this one desire. We all wanted to be involved and help our community.
Estee: There are so many to choose from, but my most special experience with OJCYF was during my second year in the program. During my first year, my group and I were so excited to allocate funds to Tivnu, which was just starting as an organization. The next year my OJCYF cohort and I visited the Tivnu house. We had a Shabbat dinner with the gap year participants, and it was so exciting and meaningful to see how our gift had helped Tivnu become a reality. I also gained a clear sense of how our work can make a huge difference.
OJCYF is special in that it fully entrusts the grant-making decisions to its teen members. Every dollar raised goes back into the community. OJCYF teens have made grants to organizations both locally and in Israel totaling almost $400,000. The organizations supported have been diverse and reflect our interests, such as Jewish Family & Child Service, B'nai B'rith Camp, Hand in Hand, Raphael House, Oregon Food Bank, Children's Healing Art Project, Cedar Sinai Park, Mercy Corps, Oregon Jewish Museum and Center for Holocaust Education, and Momentum Alliance.
Current OJCYF teens Allie Rosenfeld and Estee Rosenberg wrote this reflection on the importance of the teen philanthropy program in their lives. Allie is a junior at Catlin Gabel and Estee is a junior at St. Mary's Academy.
Celebrate OJCYF's B'nai Mitzvah: 13 Years of Teen Philanthropy
GUEST SPEAKER: Rebecca Shine, Momentum Alliance co-executive director Kosher Food Collection benefits Sunshine Pantry
WHEN: 5:30-8:30 pm, Wednesday, April 20
WHERE: Mittleman Jewish Community Center, 6651 SW Capitol Hwy., Portland
Tickets: $54 per adult /$36 per youth (OJCYF members, alumni and students)
For more information or to register, visit ojcf.org or call 503-248-9328.
OJCYF by the Numbers
196 teens have participated, including 25 teens who participated for four years and 39 sets of siblings.
26 schools – plus homeschoolers – have been represented.
$392,298 grants have been awarded.
104 organizations have received an OJCYF grant, totaling 409 individual grants.
Sponsored by the Oregon Jewish Community Foundation, OJCFY is designed to develop a strong generation of future Jewish leaders in our community. For more information about the program, contact Sonia Marie Leikam, collaborative giving program coordinator, at soniamariel@ojcf.org or visit ojcf.org.