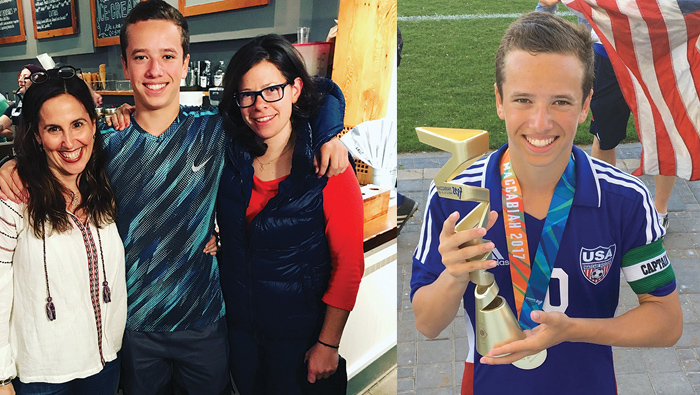 At 16, Jack Green is not just chasing his dreams, he's living them.
"School, soccer and Judaism – being part of all three is important to me," says Jack. This year all three areas of his life have gotten a big boost.
The Alaskan teen moved to Portland in August after earning a slot in the U17 program of the Timbers Academy, the Portland soccer team's development program to produce future professional players. In Portland, he also has become part of a much larger Jewish community than that in his hometown of Anchorage. Wilson High School's AP (advanced placement) program is providing the challenge he wants academically.
"Last year I got frustrated with the level of play," says Jack, who has been a top player since the age of 4; his dad, David Green, started teaching him to kick a soccer ball almost as soon as he could walk. "I wanted to play at a high level, and then this Timbers guy showed up."
Ryan Miller, a Timbers Academy head coach, was in Alaska visiting Alaska's Olympic Development Program when he stopped at Jack's team practice to visit with a coach. Two weeks later Jack's team traveled to Phoenix for a tournament, where they played a team coached by Ryan. Ryan invited Jack to come practice with the Timbers Academy team, and in early June Jack arrived for what he thought was a 10-day opportunity to train at a high level.
He soon learned he was trying out for a one-year spot at the academy.
"He knew I would never let him go away for high school," says Jack's mom, Shani Green. "Never say never."
Two things changed her mind.
First she got a call from Portlander Jodi Berris, whom the family had hosted for Shabbat when she visited Alaska four years ago. David and Shani are very active in Alaska's Jewish community, having persuaded Chabad to come to the state in 1991. Jodi offered to host Jack at least through December if he was invited to the academy.
"I've hosted a foreign exchange student, so it was not new," says Jodi. "I appreciate the fact he is chasing his dreams, and this is a fabulous opportunity."
"I have a special place in my heart and appreciation for observant Jews who are athletes and try to have a balance for both priorities," says Jodi, who was on the women's hockey, lacrosse and crew teams at the University of Michigan. "I know the challenges, first hand, and how tough the choices can be."
The offer to join the academy came just five days before Jack was set to leave for Israel to compete in the 20th Maccabiah Games, the first time he was able to meld his love of Judaism and soccer. Called the Jewish Olympics, the games are held in Israel every four years; this year 10,000 Jewish athletes from 80 countries participated in 43 sports.
"I didn't have the right mindset to think about moving to Portland while I was playing in an international tournament," says Jack.
Jack co-captained the U.S. U16 boys soccer team to its first-ever Maccabiah gold medal.
"The win at the Maccabiah was very surreal," says Jack. "The fact we did win was an upset. … Winning gold was pretty historic."
After that win, Shani changed her mind about letting Jack join the Timbers. "In Israel his coach said, 'Your son is one in a million. If you don't let him try, he will always wonder."
Jack reached the same conclusion. "By the end of July, I decided I'd come to Oregon. I was thinking if I didn't take the offer, I wouldn't know what opportunity I was missing out on."
On the soccer front, the opportunity is already bearing fruit. "I can see so much improvement in my game," he says. He now dreams of having access to a Division I college given his new soccer resume.
"I want to go to a college with lots of Jewish students; a good academic school that also has a good soccer program," he says. "If I can finish the year with a good GPA and high SAT and continue to play well, maybe I'll look at schools on the East Coast."
With Jodi as a host mom, he has also had an easy introduction to Portland's Jewish community.
"Portland's Jewish community is much larger (than Alaska's)," says Jack. "There's youth groups, the JCC, a kosher restaurant and multiple Orthodox synagogues."
He's gone to services at Kesser Israel, a modern Orthodox shul within walking distance of Jodi's house. He's gone to NCSY Shabbatons and plans to connect with Chabad.
"Jodi is brilliant," says Jack. "She understands everything I do. She is a very responsible mentor who has taught me a lot."
Jodi has a long history of helping young adults connect Jewishly. In 2008 she opened Portland's first Moishe House, part of an international network that helps young adults create a space to explore Jewish life. Since aging out of Moishe House, she has hosted several MoDox Outdoor Adventure Shabbatons and organized Jewish activities through Portland Jewish Events. Hosting Jack is another way of giving back to a community she loves.
"So many people do such kind things for me, all of the time, and have enabled me to have amazing life experiences as well as growth in my travels, career, athletics, socially, etc.," says Jodi. "This is a chance to give that gift back. I get to have my hand in creating an opportunity and paving the way for someone else's growth."
Jack says ultimately he wants to return to Anchorage and take over the family business, David Green and Sons, an outdoor apparel company founded by his great grandfather, who moved to Alaska in 1922.
But for now he is enjoying his stay in Portland and the opportunities it opens up for his future.