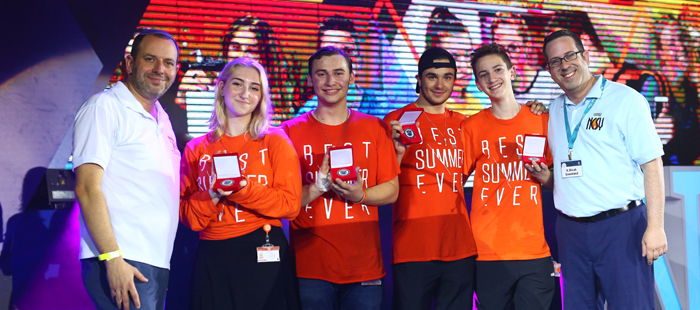 Photo: NCSY summer program participants, in orange shirts from left, Portlander Rivkah Zigman, Sam Blech, Benjamin Mendelson and Jaden Jubas receive medallions for saving a life using CPR from United Hatzalah of Israel. Photo courtesy of NCSY
During a summer program in Israel, Portland teenager Rivkah Zigman received a "Life Saved" medallion from United Hatzalah of Israel after she saved the life of a 60-year-old Israeli woman.
Rivkah, 17, was participating in NCSY Hatzalah Rescue, a month-long summer program organized by NCSY in partnership with United Hatzalah, a volunteer-based emergency medical services organization in Israel. Hatzalah and Magen David Adom are the two major ambulance services in Israel.
Both of Rivkah's parents are doctors – Aviva Zigman is a trauma/ER doctor and Andrew Zigman is a pediatric surgeon – and Rivkah plans to follow in their footsteps. So when she heard about NCSY Hatzalah Rescue, she decided that would be perfect for her second Israel summer program.
"I wanted to give back as much as I could to the people of Israel," she says.
The NCSY teens spent two weeks training to serve as Emergency Medical Responders and then were assigned in pairs to accompany an ambulance crew for the remaining two weeks of the program.
"I felt very well prepared," says Rivkah of joining an EMT and ambulance driver on emergency response calls. "We had been repeating the same steps for two weeks seven hours a day. … They (the ambulance crew) told us what to do, but they expected us to know how to do it. They'd give us pointers, but they didn't baby us."
On July 16, Rivkah, and New Jersey teenager Sam Blech were volunteering as part of their summer program with a United Hatzalah ambulance crew in Tel Aviv. When their ambulance was dispatched to an unresponsive patient in an apartment complex, they arrived to find one of United Hatzalah's ambucycle (a motorcycle equipped with emergency supplies) responders providing CPR compressions to a 60-year-old female. Rivkah immediately applied the AED. After shocking the patient, Rivkah took over compressions while Sam began giving breaths through a BVM device. The two alternated roles for several minutes.
"The heart monitor had been flatlined," says Rivkah. "I was doing compressions on the third round when I started to hear beeping. … I took my hands off, and they gave her more oxygen."
A paramedic team from Magen David Adom arrived and started IVs and transported the breathing patient with a pulse to the hospital.
"Once it was over and I looked up, the family came up and hugged me," says Rivkah. "Being there for the family is a big part of medicine."
"The day after, we got an email saying she was awake and talking," adds Rivkah.
She was very surprised to receive an award for her actions. "It is amazing you saved a life, but to stand in front of a crowd for it … I felt very proud. Hatzalah gives it to all volunteers for their first life they save with CPR," says Rivkah.
A member of Congregation Neveh Shalom, Rivkah is now a senior at Wilson High School. During her freshman year, she attended a Jewish Student Union lunch at Wilson, where she met Miera Spivak and Doovie Jacoby, who oversee the JSU and Portland NCSY.
"I went to one lunch and kept going back," says Rivkah. "They started talking to me about summer programs."
"Hearing this about Rivkah doesn't surprise me at all," says Doovie Jacoby Portland NCSY and JSU director. "Rivkah has been involved in NCSY and JSU for the past three years and has shown time and time again how she values life and helping people. After spending last summer on a learning-based and self-building NCSY summer program, it was obvious that this year Rivkah was going to do something great for others."
Doovie describes NCSY Summer Programs as "one of the most meaningful and memorable experiences of a person's life."
NCSY runs 21 summer programs in the United States, Israel and Europe that cater to teens with different interests and backgrounds.
"Rivkah chose NCSY Hatzalah Rescue, to have the opportunity to give back to the Jewish people and Israel, through her passion in the medical field," says Doovie.
Someday Rivkah hopes to live in Israel and have time to volunteer for Hatzalah regularly.
That day may come soon. She hopes to attend college at either the University of British Columbia, where her brother, Jonah, is studying engineering, or Tel Aviv University. If Rivkah goes to school in North America, she plans to start next year, but if she gets into Tel Aviv University, she plans to delay college for two years while she serves in the Israeli Defense Forces. Whichever route she takes, she intends to go to medical school and then practice in Israel.